When my primos Ricky, Hector and I debuted the Familia FFB podcast back on Cinco de Mayo 2020, we all thought we knew fantasy football really well. We'd studied, received and made trade offers, made playoffs, won and lost championships, and really obsessed over the game pretty much from mid-July to the New Year on a yearly basis.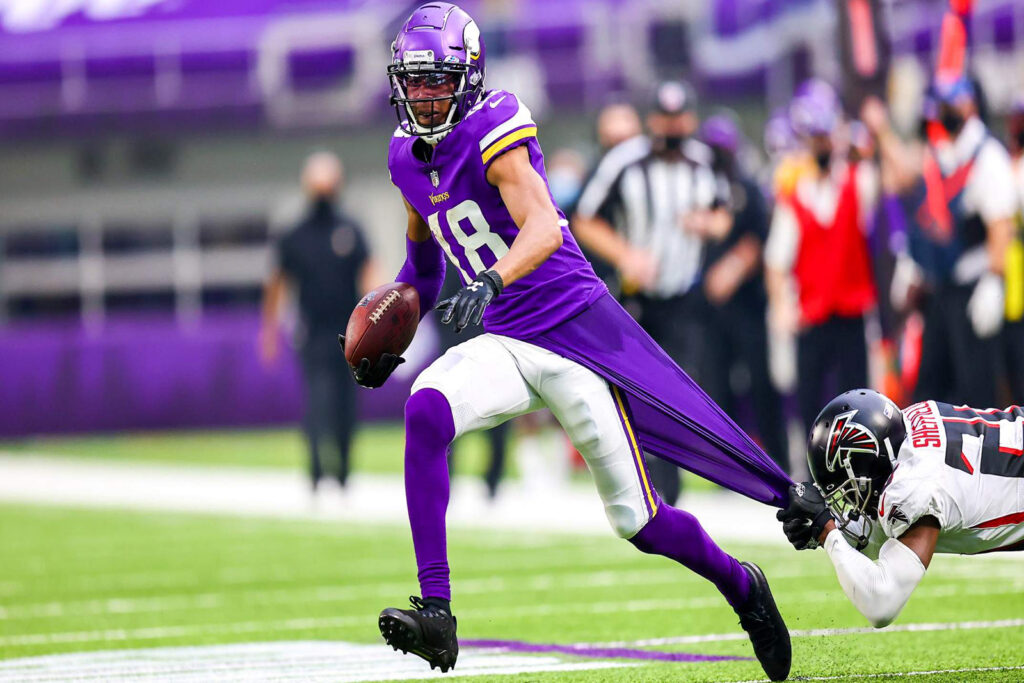 For me personally, I always liked the runup to the NFL Draft to see which players – especially RBs – could land in different spots to help my fantasy teams in the fall. But really, from January 1 through late July, baseball was very much my priority. Part of that is just inertia from having worked for the Dodgers for 8 seasons, but also because of my similar obsession with fantasy baseball. Especially my NL-only Jorgeous Jorges in the Valley Ultra Rotisserie Baseball League, in which I'm a proud member since 1990.
But 2020 would be different. I was determined to throw my sombrero into the ring to become a fantasy football analyst and host of our podcast. I'd heard enough of other podcasts to get an idea of how to do it ourselves, and done thousands of interviews over the 30+ years of my career in journalism, marketing and communications. I also saw a dearth of minorities in the fantasy industry, especially Latinos. I was hoping that our podcast was going to be unique enough to attract an audience. I'm still hopeful.
Well, after 119 episodes and dozens of articles written about fantasy football, meeting people in the industry and interviewing guests about their industry or fantasy football fandom, I've found that I've learned a lot.
I've learned that you're never really done researching players, matchups and games. There always seems to be a nugget here or there that comes up to either further support a narrative that's building or to possibly debunk it.
Starting research on fantasy football about three months before I usually do really helped me to uncover some gems, and to take a look at some players who might break out. Some of these players might have been missed in years past – hello Diontae Johnson – and I saw some areas that I really needed to avoid (i.e. handcuffs).
I had fun talking basura with my primos, but I also saw that we all really started to gain knowledge not just independently, but from one another. Listening to other podcasts, I could see not only which players were trending, but also what stats I needed to keep an eye on.
For QBs, I focused on Yards per Completion and TD% as much as QB rating, completion rate and total TDs. For WRs and TEs, total targets and target % became of paramount importance. For RBs, total touches and red zone opportunities became really vital to get an idea of which players are getting the most important carries (and which aren't).
I also learned patience with young players, especially with rookies who had a year without proper preparation from draft day to the opening of training camp. This patience helped me trust the process on one of my teams that started 0-5 before running off 10 straight wins and losing a shootout in the finals.
Most importantly, I learned that there are so many smart people pouring so much of their blood, sweat and tears into this industry. It was fun listening to and learning from them, and I hope the coming year brings even more connections as we try to gain more of an audience. But for now, I'm going to focus on the past year, with some lessons that I'm going to apply to my own analysis and personal strategies for the future.
DON'T BE MARRIED TO RB-RB TO START THE DRAFT
Since my first fantasy football draft in 1990 when I picked Christian Okoye in the first round (and he busted), I've held the RB position with a reverence that is just below drinking water for survival. I never want to feel like I'm light at that position coming out of a draft. Usually I want to come out of the draft with RBs in the first two rounds. Then I got the reminder of how volatile and vulnerable that position is. In my 14-team league, 10 RBs went in the first round. Of those, only Derrick Henry, Dalvin Cook and Alvin Kamara had stellar seasons. And in the second round an additional seven RBs were picked, and all of them missed at least one game. That ties into my next lesson learned.
TIME TO CONSIDER ZERO RB OR SOME MODIFICATION
When 14 RBs taken in the first couple rounds of a deep draft end up being some level of busts, it's time to take a long look at going after receivers in the early rounds. If you're not completely comfortable with the Zero RB strategy – in all honesty I'm not fully on board yet – maybe it's a good idea to go with a hybrid model with one RB as a foundational piece, followed by WRs. In PPR scoring, only Henry, Cook and Kamara ended up top 12 among RBs, WRs and TEs. Pass catchers like D.K. Metcalf, Calvin Ridley, Stefon Diggs, Keenan Allen and Justin Jefferson were drafted after the first couple rounds – Jefferson was probably a waiver-wire find for many.
In researching the RB position, there is value to be had after the first couple rounds in the form of rookies and RBs who catch the ball (hello, James White and Kareem Hunt). Taking a chance on rookies like Antonio Gibson, J.K. Dobbins, Jonathan Taylor and Cam Akers paid off at different levels in the second half of the season. Those players went in the third round or later in many drafts. I know it might be out of most people's comfort zone to not go RB-heavy early, but drafting volume at that position in the first 10 rounds (at least 3, preferably 4) paid off for a lot of people, even if they didn't go RB-RB right off the bat. Hitting home runs with WRs or an elite TE paid off handsomely for those players who went that direction.
TIME TO RETHINK THE ROOKIE WR
Justin Jefferson just finished one of the greatest rookie seasons for a WR ever – 88 catches on 125 targets for 1400 yards and 7 TDs. He didn't do much in the first couple weeks of the season before going off in Week 3 with 7 receptions for 175 yards and a score. Chase Claypool exploded for 4 TDs and 42 fantasy points in Week 5. Brandon Aiyuk had his share of big games after Week 7.
The lesson from 2019, when Metcalf, A.J. Brown and Deebo Samuel all blew up in the second half of the season, should have taken. The talent at WR is as NFL-ready across the board as ever. Jefferson is a prime example. Even though he was a large part of the success that LSU had on the way to winning the national championship, he seemed to be discounted because he wasn't a burner and typecast as just a slot receiver. But he had size (6-3, 192 lbs.) and was still fast at 4.43 in the 40. And his all-around skills were on display against the best competition in the FBS Championship games. He eventually exploded in the NFL. I'll take a chance on a big WR who's had collegiate success from now on.
ELITE TE IS INVALUABLE
Here's a sign of Travis Kelce's dominance at the position. After Week 12, Kelce was averaging a full 6 Fantasy PPG more than TE2 Darren Waller. So he was averaging a full TD more per game than the second-best TE. To show the context, Jared Cook was averaging 6 Fantasy PPG less than Waller, and he was the 21st-ranked TE. In PPR scoring by season's end, Kelce would have been the RB4 and the WR4.
My two teams that had Kelce on them made it to the championship rounds. Before this year, I'd never been much for spending early draft capital on TE. That changes for 2021 on all my leagues with TE position. Grabbing someone like Kelce is going to take at least a late first-round pick. Even going into his age-32 season, he's still at the top of the game and probably will be for the next year or two as long as he's healthy.
LATE-ROUND QB NEEDS 2021 REVAMP
The days of getting a second-year Patrick Mahomes or Lamar Jackson in the 11th or 12th round may be long gone. In 4for4's ADP for 2020 drafts, if you waited until the 9th round you ended up drafting Matthew Stafford. Aaron Rodgers was found gold in the 8th round, but after Stafford, the only real gem to be found was Ryan Tannehill in the 13th round. He finished at QB7.
Remember when Josh Allen was maligned all summer 2020 for still having a long way to go in the accuracy department? He went at the end of the sixth round. Kyler Murray was supposed to be 2020's Jackson. Murray went in the fifth round. These were the first two QBs in overall scoring for the year.
QBs who are dual threats with their legs have become all the rage in the NFL, and with good reason. There were 10 QBs who rushed for at least 300 yards. There were 8 who rushed for at least 5 TDs. You need QBs with the rushing upside to win. But the correction in single-QB leagues is that people are going to have to pay up by drafting them earlier so you're not stuck with a statue. Pocket passers like Rodgers and Tom Brady did deliver in the top 10, but former top QBs like Stafford, Ben Roethlisberger and Matt Ryan even if they threw for 4500+ yards or 30+ TDs.
NUMBERS CAN'T QUANTIFY PLAYERS MAKING BIG IMPROVEMENTS
Who saw Allen coming this far? He went from 3089 passing yards to 4544 from 2019 to last year. His completion percentage jumped from 58.8% to 69.2% (after he'd jumped 6% in 2019). The 37 passing TDs were almost double the previous season.
The rushing yards were similar, though they fell slightly to 421 yards from 510 the previous year. Every year there are players who make drastic improvements and make splashes without really giving any public indication that was in there.
Allen was a good bet because he was young – 24 and going into his third year in the NFL – and had improved in his second year. The rushing floor made him worthy of being drafted to be a back-end QB1. But sometimes there are players who just surpass anything that could have been predicted for them. Let's look at what Allen has in common with Mahomes and Jackson when they had their respective breakouts the previous seasons.
Youth – Mahomes and Jackson were going into their second years when they exploded.

Stable coaching – Allen was with a great offensive mind in Brian Daboll, while Mahomes and Jackson are in great organizations with solid offensive minds running the show.

Rushing floor – Allen didn't have the rushing excellence of Jackson (no one does), though he had plenty of TD upside.

Offensive line – All three QBs had solid to great offensive lines keeping them upright and opening holes. I'll never emphasize that enough.
Who could be the 2021 version of Allen? Daniel Jones. He's going into his third year, and while he saw a major drop in TD passes from 24 to 11, health and lack of weapons played a part. He had a tough opening schedule that turned a lot of people off from him. With improvement under OC Jason Garrett along with an upgrade at receiver and on the O-line, he's my candidate to surprise in 2021. I just don't think it'll be to the level of Allen, but still has a back-end QB1 possibility.
GET RID OF K & DST
I'd heard about this phenomenon, but finally saw it live when I was invited to play in the Estadio Fantasy Bowl by buen amigo Mauricio Gutierrez. The Han Solo Division I was placed into had players from around the world, all speaking the same language of fantasy football (in Spanish, of course). What the league did not have were kickers and defenses.
We each drafted 18 players and had a single-QB roster starting 2 each of RB and WR, a single TE and 4 flexes. It was divine. No having to drop a rookie with upside to get a kicker who's on the field for all of about 90 seconds. It was great. I really recommend playing without kickers. You'll get more pleasure out of not having to scout that largely variant position, and you'll occasionally sneak a player into your starting lineup who explodes, like I did with Claypool in his epic Week 5. This option takes some of the luck out of it, and makes us scout more deeply the backup RBs and WRs, and even lower-tier TEs. Besides, isn't it more fun to get more alerts when flex players score rather than hoping a kicker gets 10 points?
ROOKIE RBs BLOSSOMED LATE
Taylor was the RB4 on the season, and even had 101 rushing yards in Week 2. Then he didn't top 20 fantasy points again until Week 13. Dobbins didn't top 50 rushing yards in a game until he went for 113 in Week 8.
D'Andre Swift infamously dropped a TD pass that would have been a Week 1 walk-off winner, then was largely an afterthought until Week 6. Gibson was only OK until Week 7, when he trampled the Cowboys for 128 yards and a score. Akers was largely a non-factor until Week 13, when he became the fantasy community's darling.
In 2020, only UDFA James Robinson was a wire-to-wire every-week starter (and even he was hurt after Week 15). While it may be difficult to stick with some of these players when they're not performing, if you drafted enough options and played matchups, you were rewarded during the latter stages of the season. The rookie RB, if he's going to break out, almost always happens in that first season.
MATCHUPS ARE EVERYTHING
This is as important as anything. What happens so much during the offseason and the preseason is that fantasy players and some analysts rely on the full-year numbers to look at the players as a whole. I get it. It's kind of symmetrical to look at all the players after everyone has 16 games under their belts.
Simply going by those numbers is a losing endeavor, though. How a player did in 2020 has little to do with what they're facing in 2021. How is that RB's offensive line against a solid front like the Buccaneers? How does that WR do when being shadowed by Jalen Ramsey? How does that QB fare when rain and winds say that forward passes are not going to happen?
Two cases for keeping an eye on matchups. First is Kirk Cousins. He was the 22nd QB according to 4for4's 2020 ADP. In most 12-team leagues he was a streaming option. On the season, he finished the QB11. That's respectable, and far outperforms his ADP. Then look at weeks 9-13, when he threw for 3 TDs on 4 occasions, and passed for 292 yards or more 4 times. He was the QB5 during that span, just a point behind Josh Allen.
Did he put on Superman's cape and go ballistic during that period? No, all he had to do was face the Lions, Bears, Cowboys, Panthers and Jaguars over that span – all were bottom-tier defenses in 2020. The matchups said that Cousins was going to be a great play during those weeks, even if his talent and draft pedigree said that others would be better. Play the matchups.
The poster child for playing matchups in 2020 may be David Montgomery. I don't know if there was a RB who was more downplayed going into 2020. So many people just held their noses and picked him in the 6th round, after stalwarts like Devin Singletary, Mark Ingram and Raheem Mostert. Who felt good about drafting Montgomery? Only people who had him as a league winner.
From Weeks 12-16, Montgomery was Marshall Faulk circa 2000. He was the RB1 and behind only Davante Adams, Tyreek Hill and Stefon Diggs in PPR scoring. He was even ahead of Alvin Kamara, who had that monster Christmas Day game with 6 TDs during that same period. Those who drafted Montgomery saw the lineup of opponents and salivated: Packers, Lions, Texans, Vikings and Jaguars. That was as good a schedule as could be possible for a RB down the stretch. It's no wonder he was the RB6 on the season.
Are you ready to draft Montgomery as the RB6 in your 2021 draft? Again, don't draft a player based on how he did thanks to a good stretch.