I remember last year how so many pass catchers were riding high before Halloween. They must have had too much candy corn, because many slowed down as the weather got decidedly cooler and played a factor on the field.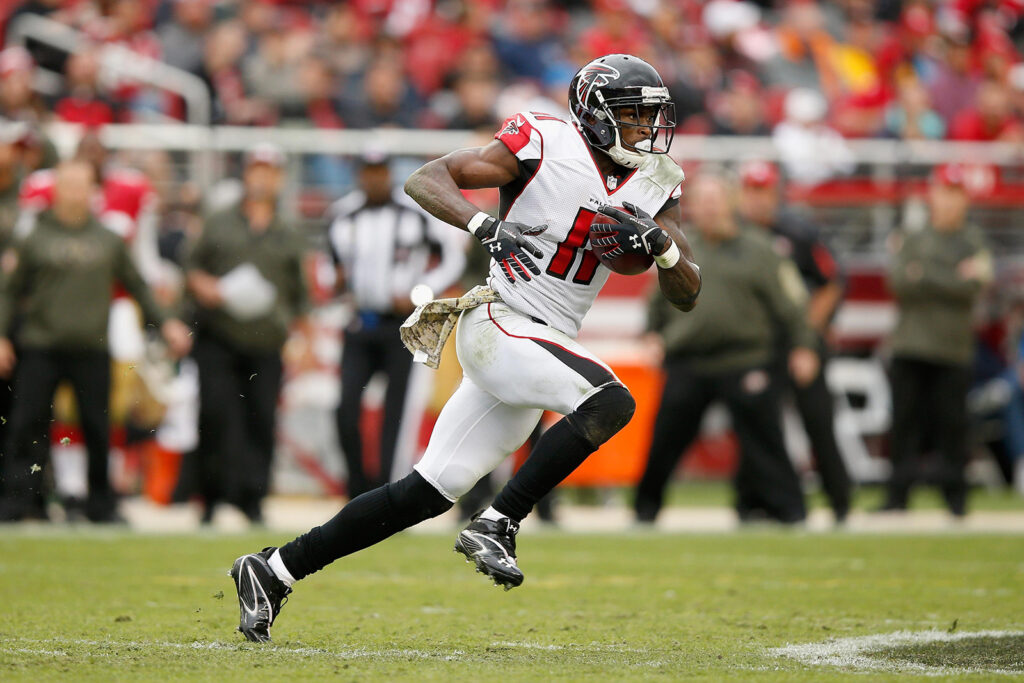 As mentioned in the QB article, Mother Nature is smiling on us this week. And the schedule makers also gave us a slew of dome games. Our START OF THE WEEK is the poster child for great expectations this week.
ADENTRO WR
DFS START OF THE WEEK
Julio Jones vs. DEN
Calvin Ridley is likely to miss the game with a foot sprain. Denver's top DB A.J. Bouye has already been ruled out. Jones will be 7-11 – open 24/7. The Broncos will score plenty also, and they can stop the run. But they're in the middle against the pass, so look for Matt Ryan to throw a ton, and most of it to Jones. 
Jerry Jeudy @ ATL
Those 10 targets that Jeudy got last week should be the sign of things to come. Tim Patrick is expected to suit up, but coming off a hamstring injury that could mean he doesn't get a full workload. Against the Falcons' D that is #28 against WRs in FPPG, there will be tons of balls in the air for both sides. Look for Jeudy to at least match the target count he got last week.
Tyler Lockett @ BUF
Lockett appears to have the best matchup on the day, as the Bills have been getting burned in the slot. PFF lists him as having a 29% advantage over CB Taron Johnson. Aside from the 200-yard, 3-TD game in Week 8, Lockett has been held to 44 yards or less in 3 of 4 games. The Buffalo D has been leaky against the pass, so Lockett should beat it a few times.
Marvin Jones @ MIN
Kenny Golladay has already been ruled out, so look for a bulk of his targets to be redirected to Jones. In the past 2 weeks, Jones has received 13 targets, and the Vikings continue to get torched in the passing game. They are #31 against WRs in FPPG, and Matthew Stafford is expected to start after sitting out the week of practice on the COVID IR.
DFS BARGAIN OF THE WEEK
Diontae Johnson @ DAL
Look past the 3 targets Johnson received last week. He was in and out of the game with an injury. Remember the 15 targets that Johnson got the week before, when Chase Claypool and JuJu Smith-Schuster were both active. The Cowboys are plain awful against the pass (#29 vs WR), making Johnson's $5000 price look like a steal.
AFUERA TE
DJ Moore @ KC
In the rain and wind last week against the Falcons, Moore did not record a reception until the closing minutes of the 4th quarter. Now he's likely to draw coverage against Brashaud Breeland, who is #21 in PFF grades among DBs. The KC secondary has played really well this season, so Moore will have it tough.
Amari Cooper vs. PIT
This could apply to all Cowboy WRs. This has less to do with the fact that Pittsburgh's pass defense (#23 against WRs) has been below average. It has more to do with the Steeler pass rush being one of the best, and the Cowboy O-line hurting. Sub QB Garrett Gilbert will have little time to throw the ball, obviously hurting the production of his pass catchers. 
ADENTRO TE
Noah Fant @ ATL
The Falcons are actually worse against opposing TEs (#32 in FPPG) than against WRs, and Fant is finally looking recovered from that ankle injury from earlier this season. He's received 32 targets in his past 4 games. Fant will get plenty of looks, and could be a DFS play for people looking for a bargain ($4600).
Eric Ebron @ DAL
With all the attention being paid to the wideouts in Pittsburgh, Ebron has quietly gotten 5-8 targets a game in 5 games this season. The Cowboys aren't stopping TEs either (#19 in FPPG). Ebron is an underrated play for targets that could result in a TD.
AFUERA TE
Logan Thomas vs NYG
Looking for a TE flyer because you don't have one of the top TEs? Thomas is not the TE you're looking for this week. LB Blake Martinez has been doing a good job on TEs, and Washington may concentrate on running the ball against a Giant D that is in the bottom half of run defenses.
| | | |
| --- | --- | --- |
| | WR RANKINGS | |
| 1 | Davante Adams (GB – WR) | at SF |
| 2 | Julio Jones (ATL – WR) | vs. DEN |
| 3 | Stefon Diggs (BUF – WR) | vs. SEA |
| 4 | D.K. Metcalf (SEA – WR) | at BUF |
| 5 | DeAndre Hopkins (ARI – WR) | vs. MIA |
| 6 | Tyler Lockett (SEA – WR) | at BUF |
| 7 | Keenan Allen (LAC – WR) | vs. LV |
| 8 | Tyreek Hill (KC – WR) | vs. CAR |
| 9 | Terry McLaurin (WAS – WR) | vs. NYG |
| 10 | Adam Thielen (MIN – WR) | vs. DET |
| 11 | Allen Robinson II (CHI – WR) | at TEN |
| 12 | Will Fuller V (HOU – WR) | at JAC |
| 13 | A.J. Brown (TEN – WR) | vs. CHI |
| 14 | Michael Thomas (NO – WR) | at TB |
| 15 | Chase Claypool (PIT – WR) | at DAL |
| 16 | Robby Anderson (CAR – WR) | at KC |
| 17 | Justin Jefferson (MIN – WR) | vs. DET |
| 18 | Brandin Cooks (HOU – WR) | at JAC |
| 19 | Diontae Johnson (PIT – WR) | at DAL |
| 20 | Antonio Brown (TB – WR) | vs. NO |
| 21 | Mike Evans (TB – WR) | vs. NO |
| 22 | Marquise Brown (BAL – WR) | at IND |
| 23 | JuJu Smith-Schuster (PIT – WR) | at DAL |
| 24 | D.J. Moore (CAR – WR) | at KC |
| 25 | Mike Williams (LAC – WR) | vs. LV |
| 26 | Jerry Jeudy (DEN – WR) | at ATL |
| 27 | Marvin Jones Jr. (DET – WR) | at MIN |
| 28 | Amari Cooper (DAL – WR) | vs. PIT |
| 29 | D.J. Chark Jr. (JAC – WR) | vs. HOU |
| 30 | DeVante Parker (MIA – WR) | at ARI |
| 31 | Darius Slayton (NYG – WR) | at WAS |
| 32 | Cole Beasley (BUF – WR) | vs. SEA |
| 33 | Henry Ruggs III (LV – WR) | at LAC |
| 34 | Christian Kirk (ARI – WR) | vs. MIA |
| 35 | Sterling Shepard (NYG – WR) | at WAS |
| 36 | Corey Davis (TEN – WR) | vs. CHI |
| 37 | Mecole Hardman (KC – WR) | vs. CAR |
| 38 | Darnell Mooney (CHI – WR) | at TEN |
| 39 | CeeDee Lamb (DAL – WR) | vs. PIT |
| 40 | Chris Godwin (TB – WR) | vs. NO |
| 41 | Curtis Samuel (CAR – WR) | at KC |
| 42 | Laviska Shenault Jr. (JAC – WR) | vs. HOU |
| 43 | Michael Gallup (DAL – WR) | vs. PIT |
| 44 | Jakobi Meyers (NE – WR) | at NYJ |
| 45 | Russell Gage (ATL – WR) | vs. DEN |
| 46 | Scotty Miller (TB – WR) | vs. NO |
| 47 | Nelson Agholor (LV – WR) | at LAC |
| 48 | Preston Williams (MIA – WR) | at ARI |
| 49 | Keelan Cole Sr. (JAC – WR) | vs. HOU |
| 50 | Denzel Mims (NYJ – WR) | vs. NE |
| 51 | Tim Patrick (DEN – WR) | at ATL |
| 52 | Golden Tate (NYG – WR) | at WAS |
| 53 | Randall Cobb (HOU – WR) | at JAC |
| 54 | Anthony Miller (CHI – WR) | at TEN |
| 55 | Marquez Valdes-Scantling (GB – WR) | at SF |
| 56 | Demarcus Robinson (KC – WR) | vs. CAR |
| 57 | KJ Hamler (DEN – WR) | at ATL |
| 58 | Zach Pascal (IND – WR) | vs. BAL |
| 59 | Marcus Johnson (IND – WR) | vs. BAL |
| 60 | John Brown (BUF – WR) | vs. SEA |
| | | |
| --- | --- | --- |
| | TE RANKINGS | |
| 1 | Travis Kelce (KC – TE) | vs. CAR |
| 2 | Darren Waller (LV – TE) | at LAC |
| 3 | Noah Fant (DEN – TE) | at ATL |
| 4 | T.J. Hockenson (DET – TE) | at MIN |
| 5 | Rob Gronkowski (TB – TE) | vs. NO |
| 6 | Mark Andrews (BAL – TE) | at IND |
| 7 | Hayden Hurst (ATL – TE) | vs. DEN |
| 8 | Hunter Henry (LAC – TE) | vs. LV |
| 9 | Jonnu Smith (TEN – TE) | vs. CHI |
| 10 | Jared Cook (NO – TE) | at TB |
| 11 | Jimmy Graham (CHI – TE) | at TEN |
| 12 | Evan Engram (NYG – TE) | at WAS |
| 13 | Trey Burton (IND – TE) | vs. BAL |
| 14 | Robert Tonyan (GB – TE) | at SF |
| 15 | Eric Ebron (PIT – TE) | at DAL |
| 16 | Jordan Akins (HOU – TE) | at JAC |
| 17 | Mike Gesicki (MIA – TE) | at ARI |
| 18 | Logan Thomas (WAS – TE) | vs. NYG |
| 19 | Albert Okwuegbunam (DEN – TE) | at ATL |
| 20 | Irv Smith Jr. (MIN – TE) | vs. DET |
| 21 | Greg Olsen (SEA – TE) | at BUF |
| 22 | Jordan Reed (SF – TE) | vs. GB |
| 23 | Ross Dwelley (SF – TE) | vs. GB |
| 24 | Darren Fells (HOU – TE) | at JAC |
| 25 | Dalton Schultz (DAL – TE) | vs. PIT |