How special was last Sunday for Tyler Lockett and Davante Adams? It seemed that whatever got thrown up in the air fell into their hands, and the pair combined for nearly 400 yards passing and 5 TDs.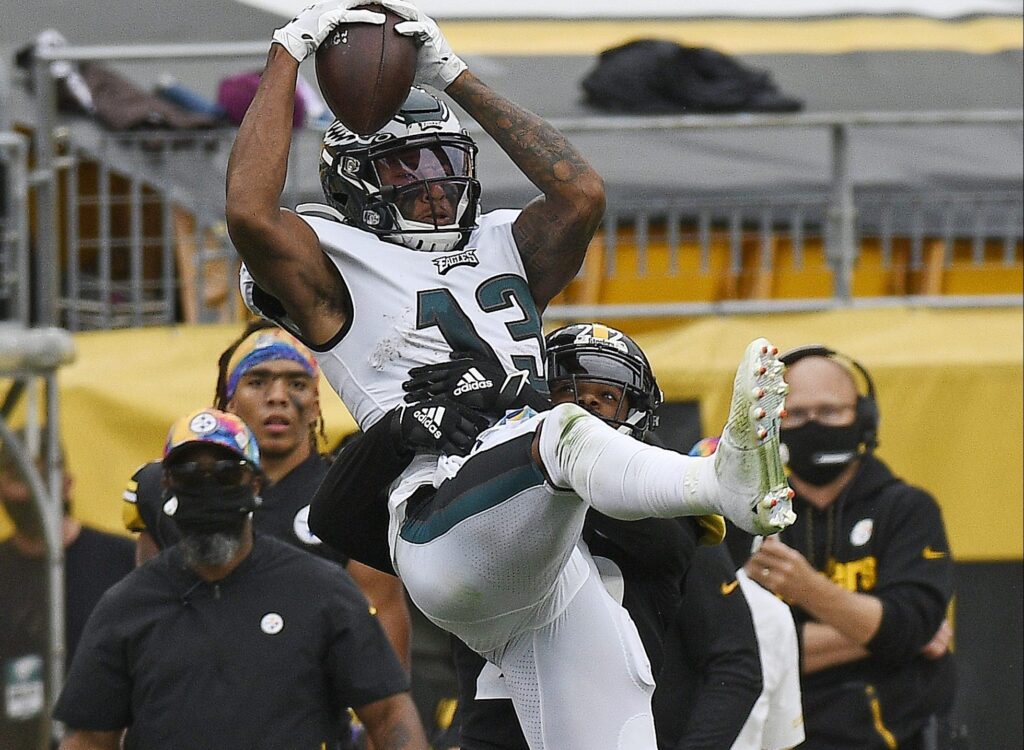 Both appeared to be due, as Adams hadn't scored since Week 1, largely because he was hurt a couple games. As for Lockett, he hadn't score a TD after Week 3. Will fortunes change for someone else this week? We're going to start with a familiar face on the Adentro section.
ADENTRO
START OF THE WEEK
Davante Adams vs. MIN
We've already seen how this one goes, when Adams lit up the Viking secondary for 14 catches on 17 targets for 156 yards and 2 TDs. This one will be in Green Bay, and WRs have continued to torch the Vikings, who are #31 against the position in FPPG. No rain or snow, but wind will be around 18 MPH, which could be the only thing slowing down Adams on Sunday.
Travis Fulgham vs. DAL
The Cowboys are almost as bad as the Vikings against WRs, at #29 in FPPG. Fulgham has taken over WR1 duties, with 34 targets in the last 3 games. He's averaging almost 21 PPR points over that stretch. Even with Jalen Reagor activated, Fulgham is the play.
Marquise Brown vs. PIT
There have been some near misses on long balls from Lamar Jackson to Brown, so there is the hope that there will be a connection or two coming off the bye. The only area where the Steeler D has been vulnerable is against the WR, where it is #26. There's a 57% chance of rain, so keep an eye on Sunday morning weather reports. Brown has no less than 6 targets in any game this season.
Keenan Allen @ DEN
Allen has no fewer than 10 targets in 4 of 6 games thus far, with a high of 19 against a surprisingly tough Carolina secondary. The Broncos are formidable against the run, middle of the road against the pass – 13th against WR in FPPG. Look for a big game on a sunny day with temperatures in the 60s.

Mecole Hardman vs. NYJ
Yes, I know. Hardman was the talk of fantasy experts in the preseason. His TD efficiency was off the charts. Then the season happened, and we all remembered that Patrick Mahomes has some skilled vatos to throw the ball to. Hardman has one of the most favorable WR/CB matchups this week according to PFF, with a 48% advantage over the Jets' Pierre Desir. Don't be surprised if Hardman is connects on a long bomb.
Mike Gesicki vs. LAR
My primo Ricky practically goes into convulsions whenever I talk about Gesicki, so don't be surprised if he rakes me over the coals if this pick craps out. It's a rookie QB making his debut, and Tua Tagovailoa may not have as much time to throw against the fierce Ram D-line. Gesicki has the #2 TE matchup this week with a projected 48% advantage over Ram LB Kenny Young. The Miami TE has had 2 good weeks out of 6, so he could be overdue like Lockett was last week.
Jonnu Smith @ CIN
How is Smith still tied for the #3 TE in fantasy coming off consecutive 1-catch games? And he had his bye. Oh, yeah, the TE position is as much as wasteland as finding a lead caballo RB on the waiver wire. The Bengals are #31 against the TE in FPPG, so expect Smith to go well past a single catch in this game.
AFUERA
Adam Thielen @ GB
I know, you're not really going to sit Thielen, especially since he's only been held out of the end zone in 1 game this season. He's likely to see shadow coverage from Jaire Alexander, who happens to be the top-ranked DB according to PFF. Plus, let's not forget that dome teams when they leave the friendly confines and get into real weather do take a step backward.
JuJu Smith-Schuster @ BAL
All looked right in the world with JuJu getting 14 targets for 9 receptions and 85 yards last week against the Titans. The Ravens are a step up in weight class from a defensive standpoint, and JuJu is likely going to draw a lot of Marlon Humphrey this week. Big Ben is going to throw plenty, but the guess here is that he'll take advantage of the 4-inch height advantage that Chase Claypool has over Marcus Peters.
T.J. Hockenson vs. IND
The Colts are #1 against the TE in FPPG, but they've only faced Jimmy Graham among the fantasy points leaders at the position. Graham was held to 33 yards receiving. Hockenson has been great with scoring TDs in each of the last 3 games, but in 2 of those games he got less than 20 yards.
| | | |
| --- | --- | --- |
| | WR Week 8 | |
| 1 | Davante Adams (GB – WR) | vs. MIN |
| 2 | Tyreek Hill (KC – WR) | vs. NYJ |
| 3 | A.J. Brown (TEN – WR) | at CIN |
| 4 | Calvin Ridley (ATL – WR) | at CAR |
| 5 | D.K. Metcalf (SEA – WR) | vs. SF |
| 6 | Julio Jones (ATL – WR) | at CAR |
| 7 | Tyler Lockett (SEA – WR) | vs. SF |
| 8 | Keenan Allen (LAC – WR) | at DEN |
| 9 | Stefon Diggs (BUF – WR) | vs. NE |
| 10 | Adam Thielen (MIN – WR) | at GB |
| 11 | Robby Anderson (CAR – WR) | vs. ATL |
| 12 | Kenny Golladay (DET – WR) | vs. IND |
| 13 | D.J. Moore (CAR – WR) | vs. ATL |
| 14 | Mike Evans (TB – WR) | at NYG |
| 15 | Tyler Boyd (CIN – WR) | vs. TEN |
| 16 | Allen Robinson II (CHI – WR) | vs. NO |
| 17 | Robert Woods (LAR – WR) | at MIA |
| 18 | Travis Fulgham (PHI – WR) | vs. DAL |
| 19 | Amari Cooper (DAL – WR) | at PHI |
| 20 | Cooper Kupp (LAR – WR) | at MIA |
| 21 | Marquise Brown (BAL – WR) | vs. PIT |
| 22 | Tee Higgins (CIN – WR) | vs. TEN |
| 23 | Brandon Aiyuk (SF – WR) | at SEA |
| 24 | Diontae Johnson (PIT – WR) | at BAL |
| 25 | Jarvis Landry (CLE – WR) | vs. LV |
| 26 | Mike Williams (LAC – WR) | at DEN |
| 27 | Chase Claypool (PIT – WR) | at BAL |
| 28 | Rashard Higgins (CLE – WR) | vs. LV |
| 29 | Justin Jefferson (MIN – WR) | at GB |
| 30 | DeVante Parker (MIA – WR) | vs. LAR |
| 31 | Cole Beasley (BUF – WR) | vs. NE |
| 32 | JuJu Smith-Schuster (PIT – WR) | at BAL |
| 33 | CeeDee Lamb (DAL – WR) | at PHI |
| 34 | T.Y. Hilton (IND – WR) | at DET |
| 35 | A.J. Green (CIN – WR) | vs. TEN |
| 36 | Scotty Miller (TB – WR) | at NYG |
| 37 | Sterling Shepard (NYG – WR) | vs. TB |
| 38 | Henry Ruggs III (LV – WR) | at CLE |
| 39 | Jerry Jeudy (DEN – WR) | vs. LAC |
| 40 | Nelson Agholor (LV – WR) | at CLE |
| 41 | Tre'Quan Smith (NO – WR) | at CHI |
| 42 | Mecole Hardman (KC – WR) | vs. NYJ |
| 43 | Michael Gallup (DAL – WR) | at PHI |
| 44 | Corey Davis (TEN – WR) | at CIN |
| 45 | Marvin Jones Jr. (DET – WR) | vs. IND |
| 46 | Preston Williams (MIA – WR) | vs. LAR |
| 47 | Marquez Valdes-Scantling (GB – WR) | vs. MIN |
| 48 | Demarcus Robinson (KC – WR) | vs. NYJ |
| 49 | Kendrick Bourne (SF – WR) | at SEA |
| 50 | Darius Slayton (NYG – WR) | vs. TB |
| 51 | Hunter Renfrow (LV – WR) | at CLE |
| 52 | Curtis Samuel (CAR – WR) | vs. ATL |
| 53 | Greg Ward (PHI – WR) | vs. DAL |
| 54 | Anthony Miller (CHI – WR) | vs. NO |
| 55 | Tim Patrick (DEN – WR) | vs. LAC |
| 56 | Adam Humphries (TEN – WR) | at CIN |
| 57 | Darnell Mooney (CHI – WR) | vs. NO |
| 58 | Marquez Callaway (NO – WR) | at CHI |
| 59 | Denzel Mims (NYJ – WR) | at KC |
| 60 | Golden Tate (NYG – WR) | vs. TB |
| | | |
| --- | --- | --- |
| | TE WEEK 8 | |
| 1 | Travis Kelce (KC – TE) | vs. NYJ |
| 2 | George Kittle (SF – TE) | at SEA |
| 3 | Mark Andrews (BAL – TE) | vs. PIT |
| 4 | Darren Waller (LV – TE) | at CLE |
| 5 | Jonnu Smith (TEN – TE) | at CIN |
| 6 | Hunter Henry (LAC – TE) | at DEN |
| 7 | Jimmy Graham (CHI – TE) | vs. NO |
| 8 | Robert Tonyan (GB – TE) | vs. MIN |
| 9 | Rob Gronkowski (TB – TE) | at NYG |
| 10 | Dallas Goedert (PHI – TE) | vs. DAL |
| 11 | Mike Gesicki (MIA – TE) | vs. LAR |
| 12 | Richard Rodgers (PHI – TE) | vs. DAL |
| 13 | T.J. Hockenson (DET – TE) | vs. IND |
| 14 | Noah Fant (DEN – TE) | vs. LAC |
| 15 | Hayden Hurst (ATL – TE) | at CAR |
| 16 | Jared Cook (NO – TE) | at CHI |
| 17 | Trey Burton (IND – TE) | at DET |
| 18 | Tyler Higbee (LAR – TE) | at MIA |
| 19 | Irv Smith Jr. (MIN – TE) | at GB |
| 20 | Gerald Everett (LAR – TE) | at MIA |
| 21 | Evan Engram (NYG – TE) | vs. TB |
| 22 | Harrison Bryant (CLE – TE) | vs. LV |
| 23 | Eric Ebron (PIT – TE) | at BAL |
| 24 | Dalton Schultz (DAL – TE) | at PHI |
| 25 | Drew Sample (CIN – TE) | vs. TEN |
QB RANKINGS