For the first season with Familia FFB offering fantasy football advice, we're introducing a different take on the normal Start Em/Sit Em columns. Paying homage to our raza, we're anointing this column Adentro y Afuera. In or Out.

If you're Adentro, you have a good matchup where the arrows are pointing toward starting the player. Afuera, well, you want that player out of your lineup.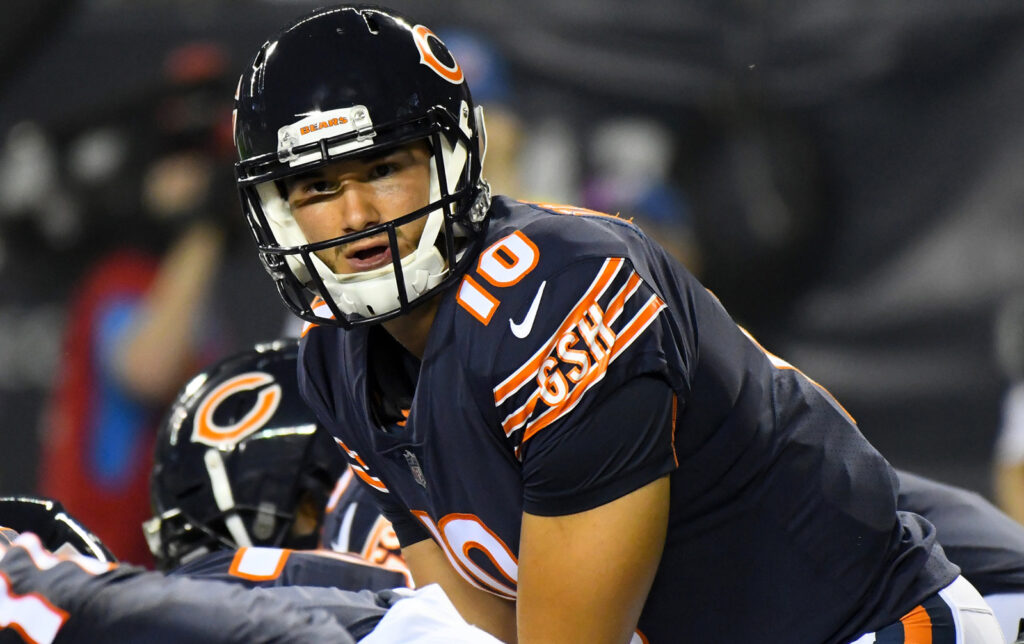 We'll even keep out the obvious players. We know you're even starting Saquon Barkely against Pittsburgh's outstanding defense. Christian McCaffrey against the Raiders? Don't even joke about it. These are the more marginal choices. We'll go by position:
QUARTERBACK
ADENTRO
Ben Roethlisberger @ NYG
The Giant defense is going to be one of the worst in the league, and Big Ben appears to be at or near 100% after his 2019 elbow injury. Even if Diontae Johnson sits, fire up JuJu Smith-Schuster and don't be surprised if James Washington has a long TD. The Steelers will score plenty.
Mitchell Trubisky @DET
It's now or nunca for Trubisky, who had two of his best games against the Lions in 2019. Thanksgiving in Detroit he was 29 of 38 passes for 338 yards and 3 TD (1 INT). Players with their careers in the balance seem to rise to the occasion if they're going to become great. Is Trubisky going to do this in what's probably his last chance to be an NFL starter? His early-season soft schedule is going to potentially be his "final" exam.
Cam Newton vs. MIA
Pull the Band-Aid off and start Superman. The Dolphin D is expected to be better than last year, but it has a long way to go to approach respectability. Cam will find Julian Edelman, N'Keal Harry and James White enough to have a good day. The QB says he's still going to run. If he shows that he's healthy in that department, he's an every-week starter. 
Tyrod Taylor @CIN
We talked about him in the waiver wire column. Find a way to get him in your lineup in Superflex leagues. We'll be targeting the Bengal D a lot this year.
AFUERA
Daniel Jones vs. PIT
All 4 of his blowup games in 2019 were against bad defenses. Pittsburgh's is one of the elite in the game. If you can sit Jones for Taylor this week, that would be a good platoon.
Baker Mayfield @BAL
Yes, Mayfield is going to be better than his horrendous 2019. It won't be this week. In Baltimore, against one of the premier defenses in the league for a team coming off an unexpected playoff loss. Sit Mayfield and play the matchups.
RUNNING BACKS
ADENTRO
Unless you're going Zero RB, you're starting pretty much every RB on your roster who has functioning legs and arms. So for this week, we're going to begin with a…
START OF THE WEEK: Josh Jacobs @CAR
I've been predicting a Top 5 RB season for a couple months now. Everything has been coming together even further for Jacobs, most recently when Lynn Bowden Jr. was traded last week. The matchup against what will be a very green Carolina D is too juicy, and the underrated Raider O-line is going to continually open gaping holes for Jacobs. He could rival the RB on the other side of the field for overall RB1 honors this week. 
Boston Scott @WAS 
(Saturday update) Miles Sanders has been ruled out for Week 1. Scott has the backfield to himself, is running behind a great O-line and Washington's rebuilding defense is not going to offer much resistance. When Scott subbed in for Sanders during Week 17 last year (against the Giants), he rushed 19 times for 54 yards and caught 3 passes for 84 yards. He's a capable backup.
AFUERA
LeVeon Bell @BUF
In 2019, the Bills were #10 in rushing yards allowed, and #4 against the pass. Yup, they're elite. The Jets took measures to improve their O-line in the draft and free agency, but the bet here is that it's going to take that unit some time to gel. And when Bell is not surrounded by Buffalo defenders, he might be out of the game in favor of Frank Gore giving him a "break."
Tampa Bay RBs @NO
Is Leonard Fournette or Ronald Jones the lead caballo? What's most likely is that neither one of them is, and that the stout New Orleans run defense – #4 last year – is going to put up a big STOP sign in front of each of them. Tom Brady is going to be throwing a ton this Sunday.
James Robinson vs. LV
Welcome to the NFL, Mr. Robinson. This ain't the FCS anymore. The Colts quietly were #7 in rushing yardage allowed last. Then they added DeForest Buckner, a force on the defensive line for the 49ers. Not likely going to be much breathing room for the rookie.
WIDE RECEIVERS/TIGHT ENDS
ADENTRO
T.Y. Hilton @JAX
The Jaguar defense is going to leave upcoming opponents salivating more than if a great taquero were setting up to cook. Hilton is the first up on a hit parade of offensive players looking to take their shots against what shapes up to be one of the worst defensive units in the NFL. Rivers liked taking shots down the field, and Hilton is going to be his #1 target.
Jerry Jeudy/Noah Fant vs. TEN
This is if Courtland Sutton is out after spraining his AC joint in his shoulder. The Titans were #24 against the pass last year, and going up to mile-high altitude. If Drew Lock takes that Year 2 leap that Bronco President John Elway is expecting, both of these players will see plenty of targets.
DeSean Jackson @WAS
We already talked about his big Game 1 last year, also against Washington. The revenge-game narrative is a little convenient. Concentrate on the fact that Washington's best DB last year was Quinton Dunbar, and he's now in Seattle. With Jackson the top healthy WR for the Eagles, Carson Wentz will be looking for the speedster.
AFUERA
Amari Cooper @LAR
Señor Cooper, meet Señor Jalen Ramsey. The guy who just became the highest-paid DB in NFL history. Known for blanket coverage on even the best WRs in the league. Cooper and Ramsey will be locked up a lot on Sunday. That usually means quiet days for those WRs.
Sterling Shepard/Darius Slayton vs. PIT
The Steelers just might have the best defense in the NFL, with lockdown DBs. And with Golden Tate banged up, Shepard and Slayton will have rough sledding. That's if Jones has time to pass against the ferocious Pittsburgh pass rush against the Giants rebuilding O-line. Bad combo.