Familia, yes, I'm feeling you. I have Javonte Williams on several teams, including both teams in our Familia leagues. Nothing you can do except make the hard cut and pick up someone else (unless you're in a dynasty league). The season is not done. I've seen it happen where people lost the #1 overall pick and still came back to win it all.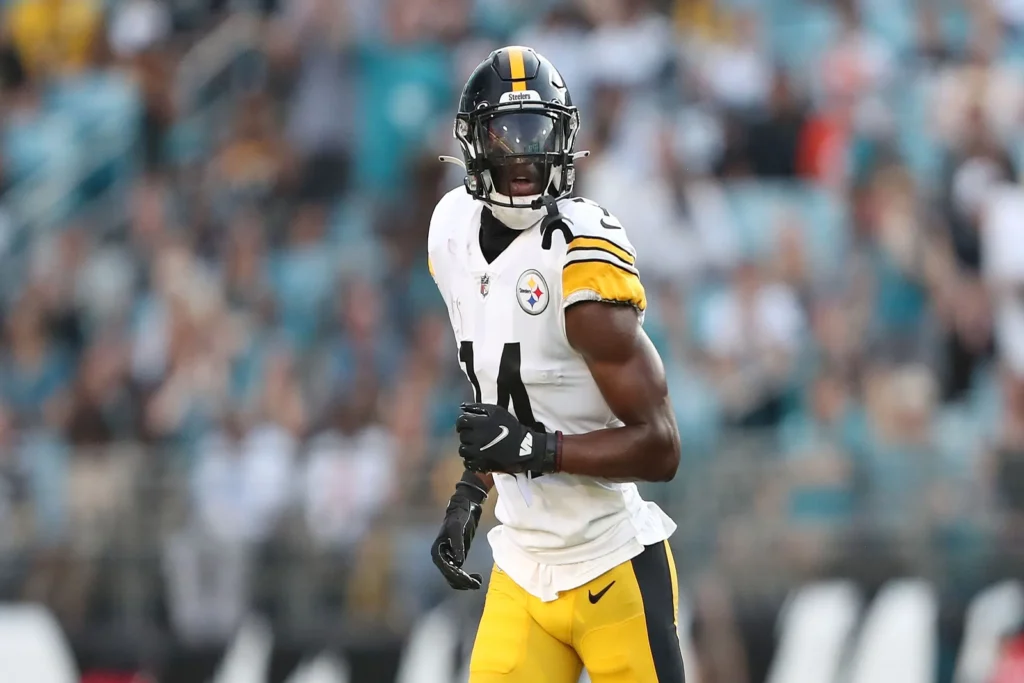 This goes for people who will be without Cordarrelle Patterson for at least 4 weeks and maybe Jonathan Taylor this week – hopefully not more. Just assess the rest of your roster, and look over the waiver wire. Some deep leagues, the pickings will be slim. If you're top heavy at WR, time to start up those trade talks. People always overvalue RBs, and with good reason considering that you're looking to replace some highly drafted players. Just know your value, and that the sharks in your leagues will smell the blood in the water when you're initiating talks. Know the value you have on your players and make offers, and know what the value is that you'll go to.
Also, this past weekend was a reminder to keep weather in mind. I was like so many of you who were looking at all those points being washed away in the wind and rain in Philly and Baltimore on Sunday. The NFL still won't listen to me on putting domes on all the NFL stadiums. Wink, wink.
Here are some players who could help this week on the waiver wire that are rostered in 50% or less in Yahoo leagues. Time for Los Peekups Week 5.
QUARTERBACK
KENNY PICKETT (6%) @ BUF
The time has come, and before long I'm going to have to pay up a beer bet to Sam Holt of MB Fantasy Life. I have Mitch Trubisky and she has Pickett on our respective Scott Fish Bowl teams. I'll take being unbeaten in that league and #13 overall. Let's see how long that lasts. Anyway, Pickett, we're going to see the 1st-rounder after a full week of practice with the ones. His YPA was 9.2, compared to 6.5 for Trubisky. He also completed 10 of 13 passes (76.9%), and since he was intercepted 3 times none of his passes hit the ground. This will hopefully mean good things for the pass catchers on the Steelers. The Bills are breaking in a lot of new faces in the secondary because of injuries, though they have held Tua Tagovailoa and Lamar Jackson under 200 passing yards (the Baltimore game was in extreme rain and windy conditions). This is a move for down the road, and definitely for super flex leagues.  
JAMEIS WINSTON (36%) vs SEA
The fractures in his back got a full week to further heal, and hopefully he's ready to play in this tasty matchup. In his last game Winston threw for 353 yards against a good Carolina defense, and Chris Olave has become a revelation as a deep threat – one of my preseason sleepers. Winston is taking on a Seattle defense that Jared Goff just torched for 378 yards and 4 TDs. He could be a good streamer if you've lost one of the growing number of injured QBs. 
RUNNING BACK
TYLER ALLGEIER (18%) @ TB
This was one of my offseason sleepers after I saw the landing spot after the draft. Now Allgeier appears to be next up after Patterson is going to miss at least the next 4 games. Pressed into duty after Patterson was forced from the game, Allgeier rushed 10 times for 84 yards. Anyone getting double-digit carries needs to not be on the waiver wire unless you're in a 10-team league. Allgeier is more of a battering ram than someone like Patterson, and hasn't gotten many targets. Unless you've lost Williams, Allgeier is more of a bench stash this week against a tough Bucs defense.
MIKE BOONE (3%) vs IND
If you lost Williams, this is a natural play. Interestingly, Boone ran 12 routes against the Raiders. Gordon ran 5. If this persists, Boone could be the target leader for a Bronco offense that is #5 in targets to the RBs. The Colts just gave up 51 total receiving yards to the Titans' RBs, and have been giving up some yardage to the position in the receiving game. Again, if you lost Williams, this is worth the investment of FAAB or your waiver wire priority pick. 
CALEB HUNTLEY (1%) @ TB
Like with Allgeier, Huntley got 10 carries and is a target on the waiver wire even though most fantasy managers didn't know who he was a week ago. With a 10-56-0 line, Huntley may be in a timeshare with Allgeier at the beginning. Hard to know how the distribution of touches will be after just one game, though I predict Allgeier will be the touch leader early on. WARNING: This committee could be more trouble than it's worth.
RAHEEM MOSTERT (50%) @ NYJ
After putting up a 15-69-0 rushing line against the Bengals, Mostert needs to be rostered in more than half of all leagues. This is a two-headed committee, with Chase Edmonds, and we know how Shanahan acolytes like to continue to run the ball. The Jets have been a little better against the run, but they did give up good games to Nick Chubb (17-87-3) and Najee Harris (18-74-0) recently. 
KENNETH GAINWELL (32%) @ AZ
I know it hasn't been pretty, but he's the sole #2 behind Miles Sanders and scored a TD while rushing 5 times for 19 yards. He's still not getting a lot of work, but considering Sanders' injury history and the great Philly offense and line, if you have room on your bench or someone droppable, Gainwell is a good option for the future.
WIDE RECEIVER
GEORGE PICKENS (39%) @ BUF
This is purely based on taking the talent that's out there and hoping that it gets more of a chance to flourish with a new QB. Pickens will now be catching passes from Pickett, and that's going to have all of Steeler Nation salivating and hoping for the best. Some of the catches that Pickens has made have been otherworldly, and he could be starting regularly before long. Just temper the expectations. Only Justin Herbert and Deshaun Watson have been good from the start as rookie QBs. Pickett will have growing pains. Yet on the spike weeks – likely home games – Pickens will get a chance to shine. 
MICHAEL GALLUP (41%) @ LAR
Gallup ran 24 routes in his first action off his ACL injury, and that number was only behind CeeDee Lamb on the team. The Cowboys are looking for someone to step into the #2 target role behind Lamb. Gallup is the most experienced player. The Rams have given up some receiving yardage to Marquise Brown (140), Drake London (86) and Stefon Diggs (122) in the early going. This is another move for the long run, especially after Dak Prescott comes back. 
ISAIAH MCKENZIE (47%) vs PIT
Jamison Crowder suffered a broken ankle and Gabriel Davis is still working his way back from an ankle injury that sat him down in Week 2. McKenzie has seen 15 targets in his last two games, with Davis back on the field. The Steelers are still vulnerable against receivers in the slot, and that's where McKenzie thrives. 
JOSH REYNOLDS (20%) @ NE
This is a play just in case that Amon-Ra St. Brown is held out another week before the Lions' Week 6 bye. Reynolds has 18 targets in the past couple games, coinciding with St. Brown getting hurt. The Lions are scoring plenty of points, averaging 35 a game. They're giving up 35.3, which is why they're 1-3. I do make this recommendation with some reservation because Jared Goff very clearly was frustrated by the Belichick defense in the Super Bowl in 2019. The coach may just pull out all the stops again to frustrate Goff, affecting Reynolds' production. 
TIGHT END
ROBERT TONYAN (32%) vs NYG
You'll get an early start on your Sunday if you start Tonyan, as he's in the London game. With just a pair of targets last week, he did catch both for 22 yards and a TD. The targets aren't the greatest, but he did run 22 routes on 23 total pass plays. The routes were 3rd on the Packers, just behind Allen Lazard and Romeo Doubs. With TE being such a wasteland, Tonyan is worth a flyer as a streamer or second TE. The Giants have yet to face a TE who is anywhere near a focal point of the offense, so we don't have much to go on for a comparison. 
MO ALIE-COX (5%) @ DEN
Have you heard he played college basketball? Never mind. This was the second game when Alie-Cox ran the 4th most routes among Colts pass catchers. He caught all 6 targets for 85 yards and a pair of scores. It's starting to look like Alie-Cox may have finally arrived. After Michael Pittman, really only Alex Pierce has drawn consistent looks from Matt Ryan. The way the TE position is going for fantasy, it never hurts to throw a flyer at a large, athletic pass catcher on a team still figuring out who the main targets are beyond the obvious top dog. 
TAYSOM HILL (29%) vs SEA
Hill is like no other player for fantasy. You're not counting on consistent targets, but instead looking at his usage in trick plays and scoring TDs. He has a pair of TDs in three games, and is always a threat to score. Or to get shut out. It's the roller coaster ride that you get with Hill.
STREAMING DEFENSE OF THE WEEK
MIAMI (22%) @ NYJ
The Dolphins are going to blitz and pressure the QB. Against the Bills, they had 46 pressures. That dropped to 14 against the Bengals, but that was partly due to a quicker passing game for Joe Burrow. And probably that the Miami D was not fully recovered playing 4 days after being on the field for more than 40 minutes in extreme heat and humidity. The Jets have Zach Wilson in just his second game of his sophomore season, with an O-line that's on its 4th starting LT.
GET 10% OFF YOUR FANTASYPOINTS.COM SUBSCRIPTION WHEN YOU ENTER THE PROMO CODE 22FAMILIA10.