For all the recent hoopla surrounding Kyler Murray's massive contract extension and its "independent study" clause that was eventually taken out, it's clear that whoever leaked that information was going to put Murray on notice that he needed to become more of a student of the game to reach greatness and live up to that contract.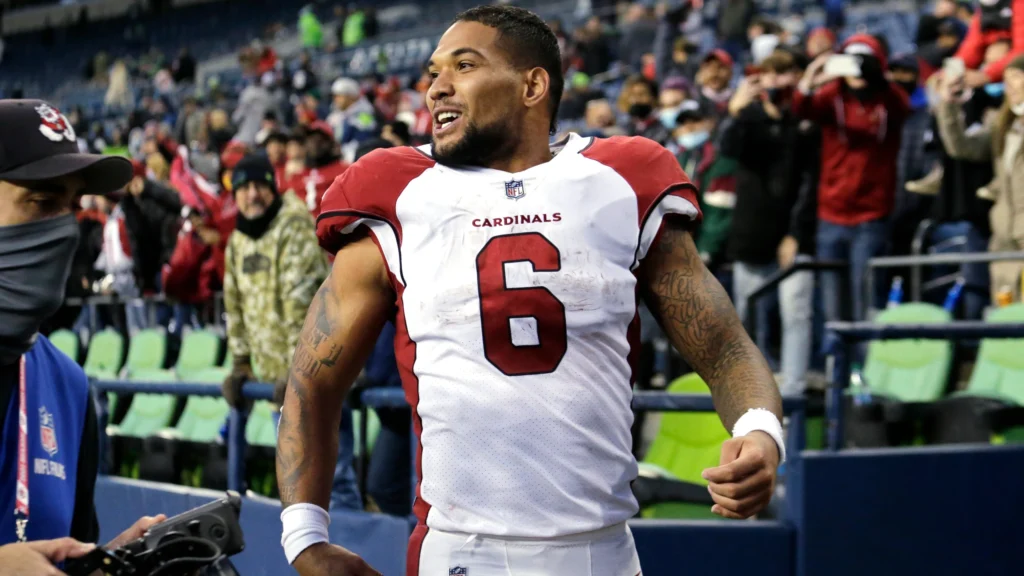 What's clear is that Murray has greatness within his reach. Through the Cardinals' 7-0 run to start the 2021 season, Murray was the QB3 after passing for 2,002 yards, rushing for 126 more and compiling 20 total TDs. This is the heights he can reach, and injury slowed him down to where he finished the season as the QB10, but had the fifth-highest FPG at 22.2. So with that, let's start with numero uno.
QB/WR/TE PASSING OFFENSE
As mentioned above, when he's right, Murray is one of the best QBs for fantasy. He is one of the best deep throwers in the league, as his big time throw rate was #1 in the NFL, according to PFF. His passer rating on go routes was 100.8. Jess Root of Cards Wire mentioned that had he not gotten hurt, Murray could have been nearing a 5,000-yard season (combined passing and rushing). This could happen this year.
"In 2020, he looked like an MVP candidate for half the season. Last year, he looked like an MVP candidate," Root said. "There is nothing about Kyler Murray that tells me that he's going to go backward. I expect to see him, provided he and his team stay relatively healthy, that we can see him take another step forward and be an MVP-type candidate throughout the season. It doesn't mean you're not going to have bad games, but rather than looking how bad he did in that playoff game, because let's be honest, everybody played like crap in that game. Every single player played like crap in that game. There wasn't a single positive that came out of that. And the second half of the season after (DeAndre Hopkins) went down, they struggled offensively and they weren't getting anything other than Kyler trying to do things. So yet it was Kyler, Zach Ertz and James Conner. And that was basically it. I'm going to say this year, he stays healthy. He's going to have that 5,000-yard combined year between rushing and passing."

Had Murray remained on the pace he was on, he would have passed for 4,826 yards and rushed for 306 more with 48 total TDs. That's up there with Josh Allen for top honors among fantasy QBs. That's the upside that we're talking about with Murray. He just needs to remain healthy. That hasn't been the case in his past two seasons. Murray's been on the cusp of 4,000 passing yards last two seasons. And I agree with Root that the QB takes that next step with a healthy season, though the O-line could become his downfall. More on that later. The question is, who will he be throwing deep to in while Hopkins is serving his 6-game suspension for PEDs?
Marquise Brown, Murray's teammate at Oklahoma, comes over as a deep threat and is an upgrade over Christian Kirk. Brown went 91-146-1,008-6 last year in Baltimore. When Murray goes big-game hunting, Brown will be the target he's looking for through at least Hopkins' suspension. The former College of the Canyons juco star is currently the WR21 in ADP, and could be an early bargain because the target volume will be there.
Ertz joined the Cardinals for Week 7, and for the remainder of the season he was TE4 while putting up a 49-71-490-4 stat line. Much of that was without Hopkins in the lineup. Ertz very well could be the second target for Murray, and at worst third after the return of Hopkins. Root had a great summation that tells how the targets should be distributed.
"I'm going to guess that Hollywood is going to be great early," Root said. "And then his production tails a little bit, but I would expect him to be a 1,000-yard receiver this year because, one, they traded for him and Kyler loves him. I think Hollywood is a perfect fit in this type of offense. So it's going to be fun to see how he plays in the offense. I think A.J. Green, we know what he's going to offer. Rondale Moore's going to play the Christian Kirk role. And what he offered last year, he got lots of touches – 54 catches – but I think the average depth of target was behind the line of scrimmage, like 0.5 or something crazy. Usually within a yard of the line of scrimmage. He'll have a different role this year. At least the first six, seven games, he will be running routes down the field. He'll be able to put up a lot more yards than he did last season. Once Hop gets back, it's going to be interesting because then Rondale gets pushed into that fourth receiver role…
"We'll get probably the best version of Hop that we can get over the last 11 games. And I think Hollywood will be the money guy early in the season. I think Ertz as well. Now, granted, there's other tight ends in the league that are going to be better… Ertz won't be a bad guy to have because Kyler has got a really good rapport with him. Ertz could still play at a high level. He's not going to have 100 catches. We're probably looking at 75, 80 catches, 800-ish yards kind of near what his high end, what his highest and not the high end, but near what his, his above-average days in Philly were."
This shapes up like a distribution of targets that will make it tough to predict anyone past Brown and Ertz for targets on a weekly basis. Keep an eye on Moore (ADP WR60) with either a late-round pick or on the waiver wire. Root pointed out that Moore should run the slot routes that were going to Kirk last year, and that meant 103 targets to the departed WR. With his sub-4.4 speed and rare shiftiness, Moore could see a dramatic change in the types of routes that he's running, and it should lead to more opportunities to help those who took a flyer on him in fantasy drafts. However, keep an eye on his usage once Hopkins returns, because there might not be enough targets to go around.
Green (WR75) was brought back to be that big-body target to complement Hopkins, who is WR33 and going in the 7th round. If you have your WR and flex positions filled by then, I'd recommend grabbing Hopkins and stashing him in redraft. This is after all a WR who averaged 10 TGT per game in 2020, so to get that type of player as a bench piece for six weeks would be a great get. Ertz as the TE9 in the 8th round, in front of Dawson Knox and Mike Gesicki, I might like Knox a little more, but they're almost tied.
One interesting thing to keep in mind is that after Week 6, the Cardinals play just one game outdoors in what could be bad weather – Week 15 in Denver. I look for that with dome teams. That could mean some big games for Murray.
RUNNING GAME
James Conner was a revelation last year as a late-round pick who went 202-752-15 and 37-39-375-3 via the air. Chase Edmonds is gone, which could mean even more work in the air for Conner. Operating alone Weeks 10-14 (four games) with Edmonds injured, Conner was the RB5 during that stretch and saw 21 TGT. That would be a whopping 85 TGT over 17 games. Not expecting those numbers, especially with his injury history and entering his age-27 season. The TDs will come down, but the overall rushing and receiving numbers should be combined over 1,000 yards in a full season.
"He's going to be the lead guy," Root said. "Conner is the one this year. He's the workhorse. They will spell him, but he will be the 20-touch guy at running back this year. So there will be no question as to who if you're looking for a fantasy running back to own from the Cardinals."
Root noted that Eno Benjamin received a lot of praise early from HC Kliff Kingsbury, which was notably rare. So Benjamin's touches early in the season may need to be monitored to see if he might be a satellite back behind the lead caballo Conner. Thjere are 159 touches that Edmonds left behind. Yes, if he's healthy, Conner will get work in the passing game, but Benjamin is a similar type of back as Edmonds and could see some touches if he's successful early. Darrel Williams is looming, and will be a waiver-wire pickup if Conner gets injured.
OFFENSIVE LINE
This group is #25, according to PFF, going into the season. There was some worry that C Rodney Hudson would not come back for the season after he missed OTAs and mini-camp, but he's back for the season. There is a new face with Will Hernandez at RG, but Root noted that with Murray's mobility they might be fine outside of the deep shots downfield.
"With the weapons they have, they don't need a lot of time," Root said. "Schematically, it's just a matter of, can they be good enough to give Kyler the time that he needs?
Keeping him clean and healthy will have to be the #1 goal for this unit.
DEFENSE
Root mentioned the tough loss of Chandler Jones to the D-line. This is a group that finished with 41 sacks, good for 13th in the NFL. Taking any step backward is going to put pressure on a pass defense that was #7 in the league with 3,645 passing yards allowed on the season – though they did get beat for 30 passing TDs. This team is going to sell out again to try to slow down the pass.
"If the offense is going like it should, the defense doesn't have to be great," Root said. "They just have to be adequate. But at the beginning of last year, they were fantastic. So creating turnovers, they have the potential to do that because you do have some upside."
Against the run, the Cardinals' best defense is going to be Murray and Co. building up a lead and forcing teams into the passing game. And hopefully turnovers. The Cardinals were 20th in the league with 1,952 rushing yards allowed, and one of the stalwarts of the D-line is J.J. Watt, who missed a good chunk of last season with injury. Root said his health is one of the keys to the run defense.
"They don't try to be built like run stoppers because analytically, when you build a defense, you need to stop the run, but it's more important to stop the pass," Root said. "So it's more about not giving up big plays in the running game. So you just want to limit it to one or two or three yards, rather than 15. The money is in pass defense, because the passing game is how teams score points. So if you can be adequate against the run, and that will be determined by the health of their frontline and when the offense plays well, they don't have to defend the run much. So if they're adequate early, the deep offense does what it's supposed to do, they won't have to play great run defense because teams will be playing from behind."
In a nutshell, fire up the RBs against the Cardinals, and be ready for some shootouts in the passing game, because the secondary will bend and occasionally break, as evidenced by the number of passing TDs allowed.
GET 10% OFF A SUBSCRIPTION TO FANTASYPOINTS.com WHEN YOU PUT IN THE PROMO CODE FAMILIA22