The NFL Draft is in the rear-view mirror. Now what? What comes next may be just as much fun, if not more, than the buildup to the NFL's version of a Tijuana Swap Meet.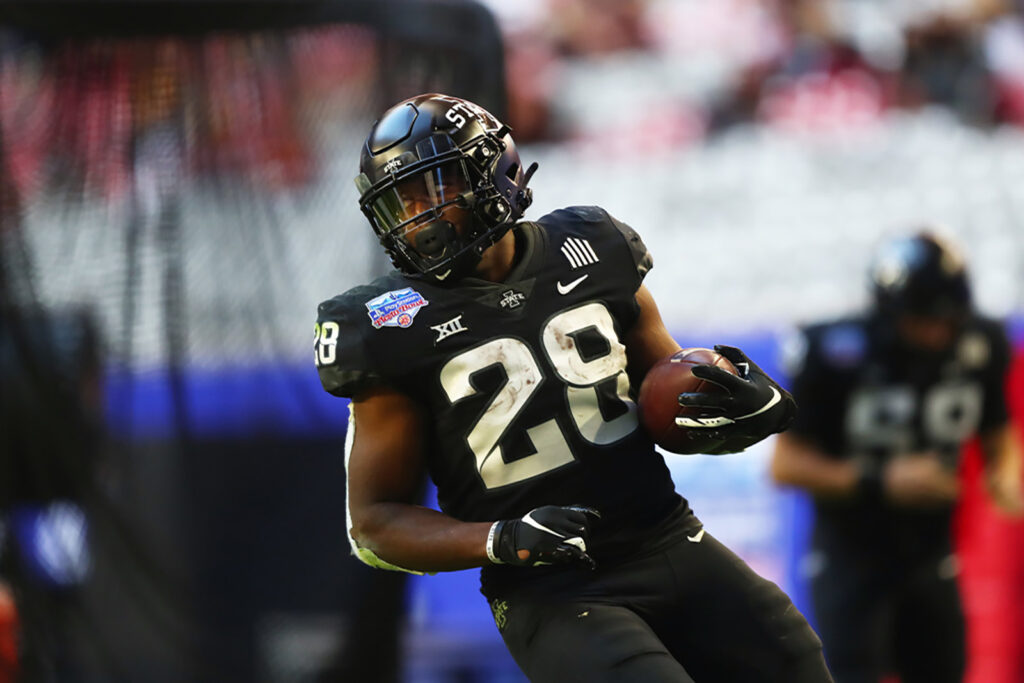 We actually know where players have landed. We can look at depth charts. We can throw our dynasty rosters in the basura because a player's lead caballo role becomes a timeshare. Or we can rejoice because we drafted rookies early and got a player in the third round who landed in a great spot.
The real work starts now. I actually heard a prominent fantasy analyst say that for a lot of people, post-NFL Draft is their official kickoff to the fantasy season. Here I'm going to take an early stab at where I believe the Top 6 landing spots are for fantasy RBs. Now this is not necessarily where I believe how the RBs are ranked, but I'll be focusing on value and where you can get them in rookie dynasty drafts. Why Top 6? Well, I looked at last year's stats and there were that many rookie RBs – Najee Harris, Javonte Williams, Elijah Mitchell, Chuba Hubbard, Michael Carter and Rhamondre Stevenson – were solid contributors to their teams and our fantasy rosters at some point during the season.
It's still early to be thinking redraft, but I'll sprinkle in some thoughts on if these players will contribute this year, and how they could impact your team either through the draft or on the waiver wire. RB is the position that often has the most immediate impact players. The RB shelf life is short, and this is also the shopping area where we find players who help you from Day 1 like Harris and Mitchell last year. Or even at some point during the season, like Carter and Stevenson. So let's talk favorite landing spots for RBs for 2022. VAMONOS!
BREECE HALL JETS R2
Rookie ADP: #1
Hard to start anywhere else than with the guy at numero uno. Hall was at the top of many experts' rookie draft boards even before the draft, and landing in the Big Apple is muy caliente. This is the second year of HC Robert Saleh's regime, and Mike LaFleur is a descendent of the Shanahan coaching tree that emphasizes the running game. Last year, the Jets ran the ball 380 times and targeted the RB position 129 times. Carter emerged as the touch leader on the Jets, with 147 rush attempts and 55 targets.
Enter Hall, with the 2nd-round pedigree, back-to-back 1,400-plus-yard seasons at Iowa State, 4.39 40-yard speed and scouts raving about his receiving ability. Often, coaches trust older players before they trust rookies in the passing game, at least in the early going. Hall is going to fly off rookie draft boards, and with good reason. This is a player who has an every-down skill set that could mean 250-plus touches in his first year. And if Zach Wilson takes a step forward with all these weapons and an improved O-line, wheel's up!
DAMEON PIERCE TEXANS R4
Rookie ADP #15
Houston was one of the RB rooms where I wanted to see one of this year's class get drafted. While the draft capital wasn't the greatest, the opportunity for Pierce could be a great one.
The Florida Gator was the most impressive RB that I saw in the Senior Bowl. While PFF compared him to C.J. Anderson, I like FantasyPros' Bo McBrayer comping him to Marion Barber. Down to the dreads flowing from his helmet and the violent running style, Pierce ate up yards in chunks against some very good defenders in Mobile.
The touches are there for the taking for Pierce, who has these other RBs to beat out (as of now) in Houston: Rex Burkhead, David Johnson, Royce Freeman and Marlon Mack. Burkhead led the Texans with 122 carries last year. Pierce could be a player who rises from his current rookie ADP, and I sense he'll be in that RB Dead Zone, at least early in redraft season. A lot to like, even if it starts off as somewhat of a committee. I'll be keeping an eye out for any news coming out of Houston.
KENNETH WALKER SEAHAWKS R2
Rookie ADP #5
When an RB who is primarily known for his running the ball and not much in the passing game is drafted by the Seahawks, thoughts turn to Chris Carson, whose career might be in jeopardy because of a neck injury. Both are compact – at 5-10 and 211 lbs., Walker is the same height and 11 lbs. lighter than Carson – and in the Pete Carroll system that likes to run the ball.
Walker is the first RB on the board for many fantasy experts – I have him #2 behind Hall, but it's close. He's getting some comps to Nick Chubb, and has all the tools anyone would want in a young RB except for production in the passing game. What's in his way initially is Rashaad Penny, he of the 671 rushing yards from Weeks 14-18 that helped win many people their fantasy championships. This could start out as a situation similar to Javonte Williams and Melvin Gordon in Denver last year, where Penny gets enough touches to leave fantasy managers crying to unleash Walker. The Seahawks had 413 rushing attempts last year. If both are healthy, Walker and Penny could split them down the middle. And if Carson is healthy, too, this will be un dolor de cabeza.
TYLER ALLGEIER FALCONS R5
Rookie ADP #27
This pick got muy interesante when the Falcons released Mike Davis. As of now, the top RB competition in Atlanta are Cordarrelle Patterson, Damien Williams and Qadree Ollison. None of them are world beaters, and Allgeier is that big-body back (5-10, 224 lbs.) with 4.60 speed who is very much the type of player who gets work on early downs. Dane Brugler of The Athletic has him ranked #4 among his RBs.
With Patterson still in the fold, at least taking handoffs initially, it looks like receiving work will go toward the veteran. Still, there were 138 carries and 182 total touches that went to Davis last year that are open. And it's hard to imagine that the Falcons want Patterson running the ball 153 times like he did last year, when he got worn down in the second half of the season. Allgeier could be a flex option, or at best RB2 who gets 10-15 touches a game during the season. His ceiling is A.J. Dillon. Expect this ADP to rise as redraft season fires up if the Falcons don't add anyone.
JAMES COOK BILLS R2
Rookie ADP #12
Built very much like Austin Ekeler, Cook (5-11, 199 lbs.) gets a great landing spot from a pure football standpoint. There are few offenses better than the Bills, and with Josh Allen running the show (and the ball occasionally) it's going to be hard to focus on any one piece.
What intrigues me about Cook in this offense is how the Bills almost signed J.D. McKissic in free agency. The great Greg Cosell has pointed out on multiple occasions how this tells the Bills' intent to throw the ball to the backs. Also, Cosell and Graham Barfield have both said that Cook is the best pass-catching back in this draft class. Zack Moss had 96 carries that were far from effective. I keep remembering this incredible 67-yard run in the national championship game whenever I think of Cook's rushing ability. With 100 carries and 50+ targets, Cook will carve out a solid role as an occasional flex or even RB2 in most redraft lineups. He'll be a cheap way to get into a Top 5 offense.

ISAIAH SPILLER CHARGERS R4
Rookie ADP #17
Speaking of Ekeler, the Chargers have been looking for a complementary back for their star runner for years. Justin Jackson. Joshua Kelley. Larry Rountree. Now batting, Spiller!
This is Brugler's #3 RB, and he was there throughout most of the draft season for many experts. Yet falling to the 4th round and being the 9th RB off the board is quite underwhelming. Spiller has the size (6-0, 217 lbs.) to get the big-RB carries while Ekeler gets work through the air and in the middle of the field. Will the smallish Ekeler still get 48 red-zone carries and 12 TDs like he did in 2021? I would imagine that the Charger coaching staff is going to want to limit the big hits in the trenches and should give some of that work to Spiller. Right now his ADP has him going in the 2nd round of drafts, and he's as good as anyone to have a decent shot to be Robin to Ekeler's Batman.
GET 10% OFF A SUBSCRIPTION TO FANTASY POINTS WHEN YOU PUT IN THE PROMO CODE FAMILIA22