Familia, I still have scars from Christmas 2020. I had a team that was on a 10-game winning streak, with Davante Adams and AJ Brown just rolling people every week. It was a remarkable team built on a deep draft and a late-round QB – Ryan Tannehill – that hit big.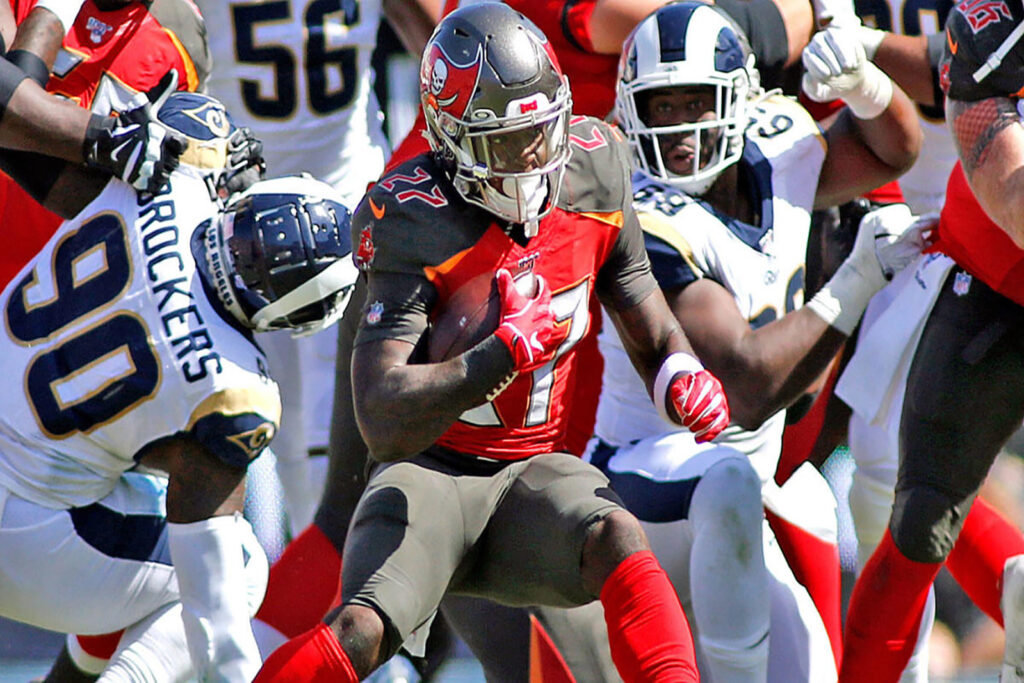 Then it happened. Alvin Kamara happened, to be exact. With 6 TDs, it was far from a Feliz Navidad. That and the fact that we didn't have the large Familia Christmas gathering because of the pandemic. That team fought back and actually took the lead going into Monday Night Football, but Stefon Diggs' 3 TDs sealed our fate.
That just shows what can happen this time of year. You get to the tournament, and these outlier games can either help you or rock you. That's why it's so important to get into the tournament.
I remember a team I had in 2009. Hit with injuries, and limped to the end just out of the playoffs. But one of the free agent pickups I'd made during the season was a Cleveland RB named Jerome Harrison. He was a decent replacement for Jamal Lewis, who'd suffered a season-ending injury.
Then came Week 15, Dec. 20 of that year. Harrison single-handedly destroyed the Chiefs to the tune of 286 yards and 3 TDs. That rushing mark set the record at the time, surpassing Sweetness himself, Walter Payton, who had 275 yards in 1977. That surely would have vaulted my team to the finals, when Harrison followed it up with 148 yards and a score.
So that just solidifies what I was saying above. Get in the tournament! Win and advance, which is what I'm hoping I can help you do in this column. As I've been doing, I'm posing and answering a question or two for each of the Christmas and Sunday games. All defensive rankings are as of Week 10. But before that, I want to wish you a blessed, wonderful and muy Feliz Navidad. Salud!
CHRISTMAS DAY
BROWNS (7-7) @ PACKERS (11-3)
GB -7.5 / 44.5
BROWNS
Anyone worth starting other than Nick Chubb? No, if you made it this far, it wasn't because of Baker Mayfield. The only considerations are Jarvis Landry or Donovan Peoples-Jones in deep leagues or because of COVID outages..
DEF QB (13) RB (12) WR (9) TE (23)
PACKERS
Easy starts are Aaron Rodgers, Davante Adams – 5 TDs in the last 4 games – and Aaron Jones. Starting A.J. Dillon? I am. Yes, he had 8 touches last week, but had 25 and 15 touches, respectively, the previous two games with Jones in the lineup. He'll get some goal-line work, just like last week when he had 1 TD and almost a second. Marquez Valdes-Scantling is on the COVID list, but there's a chance he could be reinstated before gametime, and he's a home run play like last week with 5 receptions, 98 yards a score.
DEF QB (28) RB (4) WR (15) TE (20)
COLTS (8-6) @ CARDINALS (10-4)
AZ -1 / 49
COLTS
Starting Carson Wentz? Jonathan Taylor and Michael Pittman are easy picks, but Wentz not so much. He completed just 5 of 12 passes last week, but has had big games. The Cardinals have given up 8 passing TDs in the last 3 games, but RBs Craig Reynolds, Sony Michel and David Montgomery have all had success in those same games. Wentz's passing volume will depend on how much success Kyler Murray has against the Colts D.
DEF QB (23) RB (8) WR (21) TE (30)
CARDINALS
Is Christian Kirk (9-12-94-1 last week) a must start? Yes, as this game was a preview of life without Deandre Hopkins. The last big game the Colts allowed to a WR was Week 7 when Elijah Moore went for 7-8-84-2. But the Colts are tough to run on, so the game will be in Kyler Murray's hands. That's good news if you have Kirk on your team.
DEF QB (5) RB (10) WR (24) TE (2)
LIONS (2-11-1) @ FALCONS (6-8)
ATL -5.5 / 42.5
LIONS
With Jared Goff on COVID list are you starting Amon-ra St. Brown? HC Dan Campbell said it's unlikely that Goff plays this week. He'll get the volume, but if I have other comparable options, I'm going the other direction (yeah, I know, not likely). Jamaal Williams is off COVID list, so he's probably sharing w/ Craig Reynolds. Look away.
DEF QB (17) RB (31) WR (17) TE (17)
FALCONS
Starting Cordarrelle Patterson even though his total targets are coming down? You have to start C-Patt against a Lions defense that has given up some yardage to RBs via the air.
DEF QB (31) RB (24) WR (28) TE (18)
RAVENS (8-6) @ BENGALS (8-6)
CIN -2.5 / 45
RAVENS
With Tyler Huntley and Lamar Jackson both out, it would have to be desperate times to start Josh Johnson. No gracias. Ay Dios Mio, how many more body blows can the Ravens take?
DEF QB (24) RB (3) WR (24) TE (20)
BENGALS
Play JaMarr Chase even though he hasn't topped 100 yards since Week 7? Well, seeing as the Ravens were the opponent that week when Chase went for 8-10-201-1, I'm putting my money on Chase having another big game.
DEF QB (11) RB (4) WR (14) TE (32)
RAMS (10-4) @ VIKINGS (7-7)
LAR -3 / 49.5
RAMS
You're starting Cooper Kupp, Matthew Stafford, Sony MIchel, Odell Beckham Jr. and Van Jefferson. Kupp's remarkable season of 122-164-1,625-14 gives him an outside shot at 2,000 yards. Calvin Johnson's record sits at 1,964 yards. Another example of what kind of incredible season that Kupp is having; with 370 PPR points, Kupp is 39 ahead of Jonathan Taylormore PPR points than JT.
DEF QB (8) RB (19) WR (21) TE (4)
VIKINGS
Dalvin Cook is on COVID list, so you're starting Alexander Mattison in a matchup with a Rams defense that's given up big games to James Conner, A.J. Dillon and Elijah Mitchell. Start Adam Thielen at your own peril if he's healthy. It's only the third week after his high-ankle sprain. Those usually take 6 weeks to properly heal.
DEF QB (31) RB (18) WR (32) TE (25)
BILLS (8-6) @ PATRIOTS (9-5)
NE -2.5 / 43.5
BILLS
Josh Allen and Stefon Diggs, easy. With Gabriel Davis and Cole Beasley on the COVID list, Emmanuel Sanders is a smart play. He'll get the lesser New England DB. Devin Singletary start? Taylor, Dontrell Hilliard and D'Onte Foreman all went 100+ against Pats lately. Plus, the Pats give up receiving yardage to RBs.
DEF QB (12) RB (29) WR (5) TE (3)
PATRIOTS
Mac Jones is only a start in super flex. With Rhamondre Stevenson on the COVID list, Damien Harris being active would make him the only offensive starter worth playing. And coming off a hamstring injury, that's still a tough start.
DEF QB (1) RB (15) WR (1) TE (1)
JAGUARS (2-12) @ JETS (3-11)
EVEN / 41.5
JAGUARS
Start James Robinson and no one else. 
DEF QB (16) RB (16) WR (26) TE (15)
JETS
Michael Carter in his second week coming off an ankle injury should get more looks in the passing game. With about a dozen carries, he's viable as a flex start. Not starting anyone else here. 
DEF QB (26) RB (28) WR (4) TE (26)
GIANTS (4-10) @ EAGLES (7-7) 
PHI -10 / 40.5
GIANTS
Start Saquon Barkley even against a D that hasn't allowed a 100-yard rusher since Wk 5. Kadarius Toney is off COVID list, and could see some passes in a depleted receiving corps.
DEF QB (17) RB (24) WR (25) TE (24)
EAGLES
Jalen Hurts still limited in practice. Have a backup plan, just in case. And it's not Gardner Minshew. Miles Sanders and Jordan Howard are both nursing injuries. Dallas Goedert only pass catcher getting consistent targets.
DEF QB (22) RB (10) WR (7) TE (23)
BUCCANEERS (10-4) @ PANTHERS (5-9)
TB -10 / 44

BUCCANEERS
Tom Brady, Ronald Jones and Gronk are no brainers. Antonio Brown? Tyler Johnson? With Mike Evans knocked out by a hamstring injury, both Brown and Johnson are good plays this week.
DEF QB (21) RB (12) WR (15) TE (18)
PANTHERS
DJ Moore, even with a platoon of QBs pitching it for the Panthers, should be in your lineup.
DEF QB (19) RB (21) WR (27) TE (17)
CHARGERS (8-6) @ TEXANS (3-11)
LAC -9.5 / 45.5
CHARGERS
Austin Ekeler went on COVID list, so play Justin Jackson. Keenan Allen will see a big share of Pro Bowl QB Justin Herbert, especially with Mike Williams on the COVID list.
DEF QB (30) RB (23) WR (18) TE (28)
TEXANS
With Brandin Cooks on the COVID list, no one else is worthy of starting. Maybe Davis Mills in Super Flex.
DEF QB (7) RB (30) WR (19) TE (12)
1 P.M.
BEARS (4-10) @ SEAHAWKS (5-9)
SEA -6.5 / 43
BEARS
Justin Fields is still a streaming or Super Flex option. David Montgomery, Darnell Mooney and Cole Kmet are the only other startable players.
DEF QB (28) RB (20) WR (12) TE (11)
SEAHAWKS
Russell Wilson, Tyler Lockett and Rashaad Penny. D.K. Metcalf has not produced enough to be starting, but he's a live body this week. That means he's likely starting for you in an OK matchup. 
DEF QB (20) RB (26) WR (20) TE (31)
STEELERS (7-6-1) @ CHIEFS (10-4)
KC -8.5 / 44.5
STEELERS
Starting Diontae Johnson and Najee Harris only. WRs have been having good games vs Chiefs of late. Keenan Allen 6-10-78-1 and Hunter Renfrow 13-14-117-1 last 2 weeks. 
DEF QB (27) RB (32) WR (17) TE (5)
CHIEFS
Is Tyreek Hill going to see more work with Travis Kelce on COVID list? Yes, look for him, but it's hard to determine if Mecole Hardman, Demarcus Robinson or Byron Pringle will get more targets in Kelce's absence.
DEF QB (4) RB (27) WR (11) TE (10)
BRONCOS (7-7) @ RAIDERS (7-7)
LV -1 / 41.5
BRONCOS
Starting Jerry Jeudy this week? After getting a donut last week, keep in mind that Jeudy had had put up a 5-7-140-1 game last year with Drew Lock in the 2020 season finale against the Raiders. 
DEF QB (10) RB (9) WR (6) TE (8)
RAIDERS
What to do with Derek Derek Carr? He went for 341-2-0 versus the Broncos in Week 6. Josh Jacobs is a must start every week with his newfound receiving work.
DEF QB (15) RB (31) WR (9) TE (22)
SUNDAY NIGHT FOOTBALL
WFT (6-8) @ COWBOYS (10-4)
DAL -11 / 47
WFT
Will Antonio Gibson play? He has turf toe, and is looking like he'll start. Memories of his 20-115-3 game on Thanksgiving last year in Dallas are still fresh. Jarret Patterson is ready as his backup if he's declared out. Terry McLaurin has tough CB matchup with Trevon Diggs on paper, but Diggs has gotten beat at times this year, so start Scary Terry.
DEF QB (29) RB (17) WR (16) TE (14)
COWBOYS
Should I sit Dak Prescott? In his last 3 games, Prescott has put up 23.42 points, which is fewer fantasy points than Tyler Huntley had in Week 15 alone (35.60). All those games were on the road. In Dallas' last 3 home games, Prescott has 2 pass TDs in each game. Fire him up at home.
DEF QB (9) RB (5) WR (23) TE (16)


SOURCES: PFF / Pro-Football-Reference / Fantasy Pros / Football Guys / Lineups.com