I already talked about win and you're in for the fantasy playoffs. In my leagues, I haven't seen any 11-2 or 10-3 teams. There have been a lot of 9-4, 8-5 and 7-6 teams. I haven't seen too many teams with a combination of Jonathan Taylor, Cooper Kupp and Deebo Samuel on the rosters. So, like injuries, it looks like the dominant players are more spread out this season.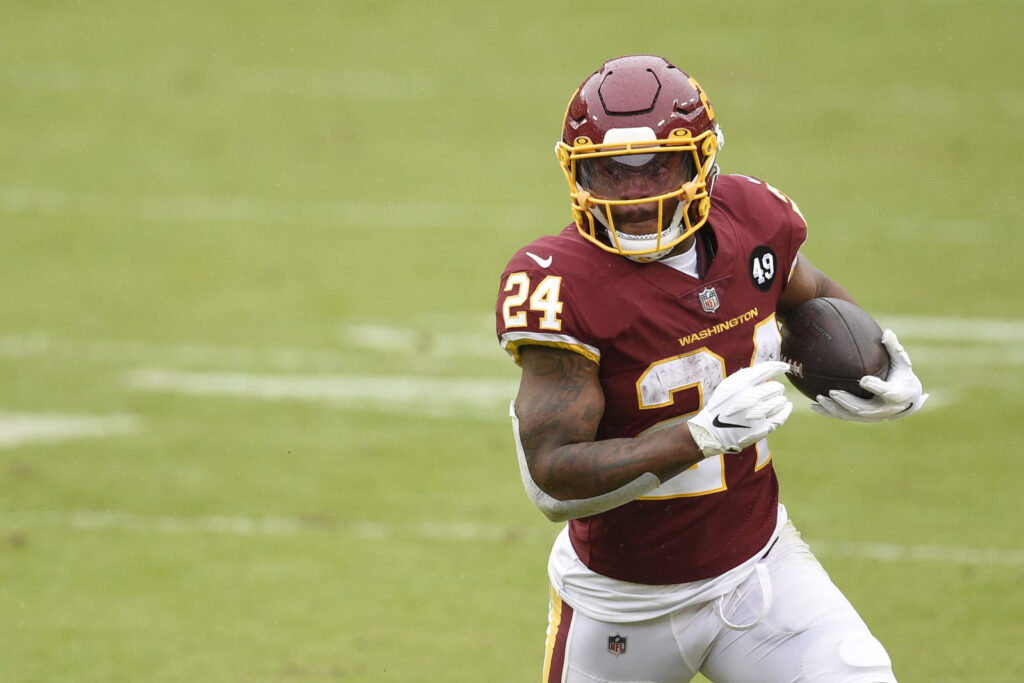 There's more time for analysis that will impact 2022. "It's winnin' time," as Magic Johnson used to call the postseason. Let's get you into the playoffs so we can still give you some good content for the fantasy playoffs. We're treating this week a little differently, as I'm answering one question for each team per game. This way we don't have to slog through a bunch of stats when we know you're starting Leonard Fournette and sitting Ronald Jones. You'll see defensive rankings at the bottom of each team's copy block, and those are the period from Weeks 9-13. Alright, let's get into it!
THURSDAY NIGHT FOOTBALL
PIT (6-5-1) @ MIN (5-7)
MIN -3 / 43.5
PIT
Will Diontae Johnson see 15 targets? Chase Claypool has been slowed by injury, and Johnson has easily been Ben Roethlisberger's favorite receiver to look for. At 120 targets, Johnson is #4 and has been under 10 targets just twice in 11 games. And it's the #32 defense on a short week. DJ all night long!
DEF QB (26) RB (30) WR (20) TE (8)
MIN
Is it going to be the Justin Jefferson show? Or spreading the targets to Tyler Conklin and K.J. Osborn with Adam Thielen officially out? Over Weeks 10-13 Jefferson has drawn 9-14 targets per gamne and is the WR1 with production of 32-44-577-3. This could be a fun game in the dome.
DEF QB (31) RB (14) WR (32) TE (16)
BAL (8-4) @ CLE (6-6)
CLE -2.5 / 42

BAL
What Lamar Jackson are we going to see? Over the Ravens' last 4 games, this is how Jackson has ranked among QBs: 10, sick, 17 and 12. He's thrown for 656 yards, 3 TDs and 6 INTs in those games and is the QB20 over that span. Two weeks ago, the Browns dogged Jackson into 4 picks. Even against the #7 QB defense, Jackson gets it right.
DEF QB (22) RB (1) WR (24) TE (15)
CLE
Did Baker Mayfield heal enough to lead a playoff run? PFF ranked him the #26 passer after Week 12. Injuries piled up before the bye, and he won't be 100% until after the season. The Baltimore secondary is really banged up, so this could be Mayfield's chance to break out beyond the 18-37-247-1-0 game he had 2 weeks ago. Weather is not an issue, and with Las Vegas next Mayfield at least is playable in super flex leagues.
DEF QB (7) RB (25) WR (5) TE (27)
JAX (2-10) @ TEN (8-4)
TEN -8.5 / 43.5

JAX
Is Trevor Lawrence ready to show some growth with Titans, Texans and Jets the next 3 games? Fabio Football has not had a 300-yard game since Week 6, and has been above 60% passing just once since that game. It really looks like he's not progressing, but this is an inviting matchup before a couple more games where he could at least be a starter in super flex leagues.
DEF QB (8) RB (20) WR (29) TE (4)
TEN
Who will be the lead caballo between D'Onta Foreman (19-109-0) and Dontrell Hilliard (12-131-1) after both had big Week 12 games? Too close to tell, and my call here is that it's going to continue being a timeshare. Could Julio Jones be back? Managers banking on Ryan Tannehill sure hope so.
DEF QB (28) RB (8) WR (23) TE (13)

LV (6-6) @ KC (8-4)
KC -9.5 / 48

LV
Is Josh Jacobs ready to take over after Kenyan Drake was ruled out for the season? Last game he had 13-52-1 on the ground, but more surprising was the 9-9-38-0 receiving line last week. Jalen Richard is on the COVID list. Javonte Williams just hit the Chiefs with 103 rushing yards last week.
DEF QB (25) RB (29) WR (25) TE (30)
KC
Will this be the week that Patrick Mahomes breaks out of his rut? He had 260 and 184 yards, respectively, against Dallas and Denber. Winds will not quite reach 20-MPH, and they'd have to reach higher speeds to be a problem with Mahomes throwing it. point when they're a problem, but that Raider D is in a bad way. Mahomes went 406-5-0 in Week 10, so this could be an encore. .
DEF QB (6) RB (17) WR (6) TE (5)
NO (5-7) @ NYJ (3-9)
NO -5 / 43

NO
How will Alvin Kamara fare with Taysom Hill back and dealing with mallet finger? This is Kamara's first game since Week 9, and fantasy managers remember how the targets dove last year in the games that Hill started: 1, 2, 3 and 10. Against the #32 Jets defense, Kamara may not need many touches to have a big game.
DEF QB (32) RB (7) WR (17) TE (21)
NYJ
Is it going to be the Elijah Moore show with Corey Davis out for the season? Moore is dealing with a quad injury, but has 11, 8 and 12 targets over the last 3 games. Was Moore also a big part of why it was the best Zach Wilson has looked all season? That's a good bet.
DEF QB (27) RB (32) WR (32) TE (25)
DAL (8-4) @ WAS (6-6)
DAL -4 / 48
DAL
Will we see a repeat in the huge disparity in target share between CeeDee Lamb (30%) and Amari Cooper (5%) last week? It was Cooper's first game back from after missing a couple contests, so his targets should jump, and they'll probably be at the expense of Michael Gallup, who saw 24% looks last week.
DEF QB (26) RB (4) WR (27) TE (32)
WAS
More Antonio Gibson with J.D. McKissic still not back from concussion? Gibson is fantasy's overall RB4 over the last four weeks, averaging 27.3 touches per game in that span. Put a saddle on him and ride that lead caballo.
DEF QB (7) RB (16) WR (25) TE (15)
ATL (5-7) @ CAR (5-7)
CAR -2.5 / 42.5
ATL
Will Russell Gage keep it going against the #9 CAR D? Jaylen Waddle & Terry McLaurin each surpassed 100 yards in Weeks 11-12. Gage caught 22 of 27 targets with 130 yards once and a TD in another game. Still, that's a tough secondary and a very good pass rush, before he gets a break against the 49ers and Lions the next 2 weeks.
DEF QB (28) RB (26) WR (17) TE (27)
CAR
Is it going to be the Chuba & Ameer show vs #26 D? Chuba Hubbard has 2 receptions since Week 8, while Ameer Abdullah had 6 targets alone last week. This will be a committee, but bet on Abdullah after Fournette had 48 receiving yards last week. Pollard and Kamara both had good receiving games against Atlanta, too.
DEF QB (3) RB (18) WR (9) TE (10)
SEA (4-8) @ HOU (2-10)
SEA -7.5 / 41.5
SEA
Is D.K. Metcalf getting off the schneid after no Top 24 finishes in the last 4 games? Metcalf had 8 targets in 3 of the last 4 games and no TD since Week 8, and has been under 100 yards since Week 3. This is a beatable defense, and Russell Wilson did look better last week. Metcalf will score this week.
DEF QB (17) RB (31) WR (4) TE (32)
HOU
Is Brandin Cooks startable anymore? He has 14 total targets in the last 3 games & 45 yards is his high. With Davis Mills starting, I'm just not chancing it. Afuera.
DEF QB (4) RB (26) WR (19) TE (12)
SOURCES: PFF / Pro-Football-Reference / Fantasy Pros / Football Guys / Lineups.com