OK Familia, that's 7 weeks in the books for the NFL season. That's halfway for the fantasy football regular season. We know some things that we predicted and/or suspected before the season: Derrick Henry is some species evolved beyond mere humans. The Texans would be a work in progress on both sides of the ball. And there have been some surprises: Ja'Marr Chase running down rookie record books after having the dropsies during the preseason. And that Washington secondary acting like a matador. Ole!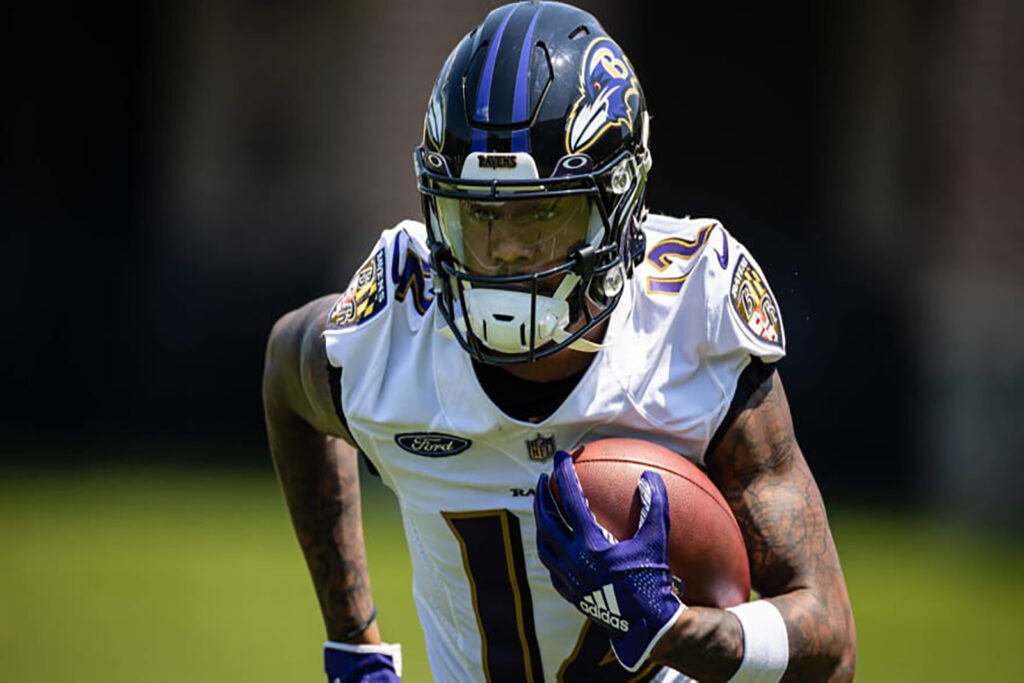 From Week 7, I have some observations that are both specific to this week and the season to this point:

The Bengals are for real. Going into Baltimore to deliver several trancazos to the Ravens was amazing. Joe Burrow to Ja'Marr Chase is already special.
Keep an eye on weather. I know fantasy experts say that rain isn't as bad to deal with as wind. Well, I've now seen prime time rain games in New England, Santa Clara (for the 49ers) and Seattle. The rain did impact the level of play to varying degrees. We're late October now, so keep an eye on the weather.
Eric Dickerson and Megatron watch out: Derrick Henry and Cooper Kupp are after your records. Henry is averaging 124.1 rushing yards per game, which would put him at 2,110 for the season (just ahead of Dickerson's 2,105 in 1984). At 115.6 receiving yards per game, Kupp would finish at 1,964 yards, which is exactly Calvin Johnson's record set in 2012. I know, 17 games, yada, yada. A record is a record. 
Kyle Pitts es un hombre. I was worried there for a while, but back-to-back games over 100 yards for the rookie manchild has me convinced he's a grande part of this offense.
Brady Watch: In 2007, Tom Brady had 2,125 passing yards, 27 TDs and 2 INTs after 7 games. This year through Week 7, Brady has 2,275 passing yards, 21 TDs and 3 INTs. Simply amazing.
OK, time for Los Peekups to help you win in Week 8. As always, listed are recommended players and their percentage of rostership in Yahoo leagues. Salud!
QUARTERBACK
STREAMER OF THE WEEK
CARSON WENTZ vs TEN
37%
That's four weeks in a row with Wentz throwing at least 2 TDs. And in the rain he looked as nimble as he's looked in weeks, even rushing for a score. While they did shut down Patrick Mahomes this past Sunday, the Titans are #25 against the QB and allowing 291 passing yards per game.
TREVOR LAWRENCE @ SEA
41%
The turnovers are going down and the yards are coming up. In the last two games before the Jaguars' bye, Lawrence threw for 273 and 319 yards, respectively, and had just one pick during that time. The lightbulb is coming on. This week he gets Seattle, which is still giving up 294.1 passing yards per game. Lawrence will have some clunkers, but they will be fewer and fewer.
JAMEIS WINSTON vs TB
50%
I saw the stat during Monday Night Football that showed Winston was on a pace for 40 TD passes and just 10 INTs. I had to pause it to make sure I was reading it correctly. Yes, he did have 9 TDs in a pair of games, but his schedule gets lighter from here on out. It starts with this week against the Buccaneers, who are giving up 270.7 passing yards a game. 
RUNNING BACK
RASHAAD PENNY vs JAX
34%
Penny was activated before Monday Night Football against the Saints in Week 7. The Seattle backfield is a MASH unit with Chris Carson battling what appears to be a chronic neck issue and Alex Collins dealing with a groin strain. The Jaguars are #22 against the RB and allowing 95 rushing yards a game to the position, just in case Penny takes over the backfield eventually.
KENNETH GAINWELL
22%
In case Miles Sanders' ankle injury keeps him out a while, Gainwell is next in line for touches. Sanders had 10, 16 and 11 total touches Weeks 4-6, so there might be some volume available if Gainwell takes over as lead caballo in Philly. Detroit is #29 against the RB position, allowing 108.9 rushing yards a game.
LATAVIUS MURRAY BYE
47%
This is pure speculation if you're like most fantasy managers and hurting at the RB position. Coming out of the bye, if he's healthy from his ankle injury, Murray would be one of the leaders for carries going against the Minnesota defense that's allowing 109.3 rushing yards to the RB position.
WIDE RECEIVER/TIGHT END
KADARIUS TONEY @ KC
47%
Looks like plenty of people dropped Toney during #Byemageddon. I was one of them in our Familia league. It's still far from certain when Toney is going to be ready to take the field again. Dr. Edwin Porras on the Fantasy Points podcast said that Toney's return outlook is more murky than that of teammates Kenny Golladay and Saquon Barkley. However, if he's in uniform this week, the Chiefs' defense is allowing 285 passing yards per game. At the very least Toney could be a stash on your reserve roster.
RASHOD BATEMAN BYE
32%
Among Baltimore players, Bateman was third in targets this week with 6, and he turned it into 3 catches for 80 yards. I've heard more than one person say he's Stefon Diggs with more speed. After the bye, the Ravens see Minnesota and Miami, so maybe the rookie gets some momentum and is worth a stash on your reserves. 
C.J. UZOMAH @ NYJ
20%
This is the 2021 version of 2020 Robert Tonyan. That low-volume TE who is turning his few opportunities into TDs. In the past 4 games, Uzomah has 13 receptions. He's turned 5 of them into TDs. Up next is a road game with the Jets, who are #25 and giving up 71.5 receiving yards per game against the TE position.
STREAMING DEFENSE OF THE WEEK
CINCINNATI @ NYJ
22%
Tied for 3rd-most sacks in the league, the Bengals visit the Jets, who are playing with a backup QB and an O-line without its starting left tackle. Add to it that the Bengals have allowed less than 20 points in 4 of their games. 
SOURCES: PFF / Pro Football Reference / Football Guys / NFL Savant / Football Outsiders