Yes, we've heard enough about Byemageddon. It's the end of the world as we know it, and many of us are not fine. I've even added to it. Basta! When it comes to DFS, it's all different. I really like so many matchups this week that are looking so tasty. Like sizzling shrimp fajitas, hot pico de gallo and some homemade corn tortillas. Sabroso!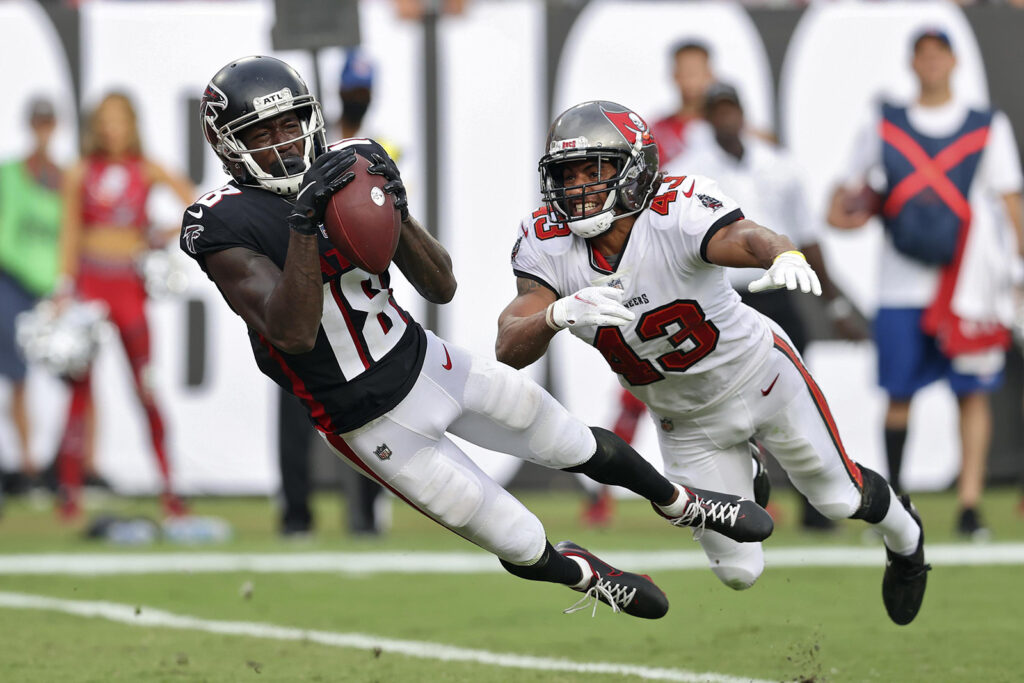 We have three games with a double-digit point spread featuring teams with high-flying offenses. We have potential shootouts taking place in Tennessee and Miami, the latter pitting two of the bottom dwellers on defense. The Packers are home against one of the worst secondaries in the league. Yes, there are going to be some choices for our DFS lineups.
Do you want to spend up at QB with Patrick Mahomes or Kyler Murray? Or is Derrick Henry going to keep running away from the competition like he did on that 76-yarder last Monday Night Football? What about playing Davante Adams or Cooper Kupp, or even Travis Kelce under $8K?
So while your redraft and dynasty rosters may be decimated with byes and injuries, we're here for you. There are choices aplenty to field solid DFS lineups for the main Sunday slate. It helps that none of the QBs in either of the prime time games is among the game's elite.
QUARTERBACK
PATRICK MAHOMES (8400) After going to Washington and laying waste to the secondary with 397 yards and 2 TDs (and 2 INTs), Mahomes stays on the road against a Titan defense that was just blitzed for 353 yards and 3 TDs by Josh Allen and is #29 against the QB. This game has the biggest over/under at 57.5, so Mahomes could have to throw all game… AARON RODGERS (7500) Now the WFT gets the pleasure of traveling to Lambeau Field with its last-place defense against the QB to face Rodgers, who's on a hot streak with 12 TDs in the past 5 games… KYLER MURRAY (8500) The only elite QB the Texans have faced was Josh Allen, who threw for 248 yards and 2 TDs while sitting for most of the 4th quarter. Murray's an option to stack with one of his cheaper WRs. The only fear here is that this game is a runaway and the Cardinals then run the ball late… LAMAR JACKSON (7400) At this price, Jackson is quite the bargain. This game has shootout potential. Aside from last week's game against the Chargers, the Ravens have not been very good on defense. And the Bengals have given up 300-yard games to Rodgers, Kirk Cousins and Ben Roethlisberger… MATTHEW STAFFORD (7100) Like with Murray, the only thing possibly holding Stafford down this week is a blowout of the lowly Lions. However, he could do plenty of damage against a defense that just got lit up by Joe Burrow for 271 yards and 3 TDs. Stafford has 300+ yards and/or 3+ TDs in half his games… RYAN TANNEHILL (6400) If you think this game against the Chiefs – #31 against the QB – is going to turn into an '80s-era Denver Nuggets fast break scorefest, Tannehill is a good bet. He has one game over 300 yards (and another at 298), but his passing numbers have been down. But against the Chiefs in a game with the biggest over/under at 57.5, we'll likely see the return of Tanne-Thrill.. SAM DARNOLD (5900) It's been ugly with Darnold of late (4 INTs and averaging 192 passing yards last 2 games), but this matchup features a Giants team that's allowed 7 TDs in the past 2 games and is #26 against the QB. Darnold could use some help from his O-line up front… MATT RYAN (5700) Matty Ice (aka Mateo Hielo) is coming off the bye and his best game of the season with 342 yards and 2 TDs in London against the Jets. Miami's defense belongs in the Dia de los Muertos celebration because of injuries. In the past four weeks, Tom Brady, Trevor Lawrence and Derek Carr have gone past 300 yards against the Dolphins… TUA TAGOVAILOA (5500) If you believe the 329-yard, 2-TD effort last week against the Jaguars is for real, Tua is a steal. The Falcons are #30 against the QB, and both teams could put up some big offensive performances.

RUNNING BACK
DERRICK HENRY (9200) If you're going to spend up on RB, go with King Henry. Averaging 145 yards and scoring 10 TDs the past five weeks, Henry's looking unstoppable. And the Chiefs are #26 against RBs. Save dinero elsewhere… DARRELL HENDERSON (6600) The Lions' #31 defense against the RB have given up big games to Joe Mixon, Alexander Mattison and David Montgomery the past three weeks. Henderson got 67% and 59% of the rushing attempts the past 2 weeks, to the tune of 39 totes. He's a great pivot off Henry… CORDARRELLE PATTERSON (6300) Patterson has tallied at least 11 touches each game since Week 2, and gone over 100 total yards three times during that stretch. Picking on the Dolphins seems too easy, but they are #29 against the RB… JOSH JACOBS (6200) The Eagles have given up an average of 119.4 rushing yards to the RB position the past four games. Jacobs has dominated the RB carries since Week 4 with 44 over those games (just 7 for Kenyan Drake)… MICHAEL CARTER (4800) Rookie RB coming out of a bye alert! Last year D'Andre Swift and J.K. Dobbins each had breakout games after the break. Carter is the only Jets RB with double-digit touches the past three weeks, and he's been targeted 3 times in each game. The Patriots have been beaten through the air by Ezekiel Elliott, Tony Pollard and David Johnson the past two games… CHUBA HUBBARD (6100) With 40 carries the past two weeks, Chubb is firmly entrenched as the lead caballo while Christian McCaffrey is on IR. During the last four games, the Giants are allowing 168 total yards to the RBs… JOE MIXON (6500) Mixon had 23 touches last week, his first game where he appeared healthy coming off an ankle injury. He turned them into 153 total yards, and is going up against a Baltimore defense that's #24 against the RB position.
WIDE RECEIVER
DAVANTE ADAMS (8900) At first glance it's easy to look at Hill or Kupp, or one of the more inexpensive WRs on the slate. Adams is the only one getting a 37% TGT and 11 targets per game. From Aaron Rodgers. He also has just 2 TDs, so expect that to jump for someone who has 10+ TDs four of the past five seasons… TYREEK HILL (8600) Yes, he's expensive, but in smash spots against Cleveland, Philly and WFT, he's delivered. The Titans are dead last against the WR position, so Hill is primed for a big game. Keep an eye on the quad issue. If you don't want to take an expensive gamble, there are other pricey options… COOPER KUPP (8400) I tweeted that he's an RB1. In fact, among non-QBs, Kupp trails only Henry in fantasy points. He has 10+ targets in each game, and at least 92 yards in all but one game. Ja'Marr Chase, Justin Jefferson and Darnell Mooney have all had big games against the Lions the past three weeks… D.J. MOORE (7100) The Giants are #28 and giving up 211.3 passing yards per game the past 3 games. Moore is still getting attention from Darnold, to the tune of double-digit targets in four of the past five games. He's only had a rough game in Week 5, so he's a good bet to go off… CALVIN RIDLEY (6600) With him missing Week 5 for a personal issue, then the bye week, this price is a bargain considering the caliente matchup. Ridley was targeted on at least 31% of the attempts his last two games. And until the Dolphins get healthy in the secondary (#31 since Week 4), we'll keep picking on them… A.J. BROWN (6300) I mentioned in Adentro y Afuera that Brown's return is official – 9 targets, 7 receptions for 91 yards – so now it's time to play him against the Chiefs, who have been toasted by Devonta Smith, Mike Williams and Marquise Brown. I won't tire of calling this game a shootout… CHRIS GODWIN (5900) & MIKE EVANS (6500) With no Antonio Brown this week, the almost 11 targets he's been averaging since Week 4 have to go somewhere. Both Godwin and Evans are inexpensive plays in a high-volume passing offense. Other than the rain game in New England, the Bucs have continued to throw at will against even the best defenses.
CHEAP OPTIONS IN GOOD MATCHUPS: CHRISTIAN KIRK (5300), DARNELL MOONEY (4600), RONDALE MOORE (4400), MECOLE HARDMAN (4300), RANDALL COBB (4000), VAN JEFFERSON (3500), DEMARCUS ROBINSON (3400), DESEAN JACKSON (3400)
TIGHT END
TRAVIS KELCE (7600) How is Kelce less than $8K? Yes, the Titans are #2 against the TE, but the best player at the position they've faced is Dawson Knox. He's not anywhere near the same tier as Kelce, who is averaging almost 9 targets a game. And did you hear this game could go over?… MARK ANDREWS (6000) Here's the stack option if you want to play Jackson. T.J. Hockenson caught 8 of 11 targets for 74 yards last week against the Bengals. We'll take that plus a TD with Andrews at a discount from Kelce… DALLAS GOEDERT (4600) The Raiders are #31 against the TE, and have been beaten recently by Noah Fant, Jared Cook and Mike Gesicki. Goedert is alone for TE targets after the trade of Zach Ertz, who leaves behind a 15% TGT share… KYLE PITTS (5900) We want to know that the London breakout is for real and coming stateside. Yes, he got 10 targets without Calvin Ridley, but Pitts also saw 9 the week before with the stud WR on the field. Miami is #24 against the TE and allowing 71.5 receiving yards per game to the position… MIKE GESICKI (4700) The big TE is running routes on 71% of pass plays and getting a 19% TGT share. Devante Parker is coming back, so that could eat into his opportunities. But this could be a cheap stack with Tua so you could spend up elsewhere.
SOURCES: Pro Football Focus / Football Guys / Pro Football Reference / Draft Kings / NFL.com / Yahoo.com