Familia, we're about the quarter point in the 2021 season. What have we learned? Don't bet against Tom Brady vs. Father Time. Sam Darnold needed a change of scenery, and has been reborn as a dual-threat QB. Derrick Henry has caught more passes than Alvin Kamara. A great TE is as valuable as any top RB in Fantasy Football.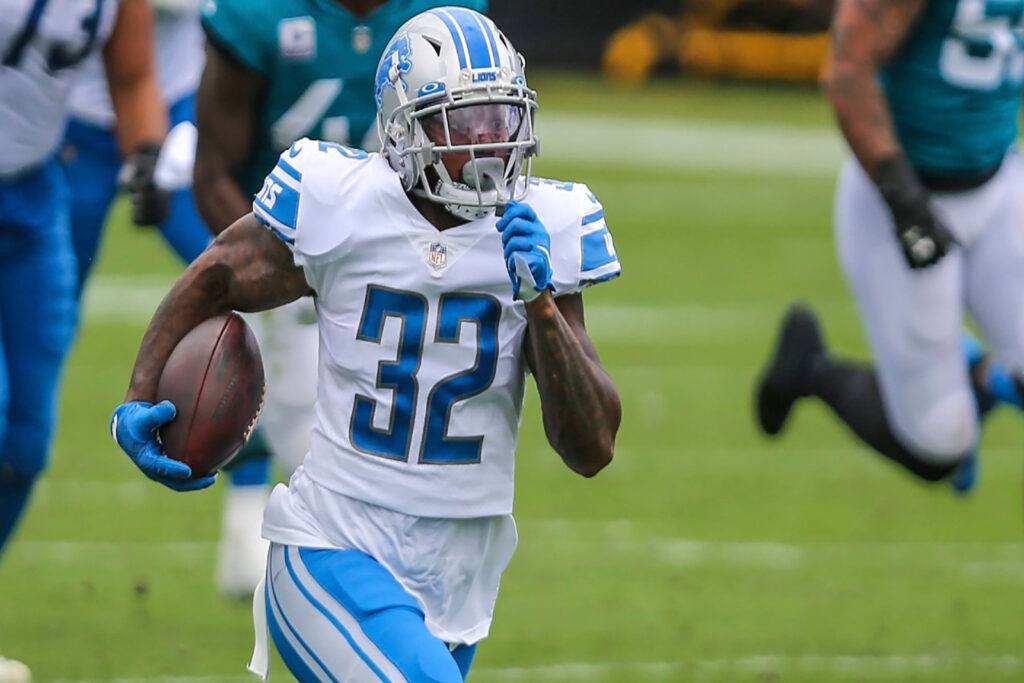 We now have enough games under our belts to get a good idea about offenses and defenses. It's surprising that New Orleans has become so conservative offensively. I've also got raised eyebrows at how teams have been passing against the Washington and Tampa Bay defenses. ADP was not high enough on Deebo Samuel and D.J. Moore. I have no explanation for Cordarelle Patterson, other than to say I wouldn't count on this phenomenon all season.
What do the next three-quarters have in store for us? Vamos a veer. We'll see. It's going to be fun. Let's see who's in, who's out in the Week 5 Adentro y Afuera.
ADENTRO
QUARTERBACKS
KIRK COUSINS vs DET
Dalvin Cook is not 100%, so expect this game to be put more in the hands of Cousins, even with Alexander Mattison having had a great game a couple weeks ago. Plus, it's home, and Cousins already laid waste to Seattle's secondary with 323 yards and 3 TDs. Last year, he averaged 34 more passing yards per game at home, and threw 22 of his 35 TDs in the dome. Add to it that Jimmy Garropolo, Aaron Rodgers and Lamar Jackson have all had big games against the Lions, who are allowing an average of 267.5 passing yards per game. 
RYAN TANNEHILL @ JAX
It hasn't been pretty, but reinforcements are coming. A.J. Brown is practicing and should be back. Tannehill has gone for 347 and 298 yards against the Seahawks and Jets, respectively, in two of the past three weeks. Jacksonville is giving up 320.8 passing yards per game and is #24 against QBs in Fantasy PPG.
DEREK CARR vs CHI
Da Bears have allowed big passing days to Matthew Stafford (321 yards and 3 TDs) and Jared Goff (299 yards and 2 TDs). Carr is coming off his only rough game of the season, struggling against the solid Chargers D. Carr was averaging 401 passing yards per game in Weeks 1-3.
RUNNING BACKS
D'ANDRE SWIFT @ MIN
Joe Mixon, Chris Carson, Nick Chubb and Kareem Hunt had varying levels of good to great games against Minnesota. Even if the Vikings start fast, Swift is 2nd among RBs in both receptions (23) and targets (29). So he'll be involved whether on the ground or the air if the Lions are playing catchup.
MICHAEL CARTER vs ATL (in London)
Carter's rush attempts got up to 57% last week, and were a season high. He's gotten 3 targets in each of the past 3 weeks, and Zach Wilson is starting to show signs of fulfilling that potential the Jets saw pre-draft. The Falcons are #25 in Fantasy PPG against the RB, and giving up 82.5 rush yards and 51 pass yards per game to RBs.
LEONARD FOURNETTE vs MIA
Yes, I know, I said during preseason not to trust the Tampa Bay RB group. I'm making this recommendation with definite trepidation. Fournette got 23 touches last week, with only 6 for Ronald Jones. The Dolphins are #30 versus the RB position and giving up 123.2 rushing yards per game. Don't @ me if Jones blows up this week and Fournette is put on mothballs.
WIDE RECEIVERS/TIGHT ENDS
A.J. BROWN @ JAX
Brown is the WR77 this season. Yes, that's not a misprint for the guy who was actually WR7 in ADP this past August. He should be back from his hamstring injury, and won't have to share targets with Julio Jones. Last year, Brown went for 7 receptions for 112 yards and a score in his only game against the Jaguars. Jacksonville has allowed 5 WRs to go over 100 yards this season, and is #30 with 223 yards per game allowed to WRs.
JA'MARR CHASE vs GB
Jaire Alexander is hurt (AC sprain) and just went on IR, and the Packers are signing DBs off the street and getting them in the lineup. Chase also has 4 TDs and no less that 13.4 Fantasy PPG during the first 4 weeks. With Joe Mixon trending toward being out and Tee Higgins coming off his own injury, Chase is the best/healthiest playmaker the Bengals have in a game where they're going to have to score points to keep up.
LAVISKA SHENAULT vs TEN
D.J. Chark is out for the season, and Shenault caught 6 of 7 targets for 99 yards last week. A preview of things to come? Well, OC Darrell Bevell said this week that they're going to get Shenault more involved in the offense. Corey Davis just went for 4 receptions, 111 and 1 TD against the Tennessee defense that's #31 against the WR position.
KYLE PITTS vs NYJ (London)
No Calvin Ridley nor Russell Gage for the trip to London. There is no excuse for Pitts to not get a ton of volume in this game. Ridley leaves behind a 28% target share, and Pitts is at 16% of targets, though that number was up to 23% in Wk 4. He's also had a healthy ADOT of 11.7 & 10.3, respectively, the last 2 weeks. The Jets have been good against the TE (#8), but this is almost fish-or-cut-bait game for Pitts. Many analysts, like me, who talked up Pitts are hoping for a "Gone Fishing" sign to come up for Pitts this week.
AFUERA
BAKER MAYFIELD @ LAC
Battling a torn labrum to his left shoulder, Mayfield had one of his worst games last week, going 15 of 33 for 155 yards and 0 TDs. He only has 2 TD passes this season, which has to go up at some point. Not this week, though. The Chargers have allowed no more than 260 pass yards to any QBs this season (and that was Patrick Mahomes). Derek Carr came into LA averaging 400 yards a game, and left with a stat line of 196 passing yards. The Chargers are giving up 114.2 rushing yards a game, so expect this Browns attack to be more run-heavy.
JUSTIN FIELDS @ LV
The Raiders held Keenan Allen to 36 yards and Mike Williams to 11 yards last week, and have a pass defense that is allowing 241.8 yards per game (#21). Here's the rest of the recipe: Rookie QB on the road behind an injured O-line against a good pass rush (9 sacks). Better days are ahead for Fields, just not this week.
TREY LANCE @ AZ
Want another rookie QB making his first start on the road? The Cardinals have been good against the QB position – #10 in Fantasy PPG allowed to signal callers. Lance is looking like he won't have a safety blanket in George Kittle (placed on IR with a calf injury). Lance's rushing ability is excellent, but I'd rather wait until after the Week 6 bye to play the rookie.  
RUNNING BACKS
MYLES GASKIN @ TB
Thou Shalt Not Run against the Bucs. Tampa Bay is allowing 42 rush yards per game (lowest in the NFL), so I see the Dolphins hardly trying. Gaskin's touches were in the teens 2 of the first 3 games. That went down to 2 last week. Total! Miami is going to abandon the run when it's clear that the only way to attack the Bucs is against a very injured secondary.
WIDE RECEIVERS/TIGHT ENDS
ODELL BECKHAM JR. @ LAC
No WR has gone over 81 yards against the Chargers this season, and the Bolts' defense is #2 in Fantasy PPG & passing yards allowed. Even with 16 targets in his first 2 weeks back in action, this fade goes along with the Browns being more run-oriented this week. With no Landry in the lineup, there is no one else to take defensive attention away from OBJ  
TAMPA BAY WR vs MIA
Coming off the emotional win versus the Pats, this is going to be a tough game to pass the ball. Through 4 games, the Dolphins have allowed a high of 89 receiving yards by WRs this season. That makes it hard to believe that Miami is just #13 against the position. Even with no Gronk, it's hard to imagine any one of the WRs going off. This could just be an underwhelming week unless the Dolphins are able to score some points and make this a passing game script. 
SOURCES: PFF / Pro Football Reference / Football Guys / NFL Savant / Football Outsiders