In a year when the RBs were far from exciting outside of a few players, the NFL Draft happened and it did not Orale, the 2021 NFL season is here! Vamonos! Everything we've been working toward kicks off with the Cowboys traveling to Tampa to see the Bucs received by their fans in what will be a raucous Raymond James Stadium.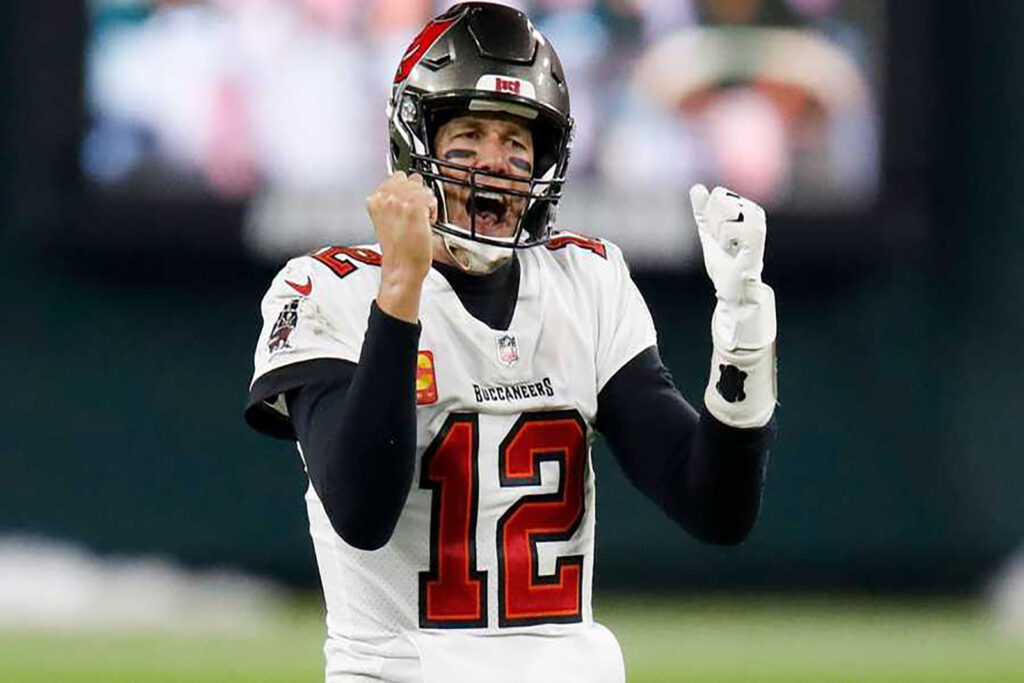 Since we did this last year, every week I'll put together my Adentro/Afuera column. Who's in? Who's out? There may be some studs in the Afuera section each week. That's mostly my idea that they're not going to live up to the projections for that week's game, so start them if you're feeling bravo. But don't sit Josh Allen because he's got a tough matchup. You start your studs. So let's get into it.
ADENTRO
QUARTERBACKS
CHINGON PLAY OF THE WEEK: KYLER MURRAY @ TEN
Remember how Murray was averaging 30 Fantasy PPG through Week 11? That was going to shatter the records set by Patrick Mahomes & Lamar Jackson the previous two seasons. Now it's his third year in the offense, and he's going up against a Tennessee defense that could not defend the pass (#28 vs. QB) nor the run (#24 vs. RB) and did little to upgrade on that side of the ball other than Bud DuPree, who's coming off a torn ACL. This game has the second-highest over/under of the weekend at 52, and has shootout written all over it. Let's see if Murray really does tone down the running, like he said preseason. The bet here is that he won't.
TOM BRADY vs DAL (TNF)
Everything looks to be lined up for Brady to have a big game. It will be a packed crowd, still hyped from the championship. I wonder if at the concession stands they'll be serving avocado tequila. The ageless wonder threw for 340-plus yards in five of his last 7 games of the 2020 regular season. Add to it that QBs in the second year in a Bruce Arians offense usually take their games to a new level. Dallas worked on the defense in the offseason, but famously was not able to address the secondary in the early rounds of the draft. The party continues with an opening-night pass fest for the Bucs.
SAM DARNOLD vs NYJ
Not doing this for the revenge narrative that so many are playing up for this game. I'm doing this for the pass defense that is even more green than the jerseys. The Jets were #28 in passing yards allowed and #30 in Fantasy PPG to the QBs. Add to it that Darnold won't see too much pressure with the Jets' ace pass rusher Carl Lawson out for the season. This is very much a prove-it year for Darnold, and we'll see quickly how he's adapting to OC Joe Brady's scheme. With those WRs & Christian McCaffrey running wild on this defense, this will be a good start.
RUNNING BACKS
NICK CHUBB @ KC
PFF's top-rated O-line coupled with one of the best pure runners in the NFL (Chubb) against a defense that bends against the run to prioritize pass defense – the Chiefs were #21 in both rushing yardage allowed and Fantasy PPG allowed to the RB position. This game has the highest over/under of the weekend, and both teams will score plenty of points. Chubb will be at the middle of this. 
ALVIN KAMARA vs GB
When I interviewed Dusty Evely of the Pack-a-Day Podcast, I asked about how the defense had an elite pass defender in Jaire Alexander and good pass rushers, but that defending the run had not been a priority for the Packers the past several seasons. It doesn't looke like anything will change for 2021. Kamara is the best offensive player for the Saints, and they will look to him in both phases of the run and pass game. The New Orleans O-line is still elite (ranked #4 by PFF), and will open plenty of holes for Kamara on the way to a big game. 
DERRICK HENRY vs AZ
Did someone say shootout? The Cardinals famously added J.J. Watt, but he was the main cog in a Houston defensive line that allowed the most rushing yards during the 2020 season. The Cardinals weren't much better at #22, so expect Henry to get plenty of run early and often on his way to a big game.
JAMES ROBINSON @ HOU
Don't give me this Carlos Hyde business. This is Mr. Robinson's Neighborhood – shoutout to 1980s Eddie Murphy SNL fans. The #7 RB in fantasy last year is meeting up with another rebuilding defense – see that last-place finish in rushing yards allowed above. Robinson will see plenty of touches as the HC Urban Meyer tries to get Trevor Lawrence up to real game speed in his first contest in the NFL. 
NAJEE HARRIS @ BUF
The Steelers were not shy about giving Harris the rock in the preseason, and that continues here against another defense that likes to funnel the running game to stop the pass – the Bills were #17 in rushing yards allowed. Greg Tompsett of Cover 1 Bills predicted that it would be more of the same this season, so expect to see Harris get the early work. Now we'll get to see how the Steelers' rebuilt O-line does in opening up holes for Harris.
WIDE RECEIVERS/TIGHT ENDS
DEANDRE HOPKINS @ TEN
You're starting Hopkins because you spent a 2nd-round pick on him, and the Titans' pass D will likely be the cause of plenty of shootouts this year. Nada mas needs to be said.
KYLE PITTS vs PHI
Remember when the Eagles allowed Tyler Higbee to score 3 TDs in an early-season game last year? Well, Philly improved only enough to finish 22nd in Fantasy PPG, and this will be a pass-heavy Falcon team. Pitts has ungodly expectations on him from the fantasy community, but for at least this week he'll deliver. 
BRANDON AIYUK @ DET
Detroit was #30 versus WR in Fantasy PPG, but only #12 against the TE. So this is probably not going to be George Kittle's day. Aiyuk is the call to get the most targets in this offense this week, and he'll be running all over the Ford Field secondary.
MARQUEZ VALDES-SCANTLING @ NO
John Hendrix of Sports Illustrated pointed out that NO was going to have trouble with a #2 CB early in the season (hello, Bradley Roby), so with MVS doing so well at camp it makes sense that he'd feast on the part of the secondary that is subpar. He'll get past the defenders for a deep ball in this one.
ROBBY ANDERSON vs NYJ
Not revenge narrative 2.0. Anderson will get a good chunk of Darnold's targets, like he did in getting 8.5 per game last year. That Jet secondary is ripe for getting burned, and the speedy Anderson will be the recipient of at least one long ball as Darnold looks to finally establish himself.
BRANDIN COOKS vs JAX
The Texans will have to pass to keep up with Lawrence and the crew, and who will Tyrod Taylor be looking for the most? Yup, the WR17 from last year is going to be the primary target on a team that will be playing catchup all season. Cooks had 11 receptions in 21 targets and 2 TDs combined over the pair of games against the Jaguars last year, including a 161-yard effort in Week 5. Taylor will be looking for Cooks plenty on Sunday.
TYLER HIGBEE vs CHI
The Bears have been a defense that might be living off that reputation of that dominant 2018 season, especially with Khalil Mack still going sideline to sideline and getting into teams' backfield all the time. But the Bears were just #31 against the TE. There's no  competition for targets among the TEs, and Stafford targeted T.J. Hockenson over 100 times last year. Big game brewing for Higbee.
AFUERA
QUARTERBACKS
DAK PRESCOTT @ TB
At least 1, maybe 2 Dallas linemen out for this game. It's on the road & the Bucs still have that ferocious pass rush. Did I mention the crowd will be amped? It's the first game back for Dak, and the talent around him is a threat to go for long TDs. But it won't be pretty all the time, with the Cowboy O-line starting 2nd-stringers while Dak is getting his footing.
TUA TAGOVAILOA @ NE
New England HC Belichick is 21-6 versus rookie QBs since 2000, and 13-0 when the game is in New England (gracias NBC Sports Boston). OK, Tua is not a rookie, but he has yet to start the equivalent of a full season in the NFL. He looked pretty good during the preseason, and Stephon Gilmore is on the Patriots IR. It's tempting, but the battle of 'Bama QBs will be a low-scoring game without a lot of big passing numbers on either side.
TEDDY BRIDGEWATER @ NYG
The Giants have James Bradberry, one of the top corners in the game, and they were #10 in passing yards allowed last year. Also, they were #6 against the QB in Fantasy PPG allowed. I still like Jerry Jeudy and Courtland Sutton this year, though this is going to be a tough road game for Teddy B with the Meadowlands at high octane a day after the the 20th anniversary of 9/11.
RUNNING BACKS
D'ANDRE SWIFT vs SF
The Lions did upgrade the O-line and this game is in Detroit. But the 49er D was #5 versus the RB position in Fantasy PPG last year, and many significant players were hurt. This year the team is starting the season healthy, which is hardly what we can say about Swift. Even though he was deemed healthy after his groin injury hampered him during the season, this is something to watch because he's had these issues before.
ZACK MOSS/DEVIN SINGLETARY vs PIT
The Steelers were #3 in Fantasy PPG given up to the RB last year, and SI's Noah Strackbein said this defense is going to be better. The Bills were the pass-heaviest team in the NFL last year, and why do anything different when you have an all-world player like Allen? Picking between Moss and Singletary this season will be difficult, and you'll probably only start them with the hope they'll score a TD to make it a good day. Won't be this day against the stingy Steelers.
AUSTIN EKELER @ WAS
The WFT is my pick for #1 DST in fantasy football in 2021. They were #2 against the RB in Fantasy PPG last year. It's a road game, with the dreaded 1 p.m. ET start time for a West Coast team. Add to it that Ekeler sat out practice on Wednesday with a hamstring injury, which he had last year. This is going to be low-scoring game with a 44.5 over/under, as the Chargers are good on defense as well. 
WIDE RECEIVERS/TIGHT ENDS
ODELL BECKHAM JR. @ KC
It's the first game back after being limited throughout the preseason for OBJ, and the Chiefs were great against the  pass – #2 versus the WR in Fantasy PPG. I'm banking on OBJ to help elevate this Browns offense eventually, just not this week. It'll be a high-scoring game, but most of the damage the Browns do will be in the run game.
KENNY GOLLADAY vs DEN
Kenny G was limited all preseason with an injury, after he missed the bulk of last season. Now he gets the Broncos D that added a top CB (Patrick Surtain II) in the draft to what was already one of the better DB rooms in the NFL. Kenny G predicted that this is going to be a learning process for the offense early on. When a player is that blatantly honest, time to listen.
MARQUEZ CALLAWAY vs GB
Callaway's reward for the big preseason? Shadow coverage from Jaire Alexander, the #1 ranked CB in 2020 according to PFF. Callaway may get away deep, but he's more than likely a flex play this week. It's a good bet you have someone better to start over him, but look to start him soon.
DEVONTA SMITH @ ATL
Word from buen amigo Michael Rothstein of ESPN during training camp was that the Falcons' secondary had taken a step forward after allowing the most passing yards in the league last year. If they're better, then the top player, A.J. Terrell, will probably travel with the top wideout. That's Smith on the Eagles. Rothstein said Terrell was the star of training camp. I like Smith this year, but in an unlikely tough matchup this may be someone else's day.