What a difference a year makes. Going into training camp 2020, the Cleveland Browns were on their third HC and second GM in less than two years. Of course, a revolving door among coaches and front office folks had become the norm for the Browns.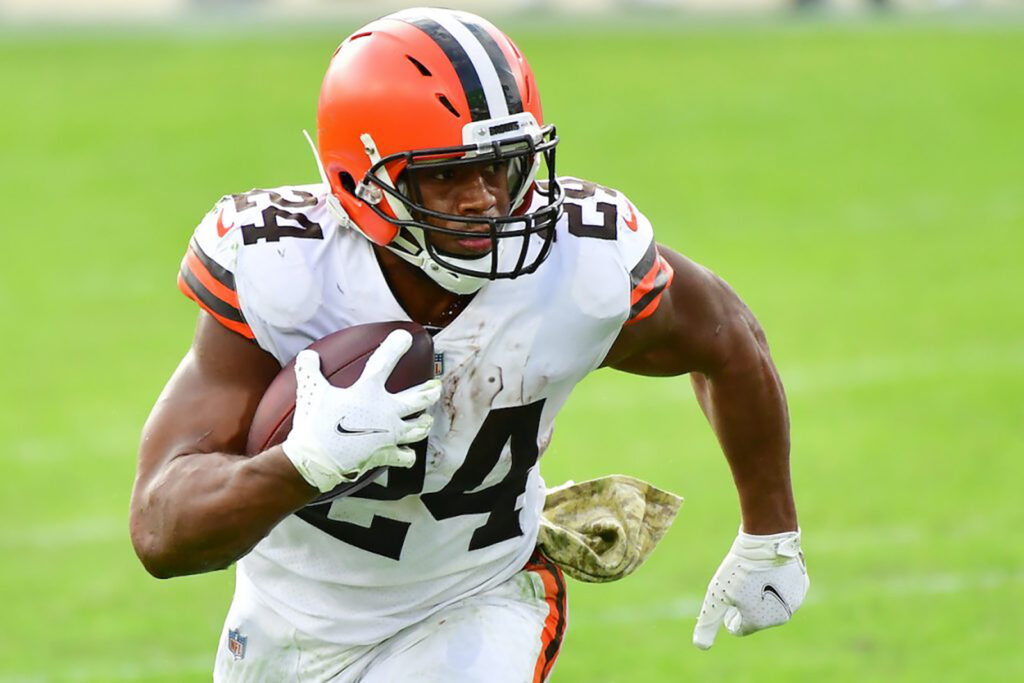 Then came Kevin Stefanski, who took over the leadership of the team, and with it came one of the most dramatic turnarounds in recent memory, taking the eventual AFC champion Chiefs to within less than a touchdown of winning. And it was for one of the franchises with one of the most loyal and rabid fan bases around.
Watching the peaks and valleys for Browns Nation – mostly valleys – has been Mary Kay Cabot, who has covered the team for the Cleveland Plain Dealer, cleveland.com, WKYC_TV and co-hosts the Orange and Brown podcast. Cabot is one of the authorities on all things Browns, and she told me in our recent interview that the excitement in the city has been quite palpable since the Browns took the Chiefs to the brink in January.
"Very early on, you could tell that he was going to come in here along with Andrew Berry the Browns' GM, and that the two of them were actually going to do something that everyone else talked about doing, and couldn't pull off," Cabot said. "And that really was change this to a culture of winning. I used to always say, 'Everyone wants to talk about changing the culture, changing the culture.' And I always wanted to say, 'Here's how you change the culture: You acquire good players, and you go out and you win football games.' That's one of the best ways to change the culture."
Part of that change was reflected in the play of QB Baker Mayfield. 2020 was a pivotal year for the 2018 #1 pick, and to start the season it looked like he might be looking like one of the many busts who had taken snaps for the Browns. By Week 6, Mayfield had thrown for 1,095 yards and 10 TDs against 6 INTs. That was good for QB26 in fantasy scoring. No bueno.
Then he had a 297-yard, 5-TD effort against the Bengals before Mother Nature delivered for multiple games weather off Lake Erie that said, "Thou Shalt Not Pass." Then came a 6-game stretch to close the season when Mayfield passed for 1,713 yards and 11 TDs with just a single INT. What changed? Well, without a real offseason to become accustomed with the offense under a new HC, that first month and a half of the season became like extended training camp. He was the QB8 during that closing kick, which is a good sign of things to come.
"This is a perfect offense for him," Cabot said. "This is the Mike Shanahan, Kyle Shanahan, Gary Kubiak offense that has kind of spread out throughout the NFL. And it's a very quarterback-friendly offense. The completion percentages are usually very high. The touchdowns are high, the interceptions are low. It really lends itself to a lot of success. It's based off a lot of play action. It's based a lot on the running game, a lot of two tight ends, a lot of bootlegs roll-outs to get this offense rolling. I think it's going to be a very explosive offense this year, because in addition to a scheme that suits Baker Mayfield, he has a lot of talent around him. He's got an amazing receiving corps, an amazing tight end corps, two of the best running backs in the NFL and arguably the best offensive line in the NFL. So he's got it all set up for success, and these guys know how to call the game for him. Now they know what works best for Baker. Sitting in the pocket isn't necessarily always the best thing for him to do, even sometimes from a height standpoint, depending on what's going on in front of him. So a lot of times they'll get him out on the move and he's great at throwing the ball when he's on the move. And if there's just so many things that I think he can build on from last year that will lead to tremendous success this season."
According to PFF, Mayfield was #5 from a clean pocket – don't forget that O-line that was #1 in preseason rankings by the same company – and #9 in Big-Time Throw Rate. He was #8 with 21 TD passes in the red zone, and he did so without an INT. This shapes up like a very promising year for Mayfield, in an offense where he's well-protected and has weapons on the outside that we'll talk about in a bit. He's a good bet to surpass 4,000 yards passing and 30 TDs. He won't run much, but is a solid QB2 in Super Flex leagues, and is going off as the QB17 in drafts, according to Pro Football Calculator. Even with improvement, it's hard to imagine Mayfield doing more than threatening to crack the Top 12 over a full season without rushing upside.
Speaking of rushing, this is a team that takes "balanced attack" to a new level. Last year, the Browns passed the ball 501 times, and ran it 495 times. And doing most of the toting of the ball – 398 carries to be exact – were Nick Chubb and Kareem Hunt. Chubb missed four games with a knee injury and still finished as the RB11 with 1,067 rushing yards and 12 TDs. Hunt was the RB10, totaling 1,145 yards and 11 TDs. Hard to picture a better 1-2 punch in the NFL.
"Well, because there are 17 games this year for the first time, I think that will also factor into how you want to divvy up those carries for the running backs," Cabot said. "You want to make sure that you keep Nick Chubb healthy and fresh, not only for those 17 games, but for the three more games that you hope to play in the playoffs. So I think that's going to be key. I think they will give Nick an opportunity to be the workhorse, get his 1,000 yards that we know he's going to get, but also give enough work to Kareem Hunt that you're keeping these two guys fresh. That you're providing a nice change-up. That you've got some diversity in terms of run versus pass catching the ball out of the backfield, all the different things that you can do with Kareem Hunt. I actually do think that these guys will be on the field more together this season than they have in the past. There wasn't a lot of time last year to get super creative with how to line guys up and do different things. But I think this year they will see the wisdom in sometimes throwing Kareem and Nick out onto that field together."
Chubb is going off the board as the RB7 at the 1.09, which could be a bargain when you take into account his superb talent as a runner, the great O-line, the improving QB and a solid defense. All the arrows are pointing toward a big season for Chubb, even one of those 1,500-yard, 15-TD seasons that pay off the first-round pick even without the heavy usage in the passing game.
Hunt's ADP is RB24 at the 4.12, which is low for a player who will get plenty of work both at the goal-line and in the passing game. Hunt was 10th with 42 rushing attempts inside the red zone, just ahead of Chubb, who had 40. Both will get those important carries, so TD upside is huge for both.
One of the lazy narratives I've seen this offseason is that the Browns were better without Odell Beckham Jr. Yes, after he tore his ACL in Week 7, the Browns went 6-3 to finish 11-5. Yes, the great OBJ had a high of 81 receiving yards in Week 4, which went along with 73 rushing yards and 3 total TDs. But the offense was far from what it needed to be after the lack of a true offseason.
"I don't think Baker Mayfield got better without Odell Beckham Jr. I think Baker Mayfield got better and Odell just so happened to be gone by then, and wasn't around to benefit from the lights coming on for Baker Mayfield," Cabot said. "But I will say that I do think that there were times early on last season where Baker did feel some kind of pressure to get the ball to Odell Beckham Jr. At times he did force it a few times here and there, whether that was internal pressure or that was external pressure. Not really sure about that, but I don't think he'll feel that this year, because he's grown up in the offense. He no longer is going to hear those voices that say, 'I have to do this. I have to do that.' He trusts the offense. He trusts the scheme. He trusts the coaches, and now he's going to get out there with confidence and he's going to drop back. He's going to find the open man, and he's going to nail the pass without worrying, 'Who's going to catch it and what their name is and what their number is on the back of their jersey?'
OBJ will be almost 11 months past ACL surgery, and the reports are that he'll be full speed ahead when the season starts, even though the team is slow-playing him in training camp. He's going as the WR26 at the 6.07, dead even with Chase Claypool, and trailing Ja'Marr Chase. Yes, he turns 29 and has had his share of foot and ankle issues before his ACL tear. This has the feeling of "One Last Time" for all you Hamilton lovers. In this offense, with Mayfield improving along with a solid running game, seeing OBJ take back the mantle of WR1 on a team may be a last hurrah for one of fantasy's top performers in the 2010s.
His teammate at LSU and now in Cleveland is Jarvis Landry, who was recovering from hip surgery in the runup to the 2020 season. So he was far from full strength on the way to 72 receptions on 101 targets, 840 yards and 3 TDs.
"He really wasn't himself for probably a quarter into the season," Cabot said. "And then when you have a hip injury or a surgery like that, a lot of times you have some residual injuries that come off of that. So I think he battled through a few things last year. I think he'll be healthier this year."
Landry had a four-game stretch from Weeks 12-15 where he caught 29 of 38 targets for 318 yards & 3 TDs. Yes, small sample size, but it comes out to 124 receptions for 1,351 yards over 17 weeks. Landry is going at the 10.05 as WR45, and with a healthy season is going to blow away that ADP in a PPR format. He's going just in front of Henry Ruggs III, whom I see as a dart throw. I'll take Landry there and say, "Gracias!"
A sleeper this year could be Donovan Peoples-Jones, as there have been positive reports on him throughout camp. At 6-2, 212 lbs., Peoples-Jones is a super freak athlete, grading among the most elite athletes in SPARQ rankings in the 2020 draft. He finished with 14 receptions on 20 targets for 304 yards and 2 TDs. Both were difference-making scores in games against the Bengals and Titans. He's a player to watch this year, possibly as a waiver-wire pickup or late-round selection in deep drafts.
What isn't clear is whether there will be enough targets left over for the TEs: Austin Hooper, Harrison Bryant and David Njoku. All three of these players combined for 127 targets, which is 18 fewer than Travis Kelce had by himself. Hooper was the leader with 70, which was second on the team. With a healthy OBJ, it's hard to project Hooper getting many more targets than this.
"Actually, the tight ends are exalted in this offense, and they really value these tight ends," Cabot said. "And that's why they spent 10½ million dollars a year on Austin Hooper when they signed him as a free agent before last season, and why they also picked up David Njoko, whose fifth-year option for this year of $6 million. That's a lot of money for a guy who caught 19 passes last year. So the tight ends are vital in this offense. And that's a good problem for the Browns to have is that they've got great tight ends. They've got great receivers, they've got great running backs and a great offensive line. I think the issue is going to be how are you going to find enough footballs to go around for all the people that deserve to get them on a regular basis and all the guys that could potentially have over 1,000 yards? That's going to be the key."
Another key is the offensive line, which PFF rated as the #1 going into the 2021 season. It's an intact unit that set the tone for an offense that was 3rd in the NFL with 2,374 yards rushing and allowed just 26 sacks total. As great as that unit was, when looking at those numbers Cabot pointed out that it's important to keep a few things in mind.
"People need to be realistic when you look at that and you're grading the offense and the offensive line," Cabot said. "Now I think the team will be better this year. I think they will hit the ground running. They obviously have a complementary defense now, but they did not play the best of the best last year. In fact, they played four of the worst run defenses in the NFL. In terms of pass rusher, they did not see some of the best pass rushers throughout the season. Even when they played Washington, Chase Young left that game early on with a groin injury. When they played the Texans, J.J. Watt was neutralized by that weather… The Steelers rested most of their starters in the season finale. So they weren't tested that game with the fierce pass rush either. I think they will get a stiffer test this year. I think they'll be up to the challenge, but they have to realize, – and I'm sure they do – that there were some games last year that were a little bit easier than some of the ones that they'll play this year."
Defensively, the Browns spent up in the secondary with John Johnson and Troy Hill, and added Jadeveon Clowney to complement all-world DE Myles Garrett. Malik Jackson is going to be a problem at DT for many guards. Jeremiah Owusu-Koramoah comes in as a rookie from Notre Dame, who if he pops could take this defense to a new level. Last year, the Browns were in the bottom 10 in fantasy points per game allowed to the QB, WR and TE positions. The additions to the secondary and the advancement of Denzel Ward is going to help the Browns' defense to take a step forward.
"If it all comes together the way that it should, this should be a defense that Cleveland Browns fans can be really proud of," Cabot said. "And it should give Ben Roethlisberger, Joe Burrow and Lamar Jackson a lot of hell."
OVERVIEW
The Browns appear to be one of those teams that's better for NFL and to a lesser degree, fantasy football. Chubb is going to be a 1st-round pick, and will pay handsomely with some great games. Hunt continues to be a find in the 5th round, as long as he gets targets and red-zone carries. Mayfield could be that QB who is streamed against good matchups, but could be good in super flex. I really like Landry at that ADP, while OBJ, I take him if Claypool is gone in that range. This defense may not be the easy target against the pass that it was last year, so keep an eye on how they do against the Chiefs in the opener before moving forward.
SOURCES: PFF / Pro Football Reference / NFL Savant