One of my favorite people I've met in the fantasy football industry is Dr. Edwin Porras. I actually got introduced to him on the Spanish fantasy football podcast La Cueva Del Fan that I'd just started listening to last August, not knowing anything about him.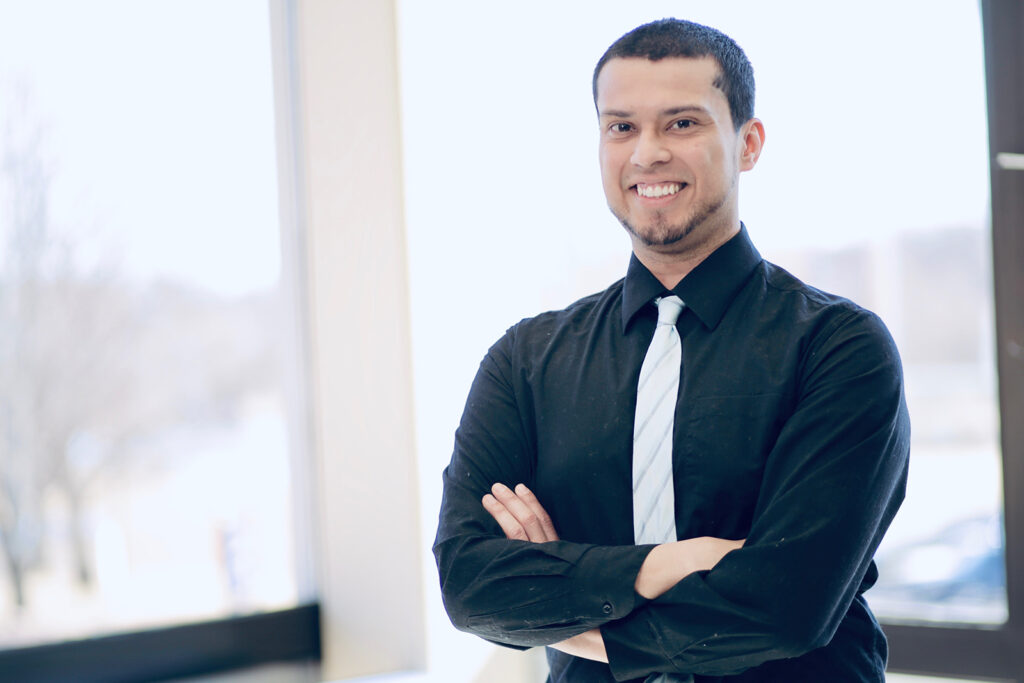 Porras had just recently received his Doctorate in Physical Therapy, but in hearing him describe injuries and recoveries, he seemed to be many years into his career. The hosts – Mauricio Gutierrez, Adrian Alpanseque, Chato Romero and Jose Ramon Llaca – were enthralled with all his answers. And doing the interview in Spanish, having grown up in the U.S. the son of Mexican immigrants, that made Porras' interview even more impressive. He was a representation of why I wanted to get into this business: We need more Latino voices in this space. Really, all minorities and women.
Earlier this year, Porras and I connected for the first time, and we bonded over common ground, even his growing up in the Midwest and my growing up in California a couple decades ahead of him. The shared Mexican raza brought so much familiarity, and he also gave my daughter Solana great advice as she embarks on her own journey into physical therapy and athletic training. The football talk still happened, though it was well into the conversation. Great to have made un buen amigo in this vast fantasy football world.
And what's the cool part of having a podcast? Getting to interview friends who specialize in any fields that are remotely pertinent to your subject matter. Porras has developed his own brand in the industry breaking the stereotype that athletes are injury prone. His podcast is even called Injury Prone, and it's a must listen for fantasy managers seeking an edge on a weekly basis. His work as the injury expert for Fantasy Points is also fantastic, as he takes what can be technical information about injuries and makes it very digestible for those of us without doctorates.
"I want to give a different spin on fantasy football with injuries, incorporated with performance," Porras said. "And I was just tired of hearing. 'Oh yeah. They got a hamstring strain, they're injury prone. They fell and busted their toe, they're injury prone.'"
I've been interested in injuries and recovery since I started working in sports and especially playing fantasy sports, and hearing Porras' mantra that being "injury prone is a lie" really spun my head around. Christian McCaffrey's injury-marred season is an example. He sprained an ankle and then hurt his shoulder. Two very different injuries that are completely unrelated. Porras did point out that if a player has recurring injuries, like repeat pulled hamstrings or quadriceps, then injury history comes into play. When he looks at injuries, there are criteria that he looks at: "Think about it with three rules," Porras said. "When it comes to big injuries, are they 24 or younger? Are they an NFL draft pick that was chosen in the first through fourth rounds? And have they had any catastrophic injury?" He added that "catastrophic" injuries that happen most often in the NFL would be torn ACL and Achilles injuries.
He adds that skill position players – hello fantasy football – appear to recover more quickly than their brethren on the other side of the football. His other often-repeated stat is that only 2.3% of NFL games are considered "injury-free." That's maybe 5 of all games that will be played from September through the Super Bowl. With the speed, size and violence in the sport, that almost seems high. Players get injured, but the fact that it happens doesn't make them injury prone. Just unlucky in the most physically demanding sport.
DAK ATTACK
During our interview, I asked Porras about several NFL players who are either coming off significant injuries or might be considered injury risks. When talking about catastrophic injuries, it's hard to not think of Dak Prescott's gruesome compound fracture on his ankle. It looked on a level of Joe Theismann and Alex Smith. All the reports are that Prescott is progressing well, and the $160 million contract that he signed earlier this year is quite the stamp of approval for how the organization feels about him – He'll get plenty of scrutiny during Hard Knocks. Still, there are some concerns that are real beyond the injury. Porras said: "I'm looking at Dak from a ceiling-floor perspective, and I'm nervous over the first few weeks, maybe the first month of the season, how he's going to respond psychologically to, 'Should I take off and run or should I not?' And that's going to cap his ceiling in the first month."
Prescott confirmed this talk during the Cowboys' recent mini-camp, when he asked the media to not ask him questions about his injury recovery. He's obviously being mindful of what constant questions would do to his psyche. According to Fantasy Football Calculator, Prescott is going in the 5th round, just in front of Lamar Jackson and Justin Herbert. Even with that meteoric start last year burned in my memory – he was on a pace to push 6,000 passing yards – I'm inclined to put him third in that pecking order if there's even a question that he'll slow down even a bit from his rushing high of 357 yards in 2017.
MY HOMEY
Since we're on the QBs, the last time we saw Patrick Mahomes he was setting unofficial records for the amount of yards he ran all over Raymond James Stadium during the Super Bowl, trying to evade being chased down by an onslaught of Bucs defenders. It was well-reported that the 2018 MVP was hobbled with a toe injury during the playoffs, and his having surgery a few days after the Buccaneers' thrashing of the Chiefs was further proof of what Mahomes was dealing with. At mini-camp in June, Mahomes appeared to be recovering nicely, though he was careful to not say that he was going to be completely healed in time for training camp.
"I don't really have a lot of concerns for Mahomes specifically," Porras said. "He had the surgery in February. I did the math on it. Typically it's going to take six, seven months for him to be back at full force. I don't expect that to be a lingering problem. There's not a lot of research on that injury specifically, but surgery and rehab both do very well. So obviously he's going to combine the two, hopefully get a synergistic effect, but I don't think that we should fade Mahomes for that toe injury whatsoever."
With Mahomes going off the board as the top QB in the 2nd round, few fantasy managers are having any concerns about the injury and his recovery.
EL BURROW
Joe Burrow, who blew out his knee in Week 11 last season, is the poster child for cautious optimism. The image of him being whipped around is one of the most lasting for me from last season. Yes, football is a violent game, and Burrow ended up tearing more than his ACL on that hit. All the talk out of Bengal OTAs and mini-camp was that Burrow is progressing well in his rehab, and that his overall work has added some velocity to his throws.
But what gives pause to many is something that was very much plainly in sight during mini-camp in June. Whenever Burrow took a snap and went into a dropback, there was only air around him. The Bengals took every precaution to assure that there was no possibility that anyone could even bump the franchise QB and potentially hurt him. Maybe that's an abundance of caution a few months before games start to count, but the Bengals would not be the first team to sit a QB a few weeks into a season to be 100% certain that the player is recovered. Think Carson Wentz in 2018.
"I'm very nervous that he'll start the season on the PUP," Porras said. "An isolated ACL tear on average takes 10 months to come back from. Joe Burrow had ACL, MCL, PCL and meniscus (tears). Those are tough. And the psychology it's going to take for him to bounce back and reach his rushing ceilings, it's tough."

For redraft purposes, right now Burrow is going at the 9.03, one spot ahead of Ryan Tannehill. Much as Burrow's great weapons are intriguing, Tannehill is a steal in that round. Trevor Lawrence 20 picks later is the type of option I'd look to take as a second QB. I'd be fine passing on Burrow in redraft in single-QB leagues, though in best ball or Super Flex as a second or third QB he is a good option.
LISTO SAQUON?
Another high-profile skill player coming off a torn ACL is Saquon Barkley, who saw his knee buckle in Week 2. It was disastrous for fantasy managers who picked him as high as #2 overall. Barkley hits all the criteria that Porras looks for in a player returning from injury: "When you have somebody like a Saquon Barkley, 24 years old, first-round draft pick, ultra athlete, the only other comp in his stratosphere is Adrian Peterson. And he had a relatively straightforward procedure. It's almost a slam dunk that he's going to be fine. If everything, obviously nothing is 100% predictive, but if his rehab goes smoothly and he can hit all the criteria that he needs to, it's going to be a slam dunk. People are probably sleeping on him. I still think he's going to be a top five running back."
Barkley caused a little stir earlier this month on the Rich Eisen Show when he seemed non-committal at first about whether he'd be ready for Week 1. It really seemed he was taking the company line and not oversharing on his status. At the end of the interview, when Eisen – an avid fantasy football player – asked Barkley if the host should take the RB with the #1 pick in fantasy drafts. Barkley reluctantly broke down and said that Eisen and others should feel confident that the RB will be fine. But that reluctance gives pause.
While Porras has pointed out that players coming off ACL tears are often more ready by the second full season after surgery, Barkley may be an exception. When it comes to Barkley, Porras and I are less worried about his injury recovery as we are the offense surrounding him. Daniel Jones is going into a make-or-break season, and if he doesn't break out defenses will be more intent on stacking the box to stop Barkley. Add to it that the O-line was ranked #32 – dead last – in PFF rankings entering the season. Then look at the first four games for the Giants: Denver, at Washington, Atlanta and at New Orleans. All are returning top defensive fronts that could slow down Barkley as he's getting his footing on the new season. Draft with caution, but not from a health standpoint. EDITOR'S NOTE: This article was published before Barkley was placed on the PUP List at the start of training camp. This does not mean that he's going to miss time to start the season. There is still plenty of time for Barkley to be cleared to play on Week 1, even if it might mean he's eased into action to start the season. This is a situation to watch as we progress into Fantasy Football draft season.
REMEMBER COURTLAND?
Courtland Sutton is the first WR coming off an ACL tear that I asked Porras about. He got hurt in Week 1, so essentially he was out of view of almost all NFL fans for the entirety of the season. He's someone who it's easy for the casual fans to say out of sight, out of mind. But don't let that happen. This is a 6-4, 216-pound freak athlete with great hands and rare speed for someone so tall. Porras mentioned that after ACL surgery, it can take a year to 15 months for the graft to fully mature. By the start of the season, Sutton will be just about a year out from surgery.
"He's another guy who is extremely talented and he's a guy who (in early March) was already running routes," Porras said. "He's 25 years old (turning 26 on Oct. 10). He was taken 40th overall. So that's high draft capital. I've seen his rehab and how he's progressing, and I think that he's going to be just fine."

Going on average at the 7.09, after Devonta Smith and D.J. Chark, Sutton appears to be a steal. Yes, some are downgrading him because there's no belief in Drew Lock or Teddy Bridgewater as the QB in Denver. Well, in 2019, Joe Flacco and Lock were throwing the football for the Broncos, and Sutton caught 72 balls for 1,112 yards and 6 TDs. Other players going in that range are Trey Sermon and David Johnson. Take Sutton in this range.
THE RETURN OF OBJ
Odell Beckham Jr. is one of the more head-scratching players coming off an injury. He played a full season in 2019, with the Browns a colossal disappointment after so much preseason hype. He was a shell of himself, and needed sports hernia surgery in the offseason. He then got hurt in Week 7 of 2020, just as QB Baker Mayfield was becoming acclimated to HC Kevin Stefanski's new offense. OBJ did have a huge Week 4 with 154 total yards and 3 TDs against the Cowboys, then tore his ACL three weeks later. There was talk that the Browns might be better without OBJ in the lineup, which is extremely shortsighted. Porras took the injury recovery progressing and focused on how the Browns are more of a run-based team than the Giants were with Eli Manning flinging the ball around in the early part of OBJ's career. That could be what holds back OBJ from a return to his glory days instead of the recovery from the ACL.

"OBJ is 29 years old," Porras said. "He's had several injuries, but none of them are correlated. He had a groin issue, and he got that repaired. Those tend to do pretty well. He's had the foot and ankle stuff. I just think that his primary issue is that offense, sort of like with Saquon. In terms of his performance, I wouldn't necessarily expect the peak Odell performance. But I think that he can come back and be at least a Wide Receiver 2 from a performance standpoint."

OBJ is going in the 6th round, in the range with Brandon Aiyuk, Tee Higgins and Chase Claypool. All are capable players with breakout potential and are much younger than the three-time Pro Bowl selection. With OBJ, do you take the big name or the potential? Hmmm.

WHAT BROWN WILL DO FOR YOU
We left chatter about ACL tears and talked about the double knee surgery that Tennessee's A.J. Brown had early in the offseason. Keep in mind that Brown missed two games and most of a third with knee injuries. Then he was maintained for most of the season with limited practice work, to build him up for Sundays. From Weeks 5-17, Brown was the WR4 and scored a TD in 10 of 13 games. And he did it while gritting his way through pain in both knees.

Age is in his corner – he's 24. And anyone who has seen his array of skills on the field will attest to his incredible power and athleticism. The Titans are being cautious with Brown, as he did not participate in any drills during mini-camp.
"Moving into 2021, I see him being just fine," Porras said. "Now, where you do start to wonder is when will that sort of fall-off happen for A.J. Brown? … Typically a procedure like that would take two to three weeks to recover from, and when you do it with the other one is going to take much longer, which might be the reason that they waited to do it in the offseason. So I don't think this was a big major procedure. I think that these were relatively minor procedures that aren't going to impact him in 2021. Once we start seeing 27, 28, 29-year-old A.J. Brown, is he going to have a pretty deep steep fall-off because he's going to start feeling some of those arthritic changes in his knees? Maybe. But for 2021, I don't see it being a problem."

Even with Brown getting a new wingman in Julio Jones, the third-year stud WR is going at the 3.03. With the targets that opened up in the offseason, there should be plenty of passes coming his way from Tannehill. In a month, when we're heavily into the draft season, presuming good reports on his recovery from the knee surgeries, Brown should just build on his stellar first couple years. Though Jones' presence may keep him from rising up draft boards.

PREDICTING THE CLIFF
Porras and other injury experts get asked all the time about the possibility of predicting injuries and that dreaded "going over the cliff." When players, sometimes abruptly, go from elite to also-ran. Realistically, that's just not possible to predict. So we can't look at various players and say that they're going to be finished at a given time. This is a league where in 2020, Frank Gore and Adrian Peterson had about the same production as Todd Gurley. All three players are currently free agents, though Peterson and Gore are well on the other side of 30 from the 27-year-old Gurley.

There are three top draft picks – Dalvin Cook, Alvin Kamara and Ezekiel Elliott – who have missed time with some sort of injuries over the past couple seasons. Cook is the only one with a catastrophic injury (torn ACL) in his background, and all are 26, which is nearing the tail-end of the peak age for RBs. To put context on this, of the Top 11 rushing totals in a season (two players tied for 10th), all but Adrian Peterson (27) and Barry Sanders (29) were 26 or younger at the time of those stellar seasons. Are there any concerns about wear and tear on these players?

"I've had this conversation with a lot of different people and I have to be honest. I'm not 100% convinced that wear and tear is really a thing. Injury-free wear and tear," Porras said. "Now, could it be small things we don't hear about that eventually lead to a running backs' demise? Yes, but I think a bigger portion of the running back position is being able to sustain speed and agility at a truly elite level.

"If the NFL is a young man's game, the running back position is dominated by the adolescents. You know, they don't have to be immediately savvy when it comes to what is the nuance. 'This hole, how quickly do I need to hit it? How, how far behind do I need to lag behind the guards?' Like those things matter. And obviously the top guys are good at those things, but as long as the dude is peak athletic and OK at the position in college, then they're probably going to perform pretty well. And what carries a running back is their age, their youth. So, I don't think it's so much wear and tear, per se. I think it's what is a running back? How does a running back respond when they lose a half a step? Because you have to remember, 24 years old is a very young age. That's insane. That's a super young age. But when it comes to the peak age of a Top 12 fantasy running back, like you mentioned, that age is likely between 22 and 26. The average is 24 years old. So they can still hit their peak and stay until 26. But once they hit that 27, 28, 29, that's when you start to wonder, are they going to fall out of the top 12 now? Can they still contribute? Yeah, absolutely. But the wear and tear argument has never really been (a good) one, and it's really just semantics."

One player on that all-time list is Derrick Henry, who ran for 2,027 yards at age 26 in 2020 (#5 all-time). He's a year older, and coming off a season with 396 carries (including playoffs). That was a year after totaling 386 carries in 18 games in 2019. Now, in his first three seasons, Henry did not surpass 215 carries, so could the bruiser continue at such a torrid pace?

"Can he sustain this pace? And my answer is probably so," Porras said. "In that same conversation I mentioned about earlier, with the running backs, I mentioned how Derrick Henry has never been like a quick-twitch guy. He's been a guy who takes it, who gets a step, gets downhill, and then he just runs you over or stiff-arms you. And so when it comes to his production since so little of it comes from receiving in the first place, I do think that he can continue to be successful at a Top 5, Top 10 level, even to age 27, 28."

TRAINING CAMP INJURIES
We finished off this great conversation with a look toward training camp, and the inevitable injuries that happen. Pulled hamstrings. Strained calves. Injured quads. All get overanalyzed to the point that players can fall in ADP like Kamara did after it came out on Labor Day Weekend that he may have had an epidural injection in his back. Knowing how to delve further into those injuries is key, and Porras sheds light on what injuries are and are not to be too worried about."We have to understand that collectively dudes are going to pull hamstrings, dudes are going to pull quads. They're going to have calf strains," Porras said. "Those injuries are going to happen because they're coming back from their offseason strength-and-conditioning program back into football. And that's just when you throw off workloads that way, that's just going to happen. Now, the question of which ones are there to worry about, like David Montgomery, for example, wasn't really one to worry about. Deebo Samuel was obviously one to worry about. So it really comes in shades of gray. Like even if a dude has a high ankle sprain in the offseason, in the preseason during training camp, that's probably not going to follow him into the season. Because they'll give him time to rest and catch up. If you have a person, like, let's say Keenan Allen. If you see him get another hamstring strain in the preseason, then it's something to keep an eye on. Maybe you fade him compared to another person depending on the ADP. But when it comes to offseason injuries and preseason injuries, those are, honestly, they're insignificant a lot of times. Like, Kenyan Drake, two years in a row. Kenyan Drake was in a walking boot during training camp. Did that mean anything? No, of course it didn't mean anything. So it just depends. A lot of times I would say that they don't matter."
What does matter is that now our Familia FFB readers are armed with important information for their drafts. Keep this page bookmarked and refer to it on draft day. Keep following Edwin Porras, because his podcasts and articles are so actionable and informative. Then be ready to win your league. Salud!