Way back in February, in the cleanup stages from the Super Bowl, Adam Schefter tweeted that there could be as many as 18 teams making changes at the QB position. That's more than half the teams that could be breaking in a new player at the most vital position in sports. Really?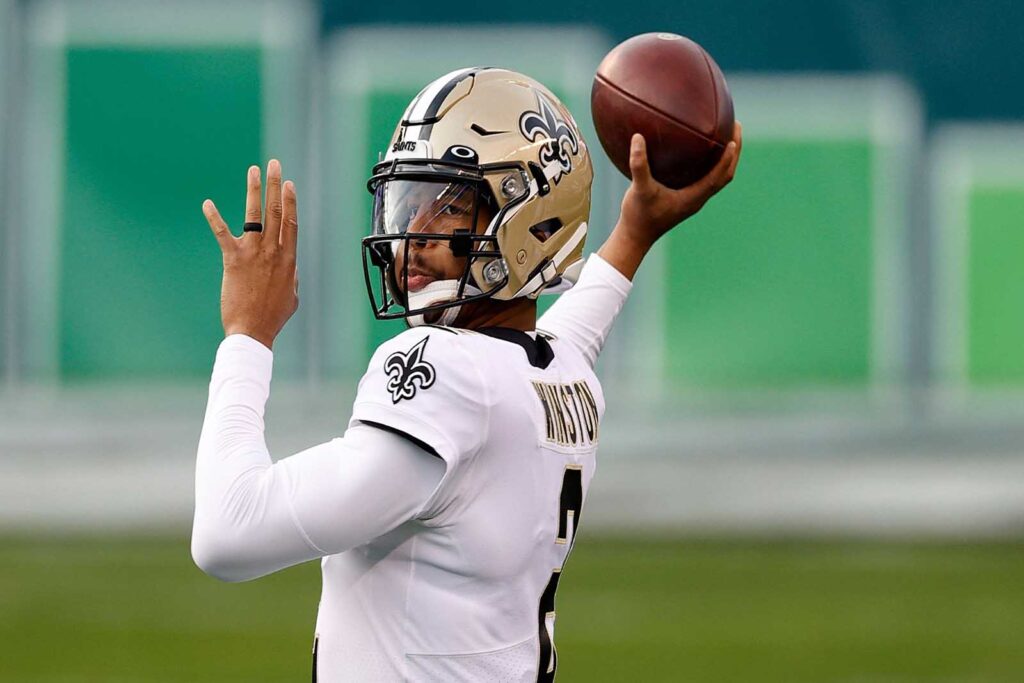 Well, we're in the cleanup stages of what was a very busy week of NFL free agency, and where are we exactly? As of now, six teams have officially made changes at the QB position – Saints, Lions, Rams, Colts, Bears and Washington. We'll discuss a couple of these to see if they actually made upgrades.
There are others like the Jaguars, Jets, 49ers and possibly the Panthers that are expected to draft an upgrade at the position or make a trade. Yes, there was some talk of trades for Russell Wilson and Deshaun Watson, but those appear to be on back burners for now.
So the big movement was going to be in free agency when the new league year started on March 17, St. Patrick's Day. There were plenty of skill players with major fantasy football implications who could be moving. Well, some of those moves hit. Some of the moves were meh. Some hit wrong to the point that they may have hurt other players' 2021 prospects.
To keep this article from being too long, let's dive right into the moves starting with that position that Schefter predicted would have lots of movement.
QUARTERBACK
Ryan Fitzpatrick to the WFT
Mr. Fitz Magic goes to Washington! This is a great upgrade from the Dwayne Haskins/Kyle Allen/Alex Smith/Taylor Heinicke quartet that Washington ran out there last season. The big upgrade is that Fitzpatrick brings with him an average yards per attempt of 7.8, which was well ahead of Smith's 6.3.
This is music for Terry McLaurin, who had 87 receptions for 1118 yards for a paltry 8.3 yards per target. That was #56 in the league. Think that a QB with a downfield mentality like Fitzpatrick helps out. Curtis Samuel should see more targets, and Logan Thomas remains a very good option in that ever-thin TE position. Interesting that over the last 3 seasons the best RB that Fitzpatrick played with is arguably Peyton Barber. Antonio Gibson will benefit from more throws, and likely fewer checkdowns to J.D. McKissic. That can only be good news for Gibson.
Andy Dalton to Bears
Not quite Russell Wilson, huh? Let's not mention Patrick Mahomes nor Deshaun Watson. I feel for you, Bear fans. I remember growing up in the 1970s and '80s as a Ram fan, with the Cowboys, Vikings and 49ers taking turns going to the Super Bowl because they had Hall of Famers in Roger Staubach, Fran Tarkenton and Joe Montana taking snaps. The Rams' best was Vince Ferragamo. Good player, but not HOF-worthy.
I look at the QBs who have been the primary starters for the Bears since Brett Favre was traded to the Packers in 1992. The best was Jay Cutler, and he never took them far in the playoffs. It's tough to look at that list, so saving you the torment.
Dalton is serviceable, which is the best that could be had when teams weren't really making their future gold jacket signal callers available. After being thrust into the starting role, getting a concussion and COVID-19, the Red Rifle actually led the Cowboys to a 5-2 record to close the season, throwing for 1718 yards and a 13-5 TD-INT rate. Is that Mahomes-level? No, but it's definitely better than Mitchell Trubisky.
Allen Robinson will still get his 150 or so targets and be elite, because he got that volume the past two seasons. Can Dalton unleash steps forward from Darnell Mooney and Cole Kmet? Over that closing run, TE Dalton Schultz only saw more than 6 targets once. Dalton was able to feed multiple WR, so the prospects are better for Mooney. Keep an eye on the Bears trying to find a long-term QB in the draft.
Jameis Winston & Taysom Hill QB Battle Royale for Saints
Forget about the size of the contract for Hill. It's a one-year deal to get under the cap that'll be voided next year. Who's going to start? This is an open competition that we'll be following all through August.
I know that Hill started Weeks 11-14 last season, doing so over Winston. Hill led the Saints to a 3-1 record, and had some moments. He's very much a Konami Code QB, as he rushed 39 times for 209 yards and 4 TDs during his starting turn. I just think that when it comes down to who will start, it'll be Winston.
He has a big arm – 8.2 yards per attempt in 2019 – and has just had more reps in the NFL as a passer. His 2559 NFL pass attempts by age 26 dwarf the 134 that Hill has thrown by age 30. The way I see it, Winston will be the starter and Hill will be able to fill that gadget-play role that he did so well behind Brees.
RUNNING BACK
Aaron Jones re-signs with Green Bay
This is the best possible destination for Jones, who was the RB5 last year in just 14 games. With 1459 total yards and 11 TDs, coming on the heels of 1556 total yards and 19 TDs the year before, Jones is very much in his prime.
The "problem" with Jones is that fantasy managers want him to get a larger share of the snaps, as he was at just 51.8% last season. Let's look at total touches, though. Jones totaled 248 touches in 14 games, which resulted with a very good season. Jamaal Williams leaves behind 150 touches, and A.J. Dillon could see a chunk of those. Still, the 248 touches that Jones saw last year should be his floor, not his ceiling.
Chris Carson re-signs with Seahawks
At 2 years and $14 million, Carson returns to Seattle and HC Pete Carroll, who's made his love of the running game very well known to his starting QB. Carson was the RB19 in just 12 games, rushing for 681 yards and 5 TDs.
Always believed to be subpar in the passing game, Carson caught 37 of 46 targets for 287 yards and 4 TDs. He's 26, which is good. His single-game high of 80 rushing yards last year is bad. As is the return to health of Rashaad Penny, who's in his second full year back from ACL surgery. Follow the money that Carson will get the ball, but don't be surprised if he disappoints and ends the season sharing carries with Penny.
Kenyan Drake to the Raiders
This is simply horrible for Josh Jacobs, who was RB8 last year with 306 touches. How do you cut into the touches of a first-round pick who's in just Year 3 of his career? Drake is going to be a changeup back, giving Jacobs a breather and possibly taking some valuable targets in the passing game.
In 2020, Jacobs saw 273 rushing attempts, and the rest of the RBs saw 124 for the Raiders. Drake could see a fair share of those, but it's still likely that Jacobs' carries come down. In Arizona, Drake was the RB16. He won't get close to that this year.
This week, he talked about seeing passes out of the backfield. We've heard that before. Could Drake be a poor man's Kareem Hunt, who was the RB10 in PPR scoring?
Mike Davis signs with the Falcons
There's no such thing as a bad 1-year contract. Davis enters where Todd Gurley exited. It's still hard to see the Falcons not adding another RB in the draft, and this is one of the teams that could have plenty of carries for a rookie RB, with Davis as the capable backup.
Leonard Fournette re-signs with the Buccaneers
This is a bit of a surprise, as it looked like someone was going to pay for Playoff Lenny's run to the Super Bowl. But the salary cap drop definitely depressed the RB free agent market. Fournette will compete with Ronald Jones for touches, making this one of those dreaded committees. Ke'Shawn Vaughn? Play Taps for the prospect of him seeing any type of significant carries.
Marlon Mack re-signs with the Colts
Coming off an Achilles tear in Week 1, Mack has youth (age 25) on his side. But that may be the worst injury for a RB to return from. Mack's return could eat into some carries for sophomore stud Jonathan Taylor, but that probably won't be enough to have the Wisconsin product to fall out of the back half of the first round of fantasy drafts.
Jamaal Williams to the Lions
Maybe this is not as bad as Drake to the Raiders, but this is far from good news for those who had high hopes for D'Andre Swift's Year 2 leap. Williams is good enough in both the running and passing game, that he'll likely take just enough touches away from Swift to turn the former Bulldog into an RB2. Too bad, because in PPR, seeing any increase from the 57 targets that Swift saw in 13 games was going to be golden.
At least Swift knows how to share the ball, as Adrian Peterson (156 carries) and Kerryon Johnson (52) took plenty of carries last year. Johnson is expected to be back.
Other Less-Notable RB Moves
James White comes back to the Patriots is the start to a grouping of several new players trying to get slices of a small pie… Tevin Coleman to the Jets does reunite him with OC Mike LaFleuer from the 49ers, but he should really be depth… Phillip Lindsay signing with the Texans just adds to a group of runners – David Johnson and Mark Ingram II – who have seen better days.
WIDE RECEIVER
Kenny Golladay signs with NY Giants
He's coming in to be the WR1 for the Giants. Does he have the same impact on Daniel Jones that Stefon Diggs had on Josh Allen? That's asking a lot, and probably too high a bar to reach. The other big question: Is he recovered from his hip injury that took him out of 11 games?
This is all about giving Jones all the weapons he needs to see if he can really become a franchise QB. He's got a stud at RB in Saquon Barkley. Darius Slayton and Sterling Shepard are good complementary WRs. Evan Engram is another year removed from a Lisfranc surgery. All that's missing is an alpha receiver. Enter Kenny G.
The Giants as a team threw 574 passes last year, which should be plenty of volume for Golladay to at least replicate the 116 targets he saw in 2019 when he caught 65 balls for 1190 yards and 11 TDs. That was good enough for WR9. At the very least he needs to replicate that to be the weapon Jones needs and to earn the big contract. The Giants are still rebuilding their O-line, so keep an eye on what they do there in the draft.
JuJu Smith-Schuster returns to Steelers
Good for the Steelers as a football team. Probably not the greatest for fantasy football managers. JuJu was WR16 last year, catching 97 of 128 targets for 831 yards and 9 TDs. That 8.6 yards per reception was just #126 last year. Ay Dios Mio!
This looks to be Ben Roethlisberger's swan song. Is he going to look for JuJu more than Diontae Johnson, who saw 144 targets? This re-signing does seem to hurt Chase Claypool's value, as he was looking like a good candidate to see an increase from 109 targets last year. Is Big Ben going to take some deep shots to unleash Mapletron?
One last thought on JuJu: That glorious 2018 season with 111 receptions for 1426 yards sure seems like a long time ago.
Corey Davis to Jets
Will he be the alpha with Jamison Crowder and Denzel Mims already there? Can Davis be the WR1 when AJ Brown was that last year in Tennessee? Looking at the big picture, the answer appears to be no.
The history of players trying to go from the WR2 to the big dog on a new team is spotty at best. Add to it that Davis is likely going to see passes from a rookie QB – probably Zach Wilson. Davis has seen his career go from #5 overall pick in 2017, to looking like a bust, to a workmanlike producer in the shadow of Brown. But to take a step forward in the Big Apple seeing passes from a rookie, even one as well-regarded as Wilson? Not likely to happen.
Curtis Samuel to WFT
This is another good fit for Fitzpatrick, and it's a reunion for Samuel with HC Ron Rivera and OC Scott Turner. Samuel will battle Thomas for second banana in targets behind former Ohio State teammate McLaurin. And since Fitzpatrick likes to take shots down the field, that should help raise that 7.3 ADOT for Samuel closer to the 14.6 it was in 2019. Samuel also ran the ball 41 times last year, so fantasy managers will root for him to replicate that mark to see him get the ball in his hands a few extra times a game.
Will Fuller to the Dolphins
Vamos a Miami! On a one-year deal, this is great for the Dolphins to get a player in a "prove me" state. And that same player was the WR8 through Week 12 before a PED suspension knocked him out for the remainder of the season.
Fuller will have to miss Week 1 to complete his suspension. When active, he'll be a deep threat in the passing game for Tua Tagovailoa. Yes, it's a step down in weight class from Deshaun Watson, but if Tua takes that sophomore step forward there is no other receiver in Miami with Fuller's breakaway speed. Devante Parker and Mike Gesicki will handle the intermediate routes. There's even talk of Miami adding another top WR in the draft to replicate all the weapons at Tua's disposal in Alabama.
AJ Green to Cardinals
Green was the WR68 last year with 47 catches for 523 yards. And that was playing in 16 games. Yes, the QB play in Cincinnati was putrid after Joe Burrow got hurt, but to see a 45.2% catch rated for a player who has been so good for so long, it was hard to watch. Is he washed? It's sure looking like it. He'll still command attention because he's a big target, and that will help DeAndre Hopkins. With an improving Kyler Murray, there could be an uptick for Green. But I'll be passing on him, and so will most fantasy managers.
John Brown to Las Vegas
Injuries limited Brown to just 9 games, and the results showed it. Still, he has speed and a reputation as a great route runner. The Raiders lost Nelson Agholor and his 48 receptions for 896 yards, but I predict that the Silver and Black faithful are going to want to find out if Henry Ruggs and Bryan Edwards are worth the draft capital that the organization spent on them. With Brown possibly the fourth option for passes behind Darren Waller and the two sophomores, looks like the veteran is going to be left out of most drafts.
Emmanuel Sanders to Buffalo
He won't compete with Stefon Diggs for targets, but Sanders will take targets away from Cole Beasley and Gabriel Davis. The Bills do play plenty four-WR sets, but even if Sanders were to get the almost 6 targets per game that Brown received last year, that probably is not making it off your fantasy team's bench unless it's a deep league.
Marvin Jones to Jags
Jones was the WR18 last year, but will he get 115 targets competing with D.J. Chark and Laviska Shenault for targets? Another rookie QB will play here, and even one as ballyhooed as Trevor Lawrence will see a tall task for keeping 3 WRs well fed. Jones going to Jacksonville looks to be a step down after a season with the Lions picking up the targets left behind by an injured Golladay. Early look, not looking good for Jones to be anything more than a WR3 or fantasy bench piece.
Nelson Agholor & Kendrick Bourne to Pats
The Patriots suddenly get really crowded with WRs & TEs. Lots of mouths to feed with the team only throwing 440 total passes on the year. Only the Ravens threw fewer passes last year. Agholor had a bit of a resurgence with 896 yards on 48 receptions (in 82 targets). Bourne appears to be WR depth along with N'Keal Harry and Jakobi Meyers. With the WR depth chart and the additions to the TE corps, plus James White, it's hard to see more than one pass catcher on the Patriots even approaching 100 targets.
DeSean Jackson to the Rams
I've said it many times: The best ability is availability. Jackson has appeared in just 8 of 32 regular-season games the past 2 seasons. He still has game-breaking speed when he gets on the field: In a 5-game sample size, Jackson's 16.6 ADOT is excellent. If he can stay on the field to stretch it for the Rams, the real beneficiaries are Robert Woods and Cooper Kupp. And that Stafford guy.
TIGHT END
Jonnu Smith & Hunter Henry to the Patriots
This is an addendum to the Agholor/Bourne signings mentioned earlier. However, comparisons to Rob Gronkowski and Aaron Hernandez in 2011 is premature because Tom Brady threw 611 times that season. That's 171 more than what the Patriots threw last year. Smith saw just 65 targets last year in 15 games. He did score 5 TDs in the first 4 games, but it was quiet after that. He spent plenty of time blocking after injuries to the Titans' line. Does Henry get close to the 93 targets he got last year? Hard to see that with this volume. Cam Newton is the real winner here, because he has a pair of athletic TEs to throw to, with both being willing and skilled blockers. These additions quietly help the New England running game. It's just hard to get excited about these signings, even in a depressed TE market.
Gerald Everett to SEA
He was the TE24 sharing targets with Tyler Higbee. Everett looks to be the distant #3 option behind D.K. Metcalf and Tyler Lockett. What does play in his favor is that new OC Shane Waldron was with Everett on the Rams last year. When coaches reacquire players, that usually means more opportunity for the player. Even with this, Everett may be nothing better than barely getting into the Top 12 among TEs.
Jared Cook to LAC
In keeping with the theme of coaches reacquiring players, Cook goes to the Chargers and new OC Joe Lombardi. They were together with the Saints last year. Cook was efficient with turning 7 of his 37 receptions into TDs. Herbert did send 93 targets at Henry last year, but looking ahead to the season likely means more targets for Mike Williams behind Keenan Allen. Williams may inch past 100 targets with Allen averaging more than 10 per game.
Kyle Rudolph to NYG
Rudolph was let go in Minnesota after he asked for more targets. Now he goes to the Giants, who have Evan Engram much higher in the pecking order behind the new top dog in Golladay. Rudolph, you ready to help out on blocking?
MOVING ON THE LINE
Speaking of blocking, Corey Linsley to the Chargers may be one of the best marriages of necessity, dropping the All-Pro C into the middle of what was the worst line in 2020, according to Pro Football Focus. Yes, you're getting the message that as Justin Herbert remains upright, it's better for the Chargers' win total.
Trent Williams re-signs and C Alex Mack signs with 49ers. Williams signs the biggest lineman contract ever, while Mack becomes the anchor to the line in San Francisco. That 49er running game will continue to ride high.
Kansas City re-signed T Mike Remmers, G Joe Thuney and G Kyle Long. Plenty of new bodies along the line for the Chiefs, who also get back G Laurent Duvernay-Tardif from opting out to help fight COVID in native Canada. The Chiefs will probably spend some picks fortifying the tackle positions in the draft.
Arizona made a smart move in C Rodney Hudson to AZ. Too expensive for Vegas, Hudson was still rated #8 by PFF & will help both in the running and passing games for the Cardinals.
Don't get me started on what the Raiders are doing with their front five. Too loco for me.