In our Familia league, we chuckle at the photo of our first draft. It's a big board, filled with stickers with players' names in different colors making a big spreadsheet come to life. All our teams were on there for our first draft, which was in 2010.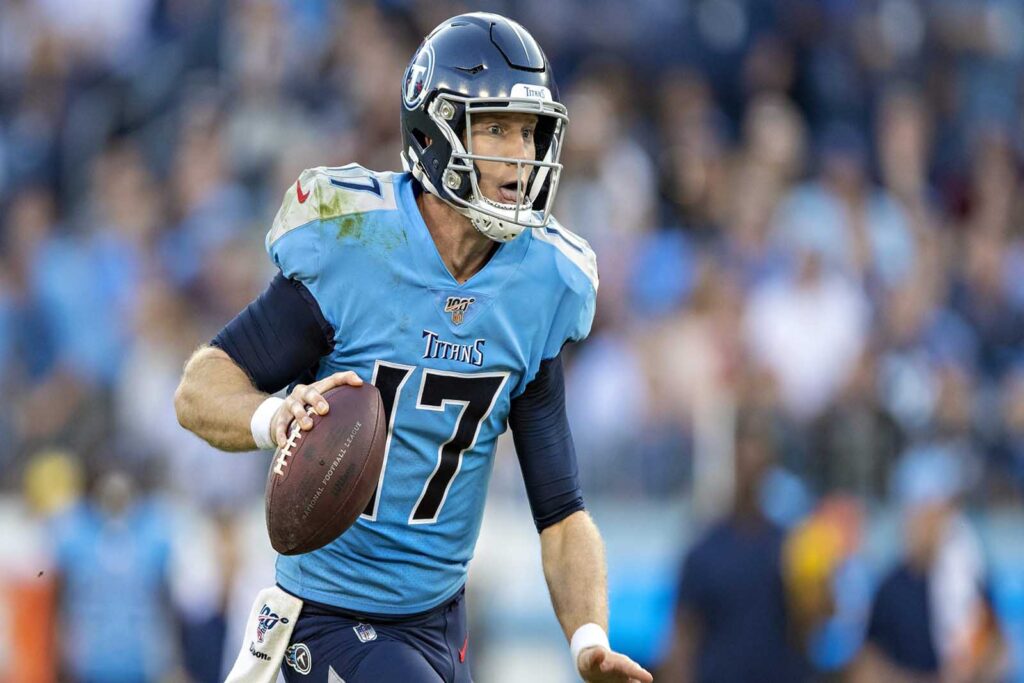 We still do the board for our live draft, but it was the names who were on that first board that bring with them some laughs. The first round was filled with several familiar names, but a few that were in the first round now elicit more than a little head scratching: Tom Brady, Aaron Rodgers and Peyton Manning.
Yes, we sure were big on the QB position in those first drafts. I have to hold in a laugh now, because the fantasy industry has come quite a long way in just the past decade. The amount of fantasy information and expert analysis that's out there, any seasoned player today would know to hit the RB, WR or even elite TE in the first couple rounds before going QB.
That led to the late-round QB strategy that was popularized by J.J. Zachariason several years ago. "Wait on QB" became the mantra. It got to the point a few years ago that many teams in my drafts were ignoring QB until the 10th round, and it was paying off. Even teams streaming QBs would win titles.
We might be at the start of a bit of a sea change to that strategy, though. And we have a couple players to credit/blame for it. Patrick Mahomes and Lamar Jackson were late-round home runs for fantasy managers in 2018 and '19, respectively. In my most competitive leagues, neither of these budding superstars going into their sophomore years were taken before the start of the double-digit rounds. They were amazing calls, and those two QBs were mini lottery wins that led so many players to fantasy titles.
I could see a correction start to happen in 2020. Only 2 of the end-of-season Top 10 QBs were selected after pick #100, and that's not counting the overall QB1 Josh Allen, who went in pick 96.5 on average, according to Fantasy Data. Fantasy players were not going to have a Mahomes or Jackson fall into the double-digit rounds this past year. The player who appeared most likely to make that Jackson-esque second-year jump was Kyler Murray, and he was the fifth QB off the board in Round 5. He ended up as the QB2 overall on the season, though he'd been the top dog much of the season before a late-season swoon. The 6-round gap between where Murray was picked in '20 and where Jackson was picked the prior year seems like the Grand Canyon now.
How is the industry becoming smarter so quickly? Fantasy managers are seeing the value of passers with rushing upside, and that has coincided with the rise of players like Jackson, Allen and Murray, among the many. Last season, 15 QBs ran for more than 200 yards, a list which includes Sam Darnold at 217. There were 14 signal callers who ran 50 or more times on the season, with 9 of them rushing for 5 or more TDs. Of the Top 10 QBs on the season, there were 8 who met at least one of these criteria, and several met all of them.
Pocket passers like Tom Brady and Aaron Rodgers – the latter still has mobility, but didn't do as much with his legs as in the past – still snuck into the Top 10 on the strength of throwing for 40 and 48 TDs, respectively. It's the rushing yards that are becoming more important when it comes to fantasy QBs. The young passers coming into the league have at least some rushing upside. Even Mahomes, widely considered the most talented passer in the game, averaged nearly 4 rushing attempts per game and ran for 308 yards in 2020. He's being drafted for his incredible passing acumen and fantastic receiving weapons, but no one is sticking their noses up at his occasional 1-yard sneaks.
The running QB is changing the game, and mainly for the better. My first year playing fantasy football in 1990, I vividly remember Philadelphia's Randall Cunningham on the cover of the few fantasy magazines out there at the time. Here was a QB – in the days of Joe Montana, Dan Marino and John Elway – doing as much damage with his legs as with his arm. We played TD-only scoring then, and Cunningham was a consensus 1st-round pick because of the 10 combined TDs the previous two seasons. He was a unicorn, and people scooped him up early and often. They were rewarded with 3466 passing yards and 30 TDs, along with 942 rushing yards and 5 TDs. This was more than a decade before Michael Vick paved the way for Cam Newton, and 29 years before Jackson's breakout two years ago.
The game is changing. Actually, it's changed, past tense. Since 2017, we've seen QBs with running ability become established in Mahomes, Watson, Jackson, Allen, Murray and Dak Prescott. Justin Herbert announced his presence with authority as last year's Offensive Rookie of the Year, while Joe Burrow and Jalen Hurts may further grow the pool of dual-threat QBs who become established in 2021.
I see the fantasy industry adjusting and becoming even more prepared for an increase in the number of running QBs. The likely retirement of Drew Brees, coming on the heels of Philip Rivers already hanging up the cleats, can mean a couple more spots are taken up by QBs who can run. Yet people are going to have to think quickly if it's worth it to be at the front or the back of the line when drafting QBs.
Mahomes, Jackson, Murray, Allen and Watson will likely be gone by the 5th round of most redraft leagues in August. Rodgers and Brady could sneak into that range, because of their epic 2020 seasons. There might even be a Russell Wilson fan looking for another 40-TD season. That's 8 QB chairs taken for a 12-team league during the point of the draft that many experts had said to hammer the RB, WR and TE positions repeately. Then you ask yourself, 'Who's left?'
Prescott, Herbert and Ryan Tannehill, who was a 13th-rounder last year on average, would make it 11. Then Hurts, if he has the job to himself would be an intriguing option for those who waited to be the last one to the QB dance. But how long will people wait?
Looking into my crystal ball, the guess here is that most, if not all, of these QBs will be gone by the 8th round. Many drafters might panic at the thought of missing out on the first 5 or 6 choices, and pick them too early. That often leads others to grab the next tier a little sooner than expected. To add some context, here are some names of QBs who are in the next tier or passers: Matthew Stafford, Matt Ryan and Kirk Cousins. All good signal callers, though all would need to have seasons similar to Rodgers and Brady last year to be viable as weekly starters.
One thing is clear: If your QB has rushing ability, your team will be in good shape.
Who might be the QBs who take a step forward next season? Maybe not like Allen did, but there are some that could make significant improvements as their young careers unfold.
Hurts was already mentioned above. Assuming he gets the job to himself, his rushing ability alone will make him a threat to crash the Top 10. Baker Mayfield had a nice stretch run from Week 12 on, when he was the QB8 and had an 11-1 TD-INT ratio. A second year in the Kevin Stefanski offense could make a difference for the commercial star.
Joe Burrow flashed plenty of talent with his arm (5 times he surpassed 300 passing yards) and his legs (37 rushes for 142 yards and 3 TDs) before suffering a torn ACL in his 10th game of the season. With him the only question is if he's going to be ready to play Week 1, or if he's going to sit for a period of time like Carson Wentz did in 2018 after the same surgery. Keep an eye on how much the Bengals improve their offensive line, which was a problem all season on the way to a #30 ranking on the season by PFF. Burrow may also be discouraged to run early, to protect the surgically repaired knee. Daniel Jones could improve if the Giants upgrade their receiving corps and the offensive line. Even Darnold, if he lands in a good situation, is still young enough that he could make a leap.
How the rookie QBs fare is going to be a storyline in 2021, starting with Trevor Lawrence (aka Fabio Football as my primo Nico calls him). Lawrence will have the job from Day 1, and will have even more hype surrounding him than Burrow did a year ago because of plays like this one. Justin Fields, Trey Lance and Zach Wilson are others who can run and pass, though to expect any of these to approach much less surpass what Herbert did last year may be asking too much. Still, they could be streaming options in the right week, like Jones was Week 16 in 2019 – 352 passing yards and 5 TDs.
So many names to keep an eye on, this might lead to another late-round QB strategy in the future. But for 2021, grabbing a QB earlier than you have for several years may be the new normal. Get used to it, or get ready to deal with being stuck with a pocket passer and you'll be a little jealous of your opponents' QB running away with the wins.