We heard about why rookie RBs would not be able to thrive in 2020. The lack of OTAs and preseason games would slow acclimation to the NFL game. Players might not have state-of-the-art training facilities to get their work in while dealing with closures caused by the pandemic.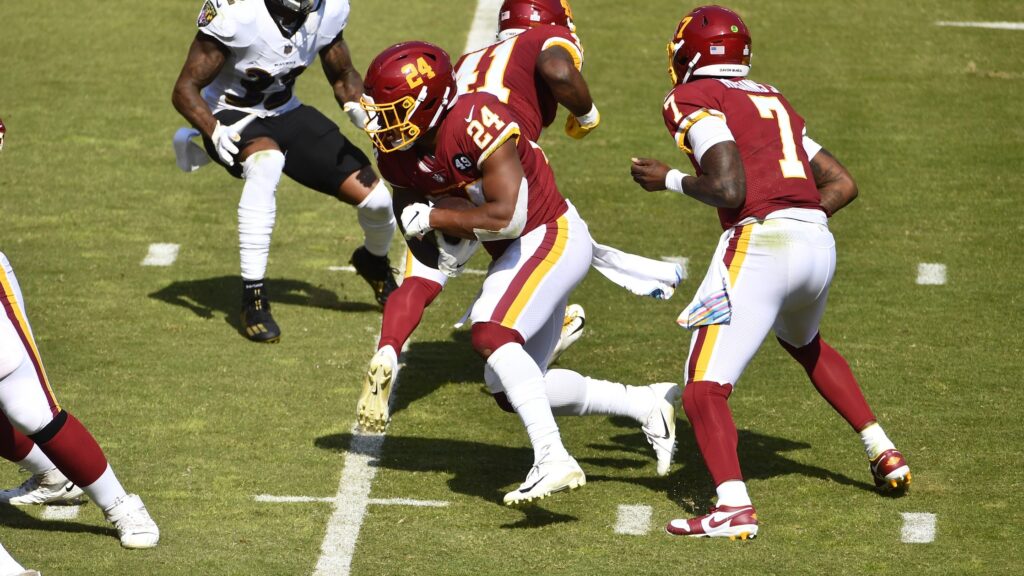 We heard about why rookie RBs would not be able to thrive in 2020. The lack of OTAs and preseason games would slow acclimation to the NFL game. Players might not have state-of-the-art training facilities to get their work in while dealing with closures caused by the pandemic.
Then the season happened, and a pair of rookies ended up in the Top 10 in fantasy scoring (Jonathan Taylor and James Robinson). It wasn't always pretty, but one of the most valuable lessons that was reinforced is that if a rookie RB doesn't explode on the scene like Ezekiel Elliott in 2016 or Saquon Barkely in 2018, that there could be production in the back half of that rookie season.
There are also examples of players who show glimpses in their rookie years. An example is Christian McCaffrey following up his 2017 rookie season with 435 rushing yards – and 651 receiving yards – with a monster season where he was just 35 yards shy of 2000 total and added 13 TDs. David Montgomery was an example this past season, when he followed up a pedestrian rookie season of 889 rushing yards with over 1500 all-purpose yards and 10 TDs.
The sophomore year is very important for the RB position. It's often when players hit their peak season. Eric Dickerson's NFL-record 2105 rushing yards in 1984 was his second year in the NFL. David Johnson's 2118 all-purpose yards and 20 TDs came in his second season.
It fits, if RBs show some glimpses of having the talent and the opportunity during their rookie years, a full NFL offseason could lead the way to a breakout. Let's take a look at some of the players who showed some promise in their 2020 rookie seasons.
JONATHAN TAYLOR
Taken in the 2nd round, #41 overall, Taylor had fantasy managers salivating at all the possibilities that lie ahead of him. He was one of the fastest rookie RBs at the scouting combine. PFF's top-ranked O-line going into the season would be blowing holes open for him. Yet something seemed off.
Even with the starting RB job to himself after Marlon Mack tore his Achilles in Week 1, Taylor seemed to stumble after getting 101 yards rushing on 26 attempts the next week. He didn't even get to 90 rushing yards until Week 11. Then he started a run where he went for 119 carries for 741 yards and 7 TDs to be ranked as the RB3 in PPR scoring over that closing kick.
His epic Week 17 game that clinched a playoff berth for the Colts saw him rush 30 times for 253 yards and 2 TDs.
Taylor's prospects for 2021 are exciting. The Colts return 4 of 5 members of an O-line that was ranked #7 by PFF. They have plenty of salary cap space to find a replacement, though All-Pro LG Quenton Nelson is a possibility to protect Carson Wentz's blind side. Wentz will likely take more shots downfield than the retired Philip Rivers, and that will keep defenses from crowding the line.
Taylor also took 49 RZ carries, and converted 8 of them for TDs. Yes, Nyheim Hines is back, and could take some targets away from Taylor, though the Wisconsin product did grab 36 of 40 balls thrown his way. So even if Hines gets his, Taylor won't be left wanting in overall opportunities.
Let's also keep in mind that the other three NFC South teams were among the worst in the NFL last year in defending the run. Even with improvement, they won't be good bets to jump into the top tier of run defenses in a single offseason.
Put it all together: All-around talented RB. Great offensive line. Strong finish giving him momentum. QB taking shots downfield. Opposing defenses in the division being soft against the run. This could be a top 5 RB in 2021.
JAMES ROBINSON
Raise your hand if you saw Mr. Robinson coming. Liar! I was in a draft on the Sunday of Labor Day Weekend, with the season only 4 days away from starting. Ryquell Armstead got picked. Several backups like Jamaal Williams got picked. Kickers got picked. Robinson didn't.
Robinson was the most chingon free agent pickup of most fantasy leagues. Some grabbed him before the start of the season, though many scooped him up after he totaled 90 yards. A good sign that he was going to be the lead caballo in 2020.
Though no one saw that he'd get 240 of the the 281 total RB carries for the Jaguars last season, and he flew past 100 rushing yards 4 times. All told, he had 289 total touches, with the #2 on the team (Laviska Shenault) getting 76. He ended up being a dual threat with 344 yards receiving yards to go along with his 1070 on the ground.
FUN FACT: Derrick Henry ran for 1073 yards after first contact. That would have been #5 overall (and ahead of Robinson and Montgomery).
It appears that Robinson wore down toward the end of the season, as he missed the final 2 games with injuries. That leads some to question whether new HC Urban Meyer will invest in another RB to at the very least complement Robinson.
My guess is the Jaguars don't invest heavily in the RB position other than role players behind Robinson. The O-line was #22, according to PFF, and the defense was #30. Those areas need massive help, so Meyer and the Jacksonville braintrust will likely spend picks and free agent dollars there.
Robinson is currently at an ADP OF #19, on the back half of the 2nd round. That's one to keep an eye on, because if the Jags improve the line and don't add to the RB room, Robinson could creep up the draft board for people who went WR or TE in the back of the 1st round. With Trevor Lawrence aboard, that should mean some open space to roam if Robinson is the lead caballo.
ANTONIO GIBSON
The hype was real for Gibson. First, there was the talk of how HC Ron Rivera likened Gibson to Christian McCaffrey. Then there was all the talk of how he seemed to score on every other time he touched the ball at Memphis. A receiver converting to RB? Visions of David Johnson were dancing in fantasy managers' heads.
He started slowly, but there were glimpses in the early going. Gibson scored 3 times in the first 6 games where he didn't surpass 55 rushing yards, though he did have a game with 82 receiving yards against the Ravens in Week 4.
Gibson gradually picked up the offense better as the season wore on, as the subtleties of pass blocking and learning to find and hit holes became more commonplace. This is, after all, someone who had just 33 carries in 2019 at Memphis. A learning curve was allowed.
Washington fans love what happened in Week 7, when Gibson plowed through the Dallas defense for 128 yards on 20 carries. Then in Week 12, he destroyed the Cowboys with 115 yards on 20 carries and 3 back-breaking TDs that spoiled Thanksgiving Day in Dallas on the way to a 41-16 pasting.
For those who drafted Gibson in the 7th round (his ADP was 7.07) and the RB34, he had the look of a league winner. Unfortunately, he stubbed his toe along the way. Turf toe knocked him out part way through Week 13, and he would miss the next 2 games. Gibson came back for Week 16 – championship week – but there would be no hero's welcome with 61 yards on 10 carries.
Things are looking very rosy for Gibson and Washington, presuming that there will be an upgrade under center between now and the NFL Draft. Gibson will have an entire offseason to get his toe right and to train as a RB. Figure to tack on another 50 carries to the 170 that he had last season. The 36 receptions on 44 targets for 247 were good, though to hear fantasy managers on Twitter, it was as if he never had the ball thrown to him. J.D. McKissic and his 80 receptions on 110 targets does pose a threat to continually steal targets, but I'll bet on there being an uptick in the targets for Gibson. I'll reserve judgment until we know who will actually be the QB for Washington, but with that defense being one of the best in the league and the O-line ranked #6 by PFF, there should be a number of games with Gibson running the ball to salt away a win.
D'ANDRE SWIFT
Swift was the back that most draft pundits had as #1 going into the 2020 NFL Draft, though he ended up being the second one off the board at #35 overall. It looked like he might be banished to Lake Michigan after he dropped what would have been a walk-off TD in Week 1.
Swift was limited in his touches after that game, notching 5, 0 and 4 carries in the next three games before the Lions' Week 5 bye. The Georgia product broke out for 116 yards on 14 carries and 2 TDs after the bye. He kept it going even after missing three weeks with a concussion.
The outlook is bright for Swift. He scored 6 TDs in the last 4 games, racking up double-digit touches in every one of those games. Also, the ageless Adrian Peterson is a good bet to walk in free agency, opening up his 156 carries from 2020.
Also working in his favor is that Jared Goff has skillfully used RBs in the passing game – especially with Todd Gurley in 2018 and '19 – and new OC Anthony Lynn is a former RB who helped turn Austin Ekeler from an undrafted free agent into a dual threat in the passing and running games on the way to becoming the RB4 in 2019. Swift caught 46 of 57 targets, a number that could go up playing a full season on a team that even with gradual improvement on defense, is going to be trailing and throwing a lot late in games.
CLYDE EDWARDS-HELAIRE
For all intents and purposes, CEH should be going off draft boards in the second round at the latest. He's the lead caballo on a team that returns Patrick Mahomes and his top pass catchers. CEH will not see a stacked box all season.
Yet he is a candidate to be a draft-day bargain because so many casual players are going to feel let down by CEH. He went in the first round in most drafts, and his lack of TD scoring – 28 RZ carries led to just 3 TDs – are going to drive his ADP down. Also, he only had a pair of 100-yard games. Lastly, he missed weeks 14-17 with hip and ankle injuries.
Then remember how the KC offense is spectacularly powerful, and how much of the offense ran through Travis Kelce and Tyreek Hill. Had CEH played all 16 games, he likely would have finished third behind that dynamic duo in targets on the Chiefs. And gone over 200 carries. Would you take that? Add to it that he's a candidate to take that sophomore leap forward, and I'll take my chances with CEH.
J.K. DOBBINS
The free agency period and draft need to get watched closely for those targeting Dobbins. Mark Ingram Jr. has already been released, and he leaves behind 72 carries. Gus Edwards is another potential free agency loss, and he had 144 carries.
Let's say half of those 216 carries go to Dobbins, who by the end of the season was clearly the best RB in the Baltimore backfield. That would be 242 carries for Dobbins. At the 6.0 yards per carry (YPC) from last year, that's 1452 yards. Even at 5.0 YPC, he'll be at 1210 yards. The opportunity is there for Dobbins in a great rushing offense.
Dobbins was tough to bring down, as he totaled 394 yards after contact, an average of 2.9 per carry (3rd in the NFL). Post-bye week, Dobbins popped for 113 yards on 15 carries. That started a run of double-digit carries in 8 of the last 9 games.
The most interesting stat coming out of the Ravens' backfield is how the RZ carries were divided up: Dobbins (29), Edwards (28), Lamar Jackson (26) and Ingram (14). If Dobbins can secure Ingram's and a chunk of Edwards, the Buckeye could add significantly to the 9 TDs he had last year.
CAM AKERS
This is the player who, if you held onto him until Week 13, you were rewarded right as the fantasy playoffs started. Then he got hurt in the semis and missed the fantasy championship week. Ay Dios mio, the pain!
Still, there is so much to like about Akers. Starting with Week 13, when Akers went for 94 total yards and 1 TD, the RB dominated the backfield for the Rams with 21, 29, 15, 21, 28 and 18 carries in his last 6 games, including the playoffs. He gutted through a high-ankle sprain in Week 17 to get 34 yards and help the Rams into the playoffs.
Some will question his ability to stay healthy, but falling on the point of the ball and injuring his ribs then turning an ankle are not related. Just bad luck. With Malcolm Brown likely leaving, that leaves just Darrell Henderson as a candidate to take away carries, but Akers was clearly the lead caballo late when both were healthy.
Matthew Stafford gunning the ball down the field will mean fewer teams stacking boxes for Akers. I bet Dickerson is going to see some of the defensive fronts that Akers faces and just salivate. With the way HC Sean McVay likes to emphasize the run, Akers could easily ump into the Top 10 RBs – maybe even Top 5 with more work in the passing game.
QUICK HITS ON THE REST
AJ Dillon: If Aaron Jones and Jamaal Williams don't re-sign, he could be in for a big workload in Green Bay. HC Matt LaFleur was OC in Tennessee when Derrick Henry had his breakout.
Ke'Shawn Vaughn: Does he battle Ronald Jones for Bucs' carries in 2021? Leonard Fournette will likely go elsewhere.
Zack Moss: Devin Singletary didn't do much in playoffs. Is the Bills' offense going to run through Josh Allen with no RB being featured?
Joshua Kelley: He battled fumbles early. Daniel Popper of The Athletic said Kelley's a candidate to break out if he gets over the fumbles. He could form a good combo with Austin Ekeler if Charger OC Joe Lombardi wants to recreate Kamara-Ingram.

La'Mical Perine: He was only OK in limited action last year, but if the Jets don't address RB in the draft or free agency, Perine could be featured back by default.