The Divisional Round of the playoffs is one of the most poorly named weekends of NFL Football and sports in general. Kyle Brandt of NFL Network pointed out on the Rich Eisen Show that March Madness has the market cornered on great names: Final Four, Sweet 16. Even the first round of the NFL playoffs was Super Wild Card Weekend.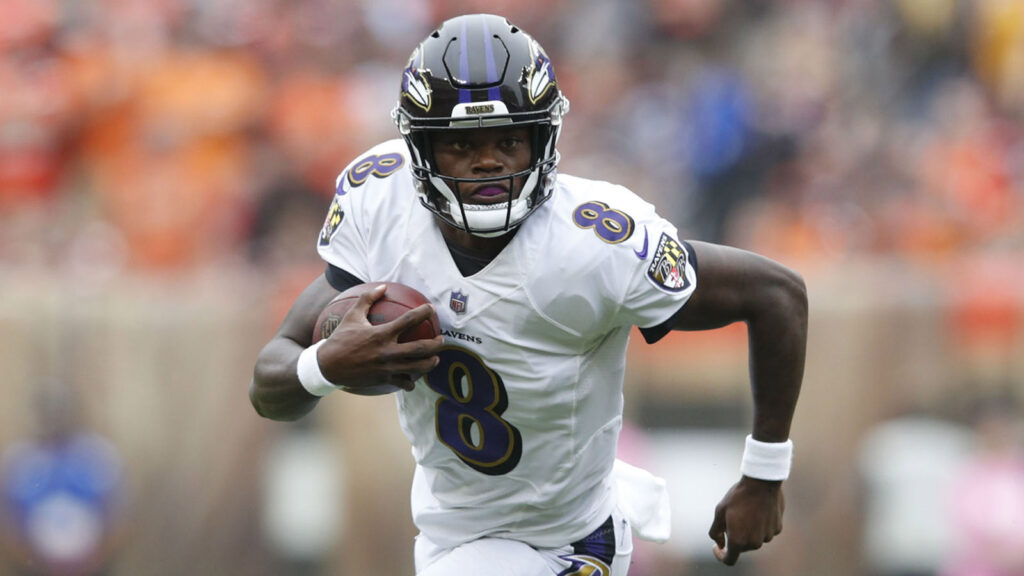 Divisional Round sounds like the math equivalent of a spelling bee. At least we have the AFC and NFC Championships. But this weekend, even without the great moniker, we have probably the best football of the entire year. You have both teams with the best records coming off a bye, along with 6 teams that already won playoff games. Some of them convincingly.
For DFS purposes, we have on display 3 of the top 4 QBs in fantasy scoring –Josh Allen, Aaron Rodgers and Patrick Mahomes. RB is pretty light, with only Alvin Kamara and Aaron Jones among the top 9 RBs this season. The pass catchers will have their turn under the lights, with Davante Adams, Tyreek Hill and Stefon Diggs representing the top wideouts, and Travis Kelce, Mark Andrews and Robert Tonyan giving the TEs a boost.
All the teams defend either the run or the pass well, and some like the Rams, Saints and Ravens defend both well. So we're not going to get any teams advancing from this round that shouldn't be going forward.
The matchups are key. Davante Adams vs Jalen Ramsey will be one of those battles that make you want to pick up some nachos and chow. How about Alvin Kamara against that stalwart Buc rushing defense? This really is the best of the best. So let's work on a better name for this round.
We'll handle Adentro y Afuera a little differently this week. Instead of just going by position, I'll focus on the games and note which players are good and bad plays this weekend (dollar figures are Draft Kings values for the 4-game slate). Let's do it. Vamonos!
RAMS @ PACKERS
GB -6.5 / O/U 45.5
There is one major player this weekend who has no value on Draft Kings, but will be a major factor in DFS all weekend: the weather. The temperature is expected to be a high of 29 degrees, which will be a shock to the team from California that's been practicing in 80-degree weather all week. There is a chance of early-morning snow showers, so even if the white stuff doesn't stick, the cold certainly will. Because of the freezing temperatures and standouts on both defenses, this is going to be a tough game to find players you want to start in DFS.
ADENTRO
Cam Akers
$5700
The Ram rookie touched the ball 41 times in his last two regular-season games before breaking out with 28 carries for 131 yards against the Seahawks last week. He added another 45 receiving yards. Looks like the sprained ankle he suffered is mostly healed. The Packers were #27 on the season against RBs in Fantasy PPG. Remember what Raheem Mostert did to them in the NFC Championship last year?
Aaron Rodgers
$6900
Rodgers may be from the Golden State, but when he can see his breath and the temperatures drop down into the freezing range, he remains on a tier above all else. The future Hall of Famer is 28-6 during the same frigid conditions he'll likely play in Saturday. He's also got a 108.3 QB rating and the Packers have averaged a hair under 30 points a game. The Rams have one of the top defensive units in the NFL, and they're #3 against the QB since Week 13. They terrorized Russell Wilson last week, so they haven't done it against easy competition. Still, Rodgers is one of the greatest ever and just had one of his greatest seasons. Keep an eye on if David Bakhtiari's absence on the blind side impacts the performance of the line in front of Rodgers. If that ferocious Ram pass rush gets home, that will be bad news for Rodgers and the Packers.
AFUERA
Jared Goff
$5200
I keep flashing back to a Dec. 9, 2018 game in Chicago. The Bears had the best defense in the league, with Khalil Mack flying at the QB and a secondary that locked down the pass game. Goff was coming off a scintillating game where he outdueled Patrick Mahomes on Monday Night Football in a 54-51 shootout that remains the only game in NFL history where the losing team scored 50+ points. Goff was riding high, then the Rams went to Chicago in make-your-bones-hurt cold weather. He went 20 of 44 for 180 yards and threw 4 picks without a TD. Add to it the screws in his thumb and the presence of a Green Bay secondary that was #3 in Fantasy PPG allowed to the WR position. I'm not going to have Goff in any lineups this week.
Davante Adams
$8600
This one pains me to put down. Adams carried my most successful team this year and performed like an elite RB1. Even missing 2 games and most of a third, Adams was the #2 non-QB in PPR scoring, trailing only that guy Alvin Kamara with the Christmas magic game. Yet the price tag is going to be hard to swallow when you figure he's going to get a steady dose of Jalen Ramsey all game long. That added to the disruption that Aaron Donald and his crew can do up front, Adams' production may not reach that expected level of 10 catches for 150 yards and 2 TDs that we all became accustomed to. Rodgers may end up looking toward Tonyan, Aaron Jones and the other receivers if Ramsey goes all Neon Deion on Adams.
Robert Woods
$5900
This is a byproduct of sitting Goff. If he's compromised by the thumb on his throwing hand and the weather, that's bad news for Woods. His work on jet sweeps may get him a TD in the red zone, but facing up against Jaire Alexander on the frozen tundra may be too much to ask. Cooper Kupp is battling bursitis in his knee, so he won't be an option either. I'm looking to stay away from this game for the most part.
RAVENS @ BILLS
BUF -2 / O/U 50

The forecast calls for evening snow showers and 17 MPH winds, so there are going to be a lot of players with steam flying out of their mouths. This prime time game could be played in a winter wonderland, so that could put the emphasis on the running game. I say could, because Josh Allen may be weather-proof. We're going to find out. And Lamar Jackson is as hot as any QB in the game. The Kryptonite for the Bills may be the running game. This is going to be one fascinating game.
ADENTRO
Lamar Jackson
$7600
Mahomes is the most expensive QB of the weekend, and Jackson is right behind him. The 5.4 YPC that the Colts averaged against the Bills – 30 carries for 163 yards – is showing a trend where you can run on the Bills. Jackson is going to need to run this game because of the weather. There is another player down this list who is going to be a main target of Jackson's much of the game.
Josh Allen
$7400
The Bills are on vacation if Allen hadn't been taking snaps for them last weekend. In every other aspect of the game they were outplayed by the Colts last week. This will be a game where all of Allen's talents are going to need to be on display. While the Ravens have been good against the QB – #6 since Week 13 – they have not faced an elite QB since Ryan Tannehill in Week 11. Tannehill threw for 259 yards, 2 TDs and rushed for another 35 yards. Allen is a step up from the Tennessee QB. Playing at home in the cold, he could have a big game.
J.K. Dobbins
$6000
Dobbins is the fourth-highest valued RB on the weekend, but with the aforementioned troubles that the Bills have had against the run, he needs to be played in DFS. Dobbins only received 9 carries last week, but the last 6 games of the season he was in the double digits in touches and also scored 7 TDs. He'll continue to lose some carries to Gus Edwards, though it should be noted that the TD Dobbins scored last week was a goal-line carry. He'll still get plenty of important carries.
Mark Andrews
$5000
Like the fantasy community hoped, the Ravens have done well to funnel their targets to Andrews and Marquise Brown more effectively in the latter portion of the season. They're not Travis Kelce and Tyreek Hill, but this receiving duo has been seeing plenty of targets from Lamar Jackson. The Bills allowed a combined 14 catches, 136 yards and 1 TD to a trio of Colt TEs last week. Andrews is better than all of them.
AFUERA
Devin Singletary
$4500
The allure is to put Singletary in your lineup because the ankle injury to Zack Moss – he went on IR and is out for the playoffs – would give Singletary all the RB touches. Allen is still going to be the primary option for goal-line carries, and the Ravens just came off shutting down Derrick Henry to the tune of 40 yards. The price tag is tempting, but the opportunities need to be there.
BROWNS @ CHIEFS
KC -10 / O/U 56
Every year there is the urge to crown a team as the next big thing after a signature win in the playoffs, only to see them get trounced the next week. The Browns could be that team this year. Putting up 28 points in the first quarter in Steel Town is something that will be talked about in Cleveland for years. Maybe decades. Doing it again in Kansas City is a taller order. The Chiefs have not played that great of late – their 6 wins from Weeks 9-16 were all by 6 points or less – but they know from last year's experience how to turn it up a notch in January. And they saw how Big Ben lit up the field for 500+ yards last weekend. I know there is concern about rust because the Chiefs sat their starters before the bye week. I just can't see the Browns doing it two weeks in a row.
ADENTRO
Patrick Mahomes
$8000
During the aforementioned 6-game win streak, the Chiefs still surpassed 30 points three times. And in that streak Mahomes lit up good defenses in New Orleans, Miami and Tampa Bay. The Browns have been battling injuries and ineffectiveness in the secondary, as they're just #24 against the QB in Fantasy PPG the last 5 weeks of the season. It's hard to spend up for Mahomes, but he'll be worth it.
Baker Mayfield
$5300
Full disclosure, I had Mayfield in my AFUERA section initially. I kept thinking that there is a game script where he's going to be handing it off to Nick Chubb and Kareem Hunt repeatedly. That's one game script. But if you're looking for Mahomes and his Flying Circus to land big play after big play, there is a Bizarro game script where the Browns are chasing points, and Mayfield tries to keep up. This may not be the reprise of the 2016 battle between Oklahoma and Texas Tech, when Mayfield and Mahomes looked like they were playing Madden. But the Chiefs have given up plenty of yards and points of late, as they're just 26th against QBs in Fantasy PPG from Weeks 13-16. That was the tail end of a 6-game winning streak mentioned above. Even if he's getting points playing catchup and in garbage time, Mayfield could be a good way to save some money so you can spend elsewhere.
Travis Kelce
$7800
Again, it's hard to spend up on Kelce, but look at the 10+ targets that he received all but once during Weeks 8-16. The Browns are #24 against TEs in Fantasy PPG, and gave up 7 receptions for 62 yards and a score to Eric Ebron last week. Kelce is in another galaxy from Ebron. This is a good stack with Mahomes. Expensive, but it will deliver.
Nick Chubb
$6600
Chubb is going to be a popular pick this week, and not only because he's coming off a wild card game where he put up 145 total yards and a score against the Steelers. The Chiefs have been giving it up on the ground – #21 in Fantasy PPG allowed to the RB and a total of 1954 rushing yards against them on the season – and Chubb will get his full offensive line back. The way for the Browns to win is to run the ball and keep Mahomes on the bench.
Austin Hooper
$3800
Those 15 targets that Hooper received against the woeful Jets in Week 16 are still fresh, as are the 11 targets last week that resulted in 7 receptions for 46 yards and a score. The Chiefs are just #30 in defending the TE in Fantasy PPG, so when Mayfield looks to pass he'll be looking for Hooper.
AFUERA
LeVeon Bell
$5100
At best, Bell is going to share carries with Darrel Williams. At worst, he'll be going up against the #3 defense against RBs in Fantasy PPG since Week 13. I just can't see him doing much in this matchup, especially considering how pass-heavy the Chiefs have become.
BUCCANEERS @ SAINTS
NO -3 / O/U 52
The closer of the weekend is the third clash of Brady vs. Brees this year. Weather won't be an issue in the Mercedes-Benz Superdome. The defenses are going to get tested on the turf. This could be a really fun game, with Tom Brady trying to avoid the first time in his career losing 3 times to the same team in a season. The last one was a 38-3 pasting in Tampa, after the Saints won, 34-23, in the season opener. With the high over/under, the winner could be whose defense holds on just once more than the opposition. FYI, I'm not to the point of putting Alvin Kamara in the AFUERA section, but it's tough to spend up at $7900 to play him this week when the Bucs are #9 in Fantasy PPG allowed to the RB. Beware.
ADENTRO
Tom Brady
$6300
The ageless wonder is showing zero signs of giving in to Father time, as he's surpassed 300 passing yards in 5 of his last 6 games. Some people will want to fade Brady because of how he's played against the Saints this year. This is not the same New Orleans D from the blowout last time. The Saints gave up 291 yards and 3 TD to Kirk Cousins in Week 16. They looked far from dominant against the Bears last week. Who's going to bet against Brady 3 times in a season?
Michael Thomas
$6700
In his first week coming off IR, Thomas saw 7 targets, caught 5 of them for 73 yards and a score. Another week at home will be good for Thomas, especially going against a secondary in the Bucs that is 28th against WRs in Fantasy PPG since the Week 10 blowout in Tampa.
Jared Cook
$4000
If you want to bypass Kelce and save some money on the TE, Cook is a quiet dart-throw option. Cook got 7 targets last week very quietly – he didn't get into the Slime Zone. The Bucs are just 27th defending TEs as far as Fantasy PPG since Week 13. Thomas and Kamara will leave a few dumpoff scraps for Cook to feast on.
AFUERA
Leonard Fournette & Ronald Jones
Stay away from the Tampa Bay running game. Even after giving up 100+ yards rushing to Jalen Hurts and Miles Sanders in Week 14 – the first time in 56 games that happened even once in a game – the Saints are still #12 in Fantasy PPG allowed to the RB. Neither running game for either team is going to be able to get much going against these defenses. With the uncertainty about Jones' injury, just stay away altogether from this backfield.
Mike Evans
$6400
It's beyond a trend to measure how Evans has performed against the Saints and Marshawn Lattimore. In Week 1, Evans caught 1 of 4 targets for 2 yards. He followed that up with a pedestrian 64 receiving yards on 4 receptions in Week 10. Lattimore is one of the best, and Evans is going to have his hands full trying to beat him.