I've made it pretty clear that I grew up a fan of the LA Rams. Jack Youngblood, Jackie Slater, Eric Dickerson… from a football standpoint, those men were almost god-like. The defenses were stifling. The running games, even before Dickerson, were among the best in the NFL. The offensive line was as impenetrable as cinder block, and made stars of guys like Dennis Harrah, Tom Mack and Bill Bain.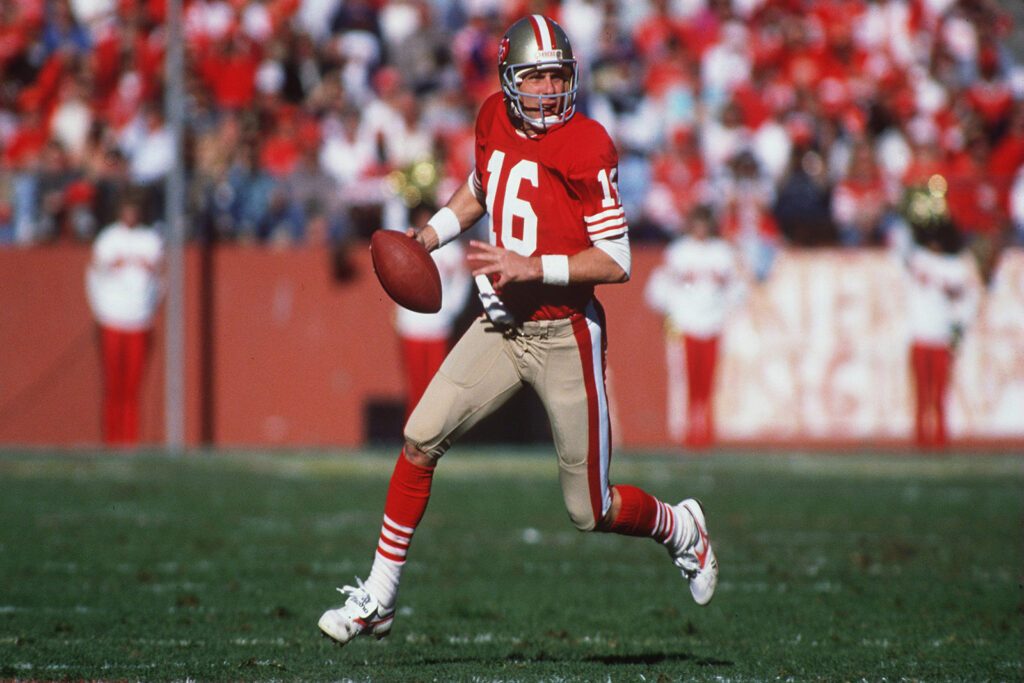 The QB position always seemed to lag behind the rest of the team. A fading Joe Namath and Pat Haden traded the position in my first year of fandom, 1977. For a brief period of time, Vince Ferragamo took over the position. He even got them to the 1980 Super Bowl. But money and the Canadian Football League took him to the Great White North.
In the early 80s, a great QB emerged in the Bay Area. Joe Montana went from Notre Dame to Bill Walsh's system, and after a bumpy apprenticeship, he introduced the NFL to the West Coast offense. Walsh and Montana revolutionized the game.
Montana may have been at his best in the closing minutes of games, with the result hanging in the balance. His pass to Dwight Clark in the corner of the end zone in the 1982 NFC Championship Game remains one of the most iconic moments in NFL playoff history. It's one of the replays that's played so much, that it rivals Kirk Gibson's 1988 World Series home run for most played ever. Funny coincidence, Vin Scully called both games.
After that season, one of the nicknames that Montana was known by was Joe Cool, for the way he performed under pressure. And when the moment was biggest, his heart rate was the slowest.
As fantasy players staring down the playoffs in a week, that's what we have to be. There's no time for anger or overreaction. It's time to flush what happened last week – no matter if the results were good or bad – and move forward. You must forget the belly flop that Derek Carr did last week, because he has the Jets this week. Ready to dive back in the pool tied to a Carr again?
Time to be cool and make good decisions on the waiver wire and start/sit questions. The latter is why estamos a sus ordenes. Let's get into Adentro y Afuera, so you can win and get in. Yes, you can be Joe Cool, too. Vamonos!
QUARTERBACKS
ADENTRO
START OF THE WEEK
Aaron Rodgers vs PHI
Those who in the preseason were saying to fade Rodgers and not draft him until the 10th round are pretty quiet right now. He's the QB6 and just 3.2 points out of 4th. The way he carved up the Bears for 211 yards and 4 TDs was practically surgical. The Eagles are not in the Bears' zip code as far as defense is concerned. Darius Slay just finished getting burned by D.K. Metcalf for 10 catches and 177 yards. Rodgers is using Davante Adams outside and in the slot, with success on all ends. Before Russell Wilson and the Seahawks last week, the Eagles hadn't seen a good passing attack since Ben Roethlisberger and the Steelers in Week 5. All Big Ben did was throw for 239 yards and 3 TD. That's Rodgers' floor this week. The ceiling is about 350 yards and 4 TDs.
Ryan Tannehill vs CLE
The Titan QB has completed the crucible that was Colts (twice) and Ravens. It's been pretty clear that when Tannehill plays against lesser defenses, he thrives. The Browns are #21 against fantasy QBs, and have their best DB Denzel Ward, sitting out the game. They allowed 235 yards and 2 TDs to Mike Glennon. Remember him? Tannehill is one of the DFS bargains of the week at $6200.
Taysom Hill @ ATL
Last week's game? Flush it. The Saints were planning to run the ball at every possible moment to get the game done with as quickly as possible and not get anyone hurt. Better to look at the game the previous week, when Hill was 18 of 23 for 233 yards and added 2 rushing TDs. Hill found Michael Thomas early and often (more on that later). Even after the domination of the Raiders, the Falcons remain #31 against opposing QBs in FPPG. Just one request from a contingent of the fantasy community: Can you throw the ball to Alvin Kamara more? Por favor.
AFUERA
Deshaun Watson vs. IND
In 6 of his last 7 games, Watson has thrown for 281 yards or more – in five of them he threw for more than 300 yards. Watson is as hot as any QB in football. Por que esta afuera? Two good reasons. First, he lost his top target in Will Fuller, the WR7 through Week 12. Other than Brandin Cooks, Watson doesn't have a proven receiver to pitch it to. Second, the Colts should be healthier on defense, after losing DeForest Buckner and other players from a defense that is 3rd in the league in FPPG allowed to the QB. Tough defense combined with losing a top target may make for an adjustment week for Watson.
RUNNING BACKS

ADENTRO
DFS START OF THE WEEK
Nick Chubb @ TEN
Chubb has averaged 129.3 yards a game since he returned from missing 4 games due to injury. Apparently the rehab agreed with him. The Titans have been giving up yards and points aplenty both on the ground and in the air. They are 26th in FPPG allowed to the RB position. Even with talk of Kareem Hunt vulturing short-yardage TDs, Chubb has a pair of scoring runs since his return. It's tempting to make Dalvin Cook the Start of the Week, but with him nursing an ankle injury he could get subbed out at various points, bringing down his opportunities.
DFS BARGAIN OF THE WEEK
David Montgomery vs DET
At $5500, Montgomery would be a steal if he just replicates what he did against the Packers last week when he registered 143 total yards and a score. It may not seem possible, but there are worse run defenses than that in Green Bay. The absolute worst is in Detroit, which is giving up the most FPPG to the RBs. This is the start of a closing stretch that could be very good for Montgomery.
Miles Sanders @ GB
So he got 15 yards total last week. Look at the previous two games, when he received a combined 31 carries and 10 targets. All he has to do is replicate those opportunities and he'll put up solid numbers against the #30 defense of the Packers vs RBs. Sanders may have still been rounding back into football shape after he missed time with an injury.
Austin Ekeler vs NE
Nothing like easing back into his regular workload. Ha! Ekeler got 25 touches in his first action since coming back from missing 6 games with an injury. Of those touches, 11 were receptions, which came on 16 targets. The Patriots are #20 in total rushing yards allowed. With Ekeler being a dual threat, it's just going to make Justin Herbert more dangerous.
AFUERA
Atlanta RBs vs. NO
The Saints have become the stingiest defense in allowing points to the fantasy RBs. Football Outsiders has them as the #2 run defense overall. Todd Gurley missed last week's game with a knee injury, and is trending toward sitting again this week. Brian Hill and Ito Smith will share the duties, making neither one particularly relevant this week.
Kenyan Drake vs LAR
Since Week 2, when Miles Sanders ran for 95 yards, the Rams have not allowed any RB to go over 71 yards rushing. Drake has had a nice return from injury, with games of 100 and 78 yards sandwiched around a tough 29-yard game in Week 11. It's going to be rough sledding for him this week, though.
WIDE RECEIVERS/TIGHT ENDS
ADENTRO
DFS START OF THE WEEK
Allen Robinson vs DET
Robinson's dynasty owners are asking Santa Claus to put Robinson with a top QB next year. With Nick Foles and Mitchell Trubisky pitching him the ball, Robinson is still WR10 on the season. In his last 4 games, he has 38 targets, 27 receptions and 3 TDs. Detroit is #26 against WRs in FPPG, and has multiple players out for this game. At $6700 on Draft Kings, Robinson is a great play.
A.J. Brown vs. CLE
From Weeks 5-12, Brown is the WR3, behind only Tyreek Hill and Davante Adams. That's the company Brown is keeping these days. He has 9 TDs over that span and 599 yards. Pretty much any time he gets the ball, he's a threat to take it to the house. The Browns are down Denzel Ward from a pass defense that is #25 in FPPG allowed to the WR position. Get ready for another addition to the Brown highlight reel this week.
Justin Jefferson vs. JAX
Jefferson continues to amaze, and is the WR2 over the past 3 weeks with 18 receptions, 291 yards and 3 TDs. Even when Thielen is in the lineup, Jefferson continues to produce. This week, he gets the 4th-best WR/CB matchup according to PFF. There's a pretty good stacking opportunity with Cousins in DFS this week, if you want to save a little money at the QB position.
Michael Thomas @ ATL
Again, it's best to forget what the Saints did on offense last week when they went run-heavy to burn the clock and put the Broncos out of their misery. Thomas got targeted 12 times and caught 9 balls for 104 yards against the Falcons two weeks ago. Talent and opportunity wins out in the NFL. Thomas, in spite of his injury issues this year, is still one of the best receivers in football and the Falcons are #29 against the WR position in FPPG. Trust in @cantguardmike.
TJ Hockenson @ CHI
Hockenson has 48 targets in the past 7 games, just under 7 per game. With Kenny Golladay out, he's gradually becoming the focal point of the passing attack. Add to it that D'Andre Swift is at best going to be limited, which should open up those intermediate throws upon which Hockenson should feast. The Bears have been among the top defenses in the NFL, but against the TE position they are #28 in FPPG allowed.
DFS TE BARGAIN OF THE WEEK
Robert Tonyan vs. PHI
Yes, it's the TE position that resembles the dried-up wasteland on the drive between Baker, CA and the Nevada border on the way to Las Vegas, but Tonyan is the TE3 the past 2 weeks. He has TDs both games, and caught all 10 targets. He seems to have filled in the spot behind Adams in the target pecking order in Green Bay. The Eagles don't scare anyone, at #20 in FPPG allowed to the TE. At $3700 on Draft Kings, Tonyan could deliver up to his Baby Kittle label.
AFUERA
DeAndre Hopkins vs LAR
Hopkins and Jalen Ramsey have tangled plenty of times in their AFC South days, so this will be fun. Except for fantasy managers rostering Hopkins. Look at last year, Week 2: Texans 13, Jaguars 12. Hopkins was held to 5 receptions for 40 yards. Ramsey battled a hip injury last week, but declared himself healthy after Friday's practice. When Ramsey shadowed D.K. Metcalf, the result was a 2-4-28-0 line.
Hayden Hurst vs. NO
Two targets and 0 receptions. Zero. That's what Hurst's line was last time the Falcons and Saints met. After New Orleans was giving up points in droves to TEs earlier this season, they have shut down the position of late. Overall, the Saints have climbed to 14th in FPPG to the position, after being 32nd early in the season.