Don't you hate it when you do the right thing in setting a lineup and it doesn't work out? You do the research on your players' opposing defenses. You look at opportunity trends for your player. You even look at the weather in every city with an outdoor stadium.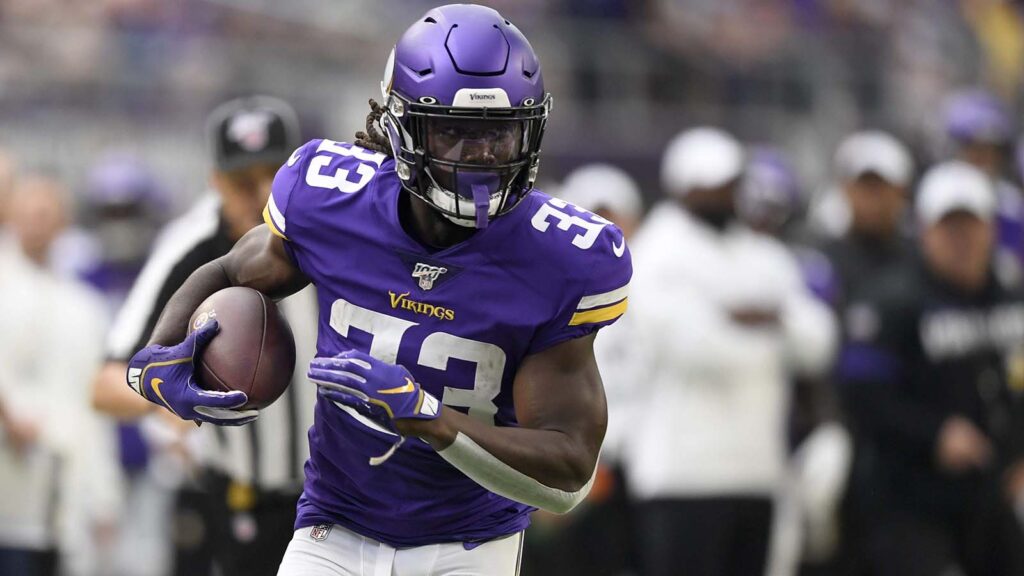 Then what you researched blows up in your face. I have two personal examples. Week 11, Sunday morning: I had D.J. Moore in my lineup when I saw that Teddy Bridgewater was going to be inactive. I didn't see P.J. Walker play in the XFL, so I made a quick switch in my flex to Marquise Brown with a great matchup against the Titans. How'd that work out? Donut for Hollywood, 127 yards for D.J., and I lost by 6.
Another decision came down to Ben Roethlisberger or Jared Goff for my QB in my Familia league. Big Ben had that tasty matchup against the Jacksonville defense that has more olê than a Spanish bull ring. Goff came off zero TDs against Seattle in a killer matchup, and the Buccaneer secondary is one of the best in the league. Add to it that this was the Rams' fifth trip to the East Coast this year, so travel fatigue had to play a part. Big Ben is the call of course. Wrong! Corazon Roto by a single freakin point. I'm still annoyed by that one.
I liken fantasy football to blackjack. You have to stay consistent with what you're doing hand over hand. Week over week. Double down on 11. Split aces and eights. Hold on 12 against anything over a 2 (OK, often 3). Whatever your process is for gambling, the importance is to stay consistent so that over the long run you come out ahead. Or at least break even and have plenty of drinks – Don't forget to tip the cocktail servers!
So when you do the right thing and the wrong result causes you a loss, it makes you question things. Trust your process. The right move pays off more often than no. Maybe double up the research to make sure there's no flaw in your thinking. It's OK to play hunches occasionally, but try not to deviate too much because it could lead to more frustration. And still check the morning inactives and weather for those outdoor games back East and the Midwest to make last-minute switches.
But above all else, trust your process and follow it completely. OK, time to have some fun with Adentro y Afuera for Week 12:
QUARTERBACKS
DFS BARGAIN OF THE WEEK
Derek Carr @ ATL
Carr was brilliant directing long drives against a KC pass defense that is 10th in the league, according to Football Outsiders. After throwing for 275 yards and 3 TD, he gets the Falcon D that is 32nd against fantasy QBs. He's $5700 on DK, so you can spend up on a certain TE and save some cash for your RB & WR positions.
Josh Allen vs. LAC
Allen's past the Week 5-8 slump, when twice he was held without a TD pass. He threw 5 TDs in the past 2 games before going on a bye. The Chargers keep allowing opposing QBs to keep their teams in games, and with Justin Herbert, both teams will have to score some points. So fire up Allen and wait for the fireworks. 
Teddy Bridgewater @ MIN
Coming off missing a game with a knee injury, Bridgewater is staring down the Viking D that just got torched for 31 points by the Cowboys. Andy Dalton threw 3 TDs against that secondary, so picture Bridgewater to hit his talented trio of WRs early and often.
AFUERA
Ryan Tannehill @ IND
This is a first-place showdown, and the memory of the Colts dominating the Titan offense two weeks ago remains fresh. Tannehill was held to just 147 yards passing in that game, with A.J. Brown being limited to a single catch against a Colt D that is #6 against the pass. If the Titans don't do a better job of protecting Tannehill, this could be a long game.  
Drew Lock vs NO
Lock has 1 TD and 5 INT in the past 2 games, and now gets a Saint D that has given up an average of 8.3 points the past 3 games. New Orleans has 13 sacks and 9 turnovers during that stretch. Put Lock on the bench, even in 2-QB formats.
RUNNING BACKS

ADENTRO
EXPENSIVE DFS PLAY OF THE WEEK
Dalvin Cook vs. CAR
Save money elsewhere. Cook is taking on a Panther D that continually gets gashed by opposing RBs to the tune of being 27th in FPPG allowed to the position. Cook is as hot as any RB in the game, with 580 yards and 6 TD over his past 4 games. Pay up to get this high performer. 
Nick Chubb @ JAX
Chubb didn't miss a beat after missing 5 weeks, as he has gone well past 100 yards in both games since returning and handling a full load of 39 carries over those games. The Jaguars have been bad against the run and the pass, as they are 26th against fantasy RBs. The Browns' O-line is going to open plenty of holes for Chubb and Kareem Hunt.
Nyheim Hines vs. TEN
Recency bias is all the rage in fantasy football, and here it points out that two weeks ago Hines went for 115 total yards and 2 TDs in a dominant Indy victory. With Jonathan Taylor now on the COVID IR, that should mean more opportunities for Hines against a familiar opponent. The Titans are #28 against fantasy RBs, not much better than the Packers. If Taylor gets established early, look for him to keep toting the rock.
Wayne Gallman @ CIN
The Bengals got their hearts ripped out with Joe Burrow's season-ending knee injury, and will send Brandon Allen out as the starter this week. That could mean turnovers, and plenty of opportunities for Gallman to run like crazy. He has 5 TDs in the past 4 games, and no one else to take carries from him. 
AFUERA
All LA Ram RBs vs SF
Week 7 was the last time even one member of the Rams' backfield rushed for more than 50 yards. Cam Akers was not active at that point, which now further divides the carries. The 49ers are fresh off a bye, which often rejuvenates a defense. Darrell Henderson rushed for 88 yards last time these two teams met, though the 49ers remain one of the toughest in the league (#7 against RBs in FPPG).
James Robinson vs CLE
A 3rd-string QB in Mike Glennon is going to be under center. Who do you think the Browns are planning to try to stop? Robinson has been good, but he'll be facing stacked fronts by a Cleveland D that is #8 against RBs in FPPG.
WIDE RECEIVERS/TIGHT ENDS
AFUERA
Devante Parker @ NYJ
It's too simple to just pound the Jet D whenever possible. The Jets are 28th against fantasy WRs, and Parker has a projected favorable matchup with CB Bryce Hall. Parker has at least 7 targets in 5 of the past 7 games. With plenty of volume, Parker will put up points. 
Michael Pittman Jr. vs. TEN
Pittman broke out for 101 yards on 7 receptions against the Titans in Week 10. His winding TD against the Packers was nothing short of fantastic. Tennessee is still 22nd against WRs in FPPG. 
Robby Anderson @ MIN
All 3 of Carolina's WRs could be on this list. Anderson is the only one with at least 6 targets in every game since Week 4. He also has the biggest advantage against the opposing CB in Chris Jones, according to PFF. It's curious that Anderson has only 1 TD this season. 
Darren Waller @ ATL #32
This is a great stacking opportunity with Carr, and Waller is $1000 cheaper than Travis Kelce. The Falcons are the worst defense against the TE position in FPPG. Waller's Week 11 line of 7-7-88-1 could be the floor down in Atlanta. 
Austin Hooper @ JAX #31
Just two games back from missing time with an appendectomy, Hooper was the only TE to get targeted against the Eagles last week. This was even though his snap count was comparable with David Njoku and Harrison Bryant. Against the 31st-ranked defense versus the TE position, Hooper has a great shot to break out this week.
AFUERA
Jerry Jeudy vs. NO
Like with Lock, the Saints have been shutting down teams of late. Even in his solid rookie season, Jeudy has not caught more than 50% of his targets since Week 3. Jeudy will have good games down the stretch, just not this week.
Deebo Samuel @ LAR
Samuel is back from a hamstring injury and the COVID IR. His reward? Shadow coverage from Jalen Ramsey, who has blanketed D.K. Metcalf and Mike Evans the past two weeks. With Brandon Aiyuk expected to sit out this game with an injury, Samuel is going to be the main focus of the Ram defense in passing situations.