So you have the #2 pick in the draft. Yes, there's the disappointment of missing out on Christian McCaffrey at 1.01, but you know you're going to get a star player.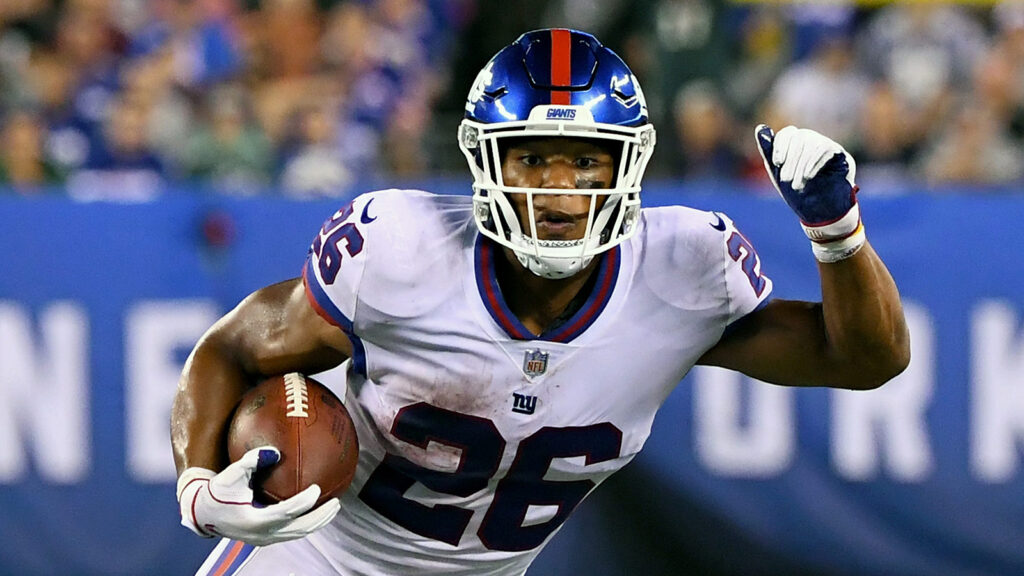 Consensus rankings have Saquon Barkley as the near-unanimous choice at #2. But not so fast. There's an argument to be made for another great RB. This guy who wears a star on his helmet. His #21 jersey can be seen over a good part of Big D. Goes by the name of Ezekiel Elliott.
There are definitely good reasons to pick either RB. Both are wonderful players, in their athletic primes and anyone picking them will be happy with 16 weeks of having them front your fantasy teams.
Just in looking at the entire situation for each player, there are reasons to draft Zeke over Saquon. Here are several categories where one or the other has an advantage:
Rushing production: Advantage Zeke
Last year's 1357 rush yards were the lowest Zeke has had in a 16-game season in his 4-year career. Barkley's career high is 1180. Both are ultra-elite rushers, but the Cowboys have fed Zeke the ball 300+ times 3 of his 4 years. Saquon's high is 262. The sheer quantity of carries should mean more points.
Zeke also gets the ball close to the goal-line, with an NFL-leading 59 red-zone attempts that ended in 12 TD. Saquon (even missing 3 games due to a sprained ankle) had 29 attempts that resulted in 3 TD.
Receiving production: Advantage Saquon
Saquon caught 91 balls as a rookie in 2018, living up to his 1st-round fantasy draft status. That led him to be the 1.01 in most drafts in 2019. His ankle injury took care of many teams' seasons, however. He's still probably the only RB who can compete with CMC for the overall RB1. But Zeke is no slouch catching the ball, as he had 77 receptions in 2018 and 54 last year – for 420 yards.
Coaching Continuity: Advantage Zeke
Yes, both have new head coaches, but aside from HC Joe Judge, Saquon has to become acclimated with a new OC in Jason Garrett. Zeke has HC Mike McCarthy, who kept OC Kellen Moore on board for this season's staff. The Dallas offense took a major step forward in 2019, and has all the key players back. They've also added 1st-round pick CeeDee Lamb to continue to keep defenders from ever concentrating against the run when playing the Cowboys.
O-Line: Advantage Zeke
The Cowboys have the #3 O-line according to PFF, and have had incredible continuity throughout Zeke's tenure in Dallas. The NY Giants are at #20 in the same PFF rankings, and that was before they had LT Nate Solder opt out of the 2020 season. If the O-line for the Giants is not improved from last year, that most certainly will impact Saquon's production.
QB: Advantage Zeke
Dak Prescott took a big step into the top tier of QBs last year, in both fantasy and real football. With Prescott throwing the ball, there won't be stacked boxes for Zeke too often. For the Giants, Daniel Jones has great potential, and he had some games where he looked like a future star. But he hasn't yet taken full command of this offense, which is not on a par with the Cowboys. And Danny Dimes has had to learn a new offense, which Prescott has not.
WR/TE: Advantage Zeke
Again, who has a better trio between Amari Cooper/Michael Gallup/CeeDee Lamb or Sterling Shepard/Darius Slayton/Golden Tate? That's not much of a competition. Evan Engram is the better TE than Blake Jarwin, when Engram is on the field. That elite passing game is going to be the difference for Zeke being at his best.
Defense: Advantage Zeke
This is mostly because the Giants are going to be a bottom-feeder D, while the Cowboys are more middle of the road. So Zeke should have fewer times when the Dallas offense is going to be in a negative game script. Saquon will still be able to help in the passing game, so this advantage is razor-thin for Zeke.
Schedule: Advantage Zeke
Here are the defenses that Saquon and the Giants face right out of the gate: Steelers, Bears, 49ers, Rams and Cowboys. If Saquon runs roughshod over that lineup that includes 3 of the top defenses from last year, then the man may be even better than advertised. And Week 16, championship week for fantasy playoffs, a road trip to play the Ravens awaits.
Zeke's schedule after Week 1 against the Rams reads: Falcons, Seahawks, Browns and Giants. He does have a Week 16 date with the Eagles, who have been tough against the run in past years. Though Zeke did run 22 times for 11 yards and added 48 receiving yards when the teams met last year in Big D, where the championship week tilt will take place.
FINAL DECISION
This is the time for full disclosure: I have the #2 pick in our 2020 Familialogy League draft. I did this exercise to see if I could find a compelling reason to draft Zeke over Saquon. Turns out, I found plenty. Calling my shot here and I'll be putting Zeke's sticker up on the big board when we pick our teams. I still hope Saquon has a great season, though maybe not as great as Zeke's. Salud!