It's here. Finally here. Thinking back 6 months ago when things went sideways both locally and nationwide, an NFL season seemed all at once far off, pie the sky and incredibly necessary. Now, after the strangest offseason leading up to the most unique training camp we probably will ever see, real NFL football is going to happen on Sept. 10.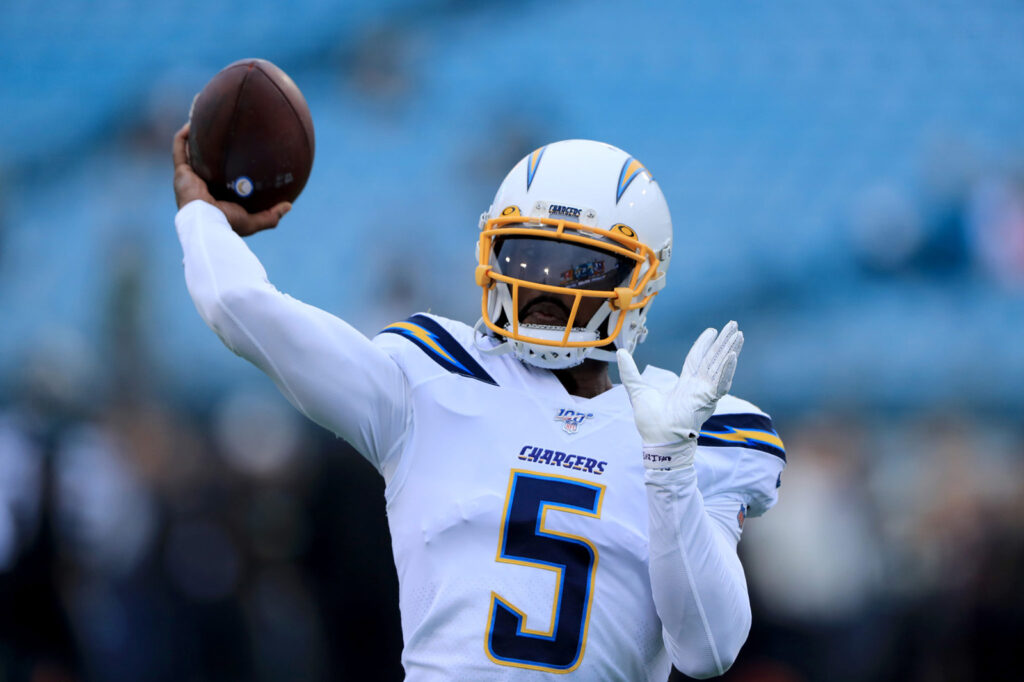 Patrick Mahomes and Deshaun Watson taking shots downfield. It hardly gets better for an opening-night tilt to give us another shot at normalcy.
From a fantasy football standpoint, you've probably completed your drafts. For me, my main leagues are done. Like you, I'm often staring at my teams in anticipation of things to come. But there could still be improvements to be made. So here goes, the maiden voyage for my first waiver wire column.
These players 50% or more unowned in Yahoo Fantasy leagues. Some of these recommendations are based on this week's matchup, while others are listed because of a more long-range view. It's all broken down here:
STREAMER OF THE WEEK
Tyrod Taylor (LAC)
8% owned
@CIN
The TyGod era is upon us. For how long, we don't know, but the schedule is favorable. Starting with this week. Taylor should be a popular DFS play this week, as his price will likely be a bargain as he makes his first start in 2 years. But the matchup is tasty. The Bengals figure to be an offense that is targeted by savvy players all season. Plus, with the injury loss of Derwin James, that hurts the Charger secondary. So this could be a sneaky shootout, with the rookie Joe Burrow making his debut in the Queen City.
Philip Rivers
30% owned
@JAX
Yes, he's in a new uniform, but Rivers has history with HC Frank Reich. And Jacksonville's D has been decimated by trades. This could be good practice for Rivers, especially if the Jaguars are able to throw the ball on the Colts. One word of warning: If the Colts decide to run the ball early and often, this could become a ball-control game with little passing.
Gardner Minshew
27% owned
vs. IND
The Colts did not have a very good pass defense last year, and it's a dome team playing outside. Even if it should be 80 degrees and sunny. Minshew will have plenty of opportunities to throw the ball every game this season. He's likely gone in 2-QB and Superflex leagues, but he's a good stash as a second QB if you want to platoon him with someone like Big Ben or Jared Goff.
Derek Carr 
18% owned
@CAR
Remember how last year the Raiders released Antonio Brown as the season was about to kick off? Imagine having to rework your offense on the fly with the season on the cusp. That's what Carr faced last year. This year, he had all training camp to get used to his talented rookie WRs and still has Darren Waller. The Panthers figure to be a great target all season for fantasy players.
RUNNING BACKS
Boston Scott
41% owned
@WAS
Miles Sanders was hampered by a hamstring injury for the latter part of training camp. While he is expected to play, he could be taken out of games at various points. That will open up opportunities for Scott to come in. Even with the addition of Chase Young, the Washington D still has a long way to come to become elite.
Duke Johnson
46% owned
@KC
With shootout potential for this game, get as many pass catchers playing in it as possible. It'll be interesting to see Duke Johnson's role unfolds with David Johnson carrying lead caballo duties, and Watson breaking in a couple new WRs alongside holdover Will Fuller. Still, Duke is worth taking a chance if you're playing in a deep league with multiple flexes.
Chris Thompson
39% owned
vs. IND
Thompson may end up being the RB to own down in Jacksonville. His pass-catching ability and history with OC Jay Gruden should see him play a large role for a team that is going to be slinging it all over the field. And the Indy pass D was only so-so in 2019.
Darrel Williams
23% owned
vs. HOU
Much as we love the artist known as CEH, the next carry he gets in an NFL game is just 1 more than you and me. Williams was a teammate of CEH for a year at LSU, and could steal some carries early on as the rookie gets acclimated to the speed of the NFL. Think back to those games last year when Alexander Mattison and Tony Pollard were still good in games when their respective teams' RB1 were on the sidelines of a blowout. Potential for that here.
WIDE RECEIVERS
DeSean Jackson
50% owned
@WAS
Remember Week 1 last year? Jackson caught 8 of 9 targets for 154 yards and 2 TD. The opponent? Washington. With Jalen Reagor and Alshon Jeffery injured, Jackson is the WR1. This is a good flyer play this week.
Sammy Watkins
42% owned
vs. HOU
Another 2019 Week 1 stud was Watkins, who torched Jacksonville for 9 receptions, 198 yards and 3 TD. Houston's pass D left plenty to be desired last year, and it should be more of the same early. There are lots of weapons in K.C., but Watkins could catch a long ball and be a good flex play in this one.

N'Keal Harry
33% owned
vs. MIA
The WR room got more roomy with the release of Mohamed Sanu last week. Harry will benefit, and the Miami D was one of the worst against the pass last year. Harry got some offseason work in with new QB Cam Newton, so there could be rapport already developing. Someone has to catch balls other than Julian Edelman and James White. Bet on the tall WR with great speed.
Robby Anderson
31% owned
vs. LV
Speaking of WR who can fly, Anderson still has plenty of giddy up to get down the field for Teddy Bridgewater to take some home run shots. The Raiders had a porous pass D last year, and need to improve a lot to get respectable. In a home game for the Panthers, this game will be a shootout with Anderson a threat for a long ball.
Bryan Edwards 
17% owned
@CAR
Every year, there are rookies at WR who become viable at some point during the season. Edwards has a good shot, after drawing rave reviews around camp and seeing Tyrell Williams go on IR before the season. Be on the front end of picking up Edwards, should he go off against the Panthers.
James Washington
14% owned
@NYG
It might be nice, it might be nice… to have Washington going downfield against a bad pass D. Keep in mind that Diontae Johnson missed some time during training camp with an injury. Washington could get some deep targets to start the Steelers' resurgence.
TIGHT END
Eric Ebron
32% owned
@NYG
See Giants' pass D from last note. Ebron is breaking in with a new team, and going to try to make the league aware that he's still the guy who caught 13 TD a couple years ago. Not much competition for TE targets in Pittsburgh, though remember how many solid WR the Steelers have. And James Conner will catch balls out of the backfield. Ebron will catch TDs, but not 13 again.
Ian Thomas
14% owned
vs. LV
He's battling a toe injury, but all signs point to him playing this week. And the Raiders are a great matchup. If you want to stream a TE, Thomas is a good player to snag for a week.
DEFENSE
LA CHARGERS
47% owned
@CIN
Rookie QB making his NFL debut behind a rebuilding O-line. Joey Bosa and Melvin Ingram are rushing the passer. Yes, fire up the Charger D for this week.
KICKER
Chris Boswell
23% Owned
@NYG

Do you get the idea that Pittsburgh is a good play this week? Boswell is a fixture in Steel Town, and made 29 of 31 FG tries last year. A healthy Big Ben could march the Steelers up and down the field all day, leading to plenty of scoring opportunities for Boswell.