OK, Familia, we've weathered the storm. The Week 2 injuries are behind us. We've survived the 1,001 different scenarios we had to create to maximize our waiver wire pickups. Now it's time to take these rosters, many very different than we envisioned just 3 weeks ago, and shape them into winners.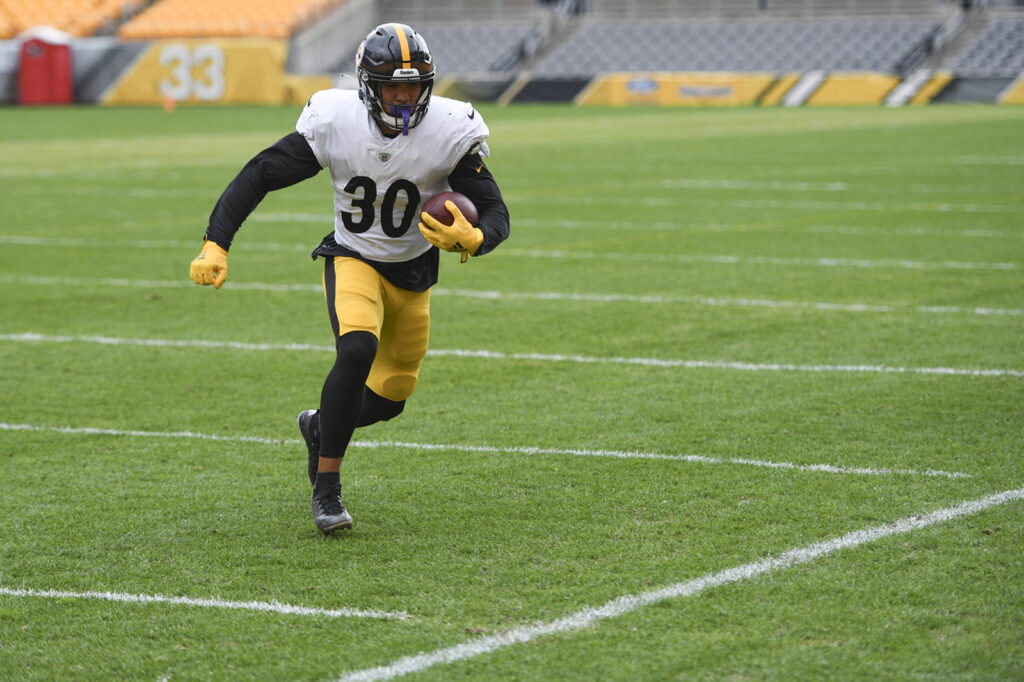 Time for Adentro y Afuera, where we take a long look at the players who are must starts and those whom you might want to fade this week. As always, we're taking the obvious ones out.
Time for Adentro y Afuera, where we take a long look at the players who are must starts and those whom you might want to fade this week. As always, we're taking the obvious ones out.
QUARTERBACKS
ADENTRO
Full disclosure: It was hard to find QBs to put into the Afuera section of this column. So many have great matchups, and those who have bad matchups are players you wouldn't be starting anyway. Think Sam Darnold (@ Colts) and Jeff Driskel (vs. Buccaneers). But I was able to find a couple. So vamonos Familia! Let's bring Week 3 to its knees! A las rodillas!
Ben Roethlisberger vs. Texans
Big Ben looks back, as he's completing 68.5% of his passes and averaging 270 YPG. The Steelers keep churning out great WR, and Diontae Johnson looks like the next one. With Chase Claypool not far behind. The Texans have run up against two of the best offenses in K.C. and Baltimore, and they have not put up much of a fight. 
Matthew Stafford @ Cardinals
Put aside that Stafford is only completing 58.7% of his passes through 2 games. He's expected to get his top WR Kenny Golladay back this week. So expect Stafford to take some shots down the field to Kenny G and Marvin Jones. Terry McLaurin went for 125 yards against Arizona last week, so that secondary can still be had. Plus, this game has great shootout potential, so Stafford will be trying to keep up with Kyler Murray from the start. 
Carson Wentz vs. Bengals
Yes, the Eagles' WR group resembles a MASH unit after Jalen Reagor (thumb surgery) became the latest IR casualty. Still, Wentz remains an elite passer when he has time, and the Bengals have 2 total sacks in 2 games. He'll take some shots with DeSean Jackson and pepper the middle of the field with throws to the TEs and Miles Sanders.
Daniel Jones vs. 49ers
When I started to throw water on the enthusiasm for Danny Dimes in August, it was the early-season schedule that was the main culprit. This game was one of the primary reasons. Then half the 49er secondary got hurt and a pair of linchpin D-linemen went out for the season. With the Saquon Barkley injury, the Giants will likely rely on the pass. As long as Jones has time to throw, he'll find someone open against a depleted 49er D.
Mitchell Trubisky @ ATL
It's the speed portion of this section, to keep the column from becoming too long. It's the 3rd straight subpar defensive unit that Trubisky and the Bears have faced. Trubisky will need to find his WRs to keep up down in Hotlanta.
Ryan Tannehill @ Vikings
My Streamer of the Week last week threw for 4 TDs, and now faces the Viking secondary that has been as giving as Santa Claus.
Cam Newton vs Raiders START OF THE WEEK
This is the last week Super Cam will be on here, as he has graduated to automatic start status. The Raiders' secondary will cause plenty of shootouts this season, and Cam will benefit this week.
AFUERA
Derek Carr @ Patriots
At some point during the broadcast there will be mention of the Tuck Rule from back when Tom Brady was just a pup. Carr has been very good thus far, completing 75.3% of his passes. And the victory against the Saints D was legit. But on a short week, traveling across the country, with All-Pro Stephon Gilmore waiting… this is a week to sit Carr. 
Jared Goff @ Bills
Hard to put Goff in this section, because he's played about as well as he can play through 2 games. But traveling to the East Coast for the second week in a row, facing an elite secondary that had its pride wounded by Ryan Fitzpatrick and the Dolphins last week, this game has the feel of that game in Chicago in 2018. Though the temperatures won't be freezing, so that will be a plus for the California-bred Goff.
RUNNING BACKS
ADENTRO
Joshua Kelley vs Panthers
After running the ball 23 times for 64 yards to help keep the Chiefs on defense last week, just picture what Kelley will do against a Carolina D that has allowed 255 rushing yards and 6 TDs thus far. As the Chargers build a lead, Kelley will get plenty of carries to salt away the win.
James Conner vs. Texans
What a difference a week makes! Now we know that when Conner is healthy, he's going to get the ball, as his 16 carries for 116 yards and a TD will attest to it. Then take into account that Houston has allowed 396 rushing yards, 2nd most in the league. Conner figures to have plenty of room to motor this week. 
David Montgomery @ Falcons
Did you see Montgomery's change of direction on his TD run against the Giants last week? That's what he's capable of. The neck injury that took him out of the game temporarily was concerning, but the matchup is sabroso. Ezekiel Elliott caught 6 balls last week, and Montgomery is becoming more involved in the passing game. 
AFUERA
David Johnson @ Steelers
Johnson gave some hope with a good first week, but finishing with just 50 total yards against Baltimore doesn't bode well considering this week he's up against a Pittsburgh D that has allowed the fewest rushing yards so far (133 yards). Johnson could get some work through the air, but better to wait until after the Texans have finished their Chiefs-Ravens-Steelers crucible.
Melvin Gordon vs. Buccaneers
The Bucs were one of the elite run defenses in the NFL last year, and they did a great job on the ground against Alvin Kamara and Christian McCaffrey so far this year. The Bucs are 4th best in the NFL with just 169 yards rushing allowed. Gordon has the backfield to himself, but he's a high-volume runner who won't have much room to breathe this week.
Mike Davis @ Chargers
OK, so you spent 50% of your FAAB on Davis. Now what? He's going against an elite defense that shut down Joe Mixon (19 carries for 69 yards) and Clyde Edwards-Helaire (10 carries for 38 yards) the first 2 weeks of the season. Can you expect Davis to do any better?
WIDE RECEIVERS
ADENTRO
Mike Evans @ Broncos
Through 2 weeks, Denver has not been able to stop the pass with an injured secondary. Chris Godwin is coming back after missing a game in the concussion protocol. He could be eased back into the attack, especially at mile-high altitude. Tom Brady still needs to work up to feeding Evans 10 targets a week. Andale!
Keenan Allen vs Panthers
He got 8 targets from a rookie QB who had just found out before gametime that he was starting. Do you think it'll be better with Herbert planning all week to start against one of the worst defenses in the NFL? While this could become a running game if the Chargers build a lead, Herbert will pepper Allen with 10 targets.
Corey Davis @ Vikings
A.J. Brown is out. Viking D has been torched by pass catchers. Davis had a quiet week with 5 targets, 3 receptions for 36 yards and a score. Tannehill is likely to target Davis and Jonnu Smith plenty against the Vikings. 
N'Keal Harry vs. Raiders
The Cam Era is here, and Harry is one of the beneficiaries. He was targeted 12 times, caught 8 of them for 72 yards. The Raiders have a young secondary that's traveling across the country for the second time in 3 weeks. Harry and Julian Edelman will be plenty busy this week.
DeSean Jackson vs. Bengals
Reagor's being out several weeks was already mentioned, and Alshon Jeffery is still out. Someone has to catch balls on the outside, and earlier in this column I said Wentz would take shots with Jackson against this Bengal D. Fire up Jackson!

Honorable Mention: Marquez Valdes-Scantling, Allen Lazard, Tre'Quan Smith, Mecole Hardman and Darius Slayton.
AFUERA
Stefon Diggs vs. Rams
After the glory of the first 2 weeks, you're starting Diggs. But it's hard to feel good about it knowing that Jalen Ramsey's blanket coverage is waiting for him. Maybe Ramsey splits up the coverage with John Brown, but this shapes up like a tough week for Diggs.
Robert Woods @ Bills
Another player you're not sitting, but Woods has the pleasure of battling Tre'Davious White on Sunday in Buffalo. The Bills have one of the best secondaries in the league, though Ryan Fitzpatrick did go for more than 300 yards against them last week. This matchup and the one above will be wonderful battles within the game. 
Bryan Edwards @ Patriots
Edwards showed glimpses of the talent people were raving about all offseason on a pair of catches for 42 yards against the Saints on Monday Night Football. Now comes news that his rookie running mate Henry Ruggs is out, so that will likely line up Stephon Gilmore against Edwards. Buena suerte, rook.
TIGHT ENDS
ADENTRO
Mo Alie-Cox vs. Jets
Did you see this physical specimen go all Antonio Gates against the Vikings last week? After catching 5 of 6 targets for 111 yards, the Jets are next up on the docket. And remember how Philip Rivers liked throwing to Gates all those years? If Jack Doyle is out again, Alie-Cox will keep building on his 3.85 yards per route run, which is tops among TEs according to PFF.
Jonnu Smith @ Vikings
After catching 2 TDs last week, Smith is now a weekly must start. That 63-yard catch and run last week was a display of rare athleticism by a TE. Smith is 2nd in PFF's fantasy points per route at .88. 
Jared Cook vs. Packers
I didn't love Cook coming into this season, but this matchup is good. There's no Thomas, and other than Alvin Kamara, Cook is the most familiar target for Drew Brees. His likely matchup on the Packers, LB Christian Kirksey, is giving up a 92% catch rate to TEs. With Brees throwing a lot of intermediate balls, Cook is a good bet this week.
Noah Fant vs Buccaneers
With Courtland Sutton gone for the year and Jerry Jeudy questionable, Fant may be the best option for Jeff Driskel. The Bucs are allowing .47 fantasy points per route, tops in the league according to PFF. Fant has caught 9 of 11 targets for 138 yards and 2 TD. He'll get plenty of action this week.
AFUERA
Austin Hooper vs Washington
Hooper's only being targeted on 13% of routes run. With 6 targets through 4 games, he's 4th on the Browns in that department. This team showed last week that when they're running efficiently, they don't pass the ball much. As of now, it looks like Hooper is a well-paid blocker.
Rob Gronkowski & O.J. Howard @ Broncos
HC Bruce Arians was quoted in The Athletic that, "We're not throwing the ball 50 times to tight ends. That's what we have receivers for. That's the way our offense is built. Gronk's playing great run-blocking in the fourth quarter, so I'm not concerned with his pass catches or his targets." If the Bucs aren't throwing to the TE, you don't need to start either of these two.
KICKER