We hear the refrain all the time in fantasy football: Wait on QB. The depth at the position screams for waiting until the 9th round and beyond at QB. According to 4for4.com, Matthew Stafford is going at the end of the 9th round. Ben Roethlisberger is going late in the 11th round. Jared Goff is going early in the 12th round. All are expected to be in charge of high-flying pass attacks, and have breezed by 4,500 yards in recent seasons. If you want to wait to take any of them, no one will blame you.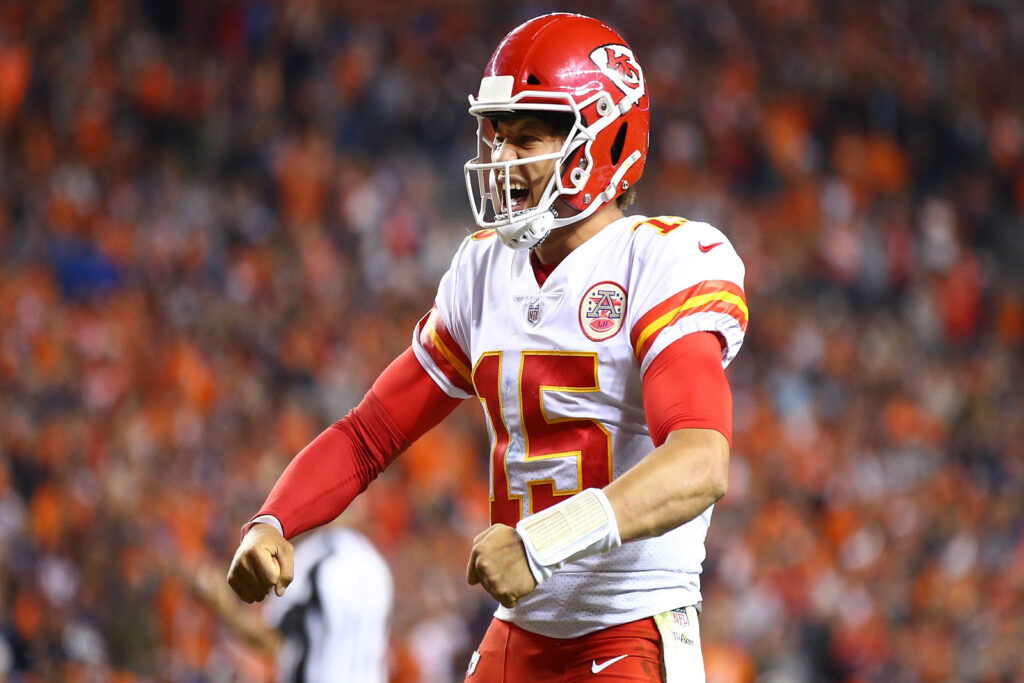 But someone has to draft Lamar Jackson and Patrick Mahomes. And the way draft boards are shaking out, both resplendent talents are going in the 2nd round. Way too early for some drafters. However, there is a cheat code to drafting Jackson or Mahomes and still filling out a good roster.
Plus, there is a glaring reason to draft either QB. First, look at the numbers from their incredible MVP seasons:
Jackson (2019): 3,127 passing yards, 36 TD, 1,206 rushing yards and 7 TD
Mahomes (2018): 5,097 passing yards, 50 TD, 272 rushing yards, 2 TD
Then look at their schedules. Jackson has Cleveland, Houston, Washington and Cincinnati in the first 5 weeks. During playoff Weeks 14-16, these are the opponents, in order: @Cleveland, Jacksonville and NY Giants. If that's not enough to make fantasy players salivate, nothing will.
Mahomes has that tantalizing opener against the Texans, then tough defenses from the Chargers, Patriots and Ravens next. But this is Patrick Mahomes. You play him. And those games could have sneaky shootout potential. His schedule softens with matchups against the Raiders (twice), Panthers, Jets and Bucs. Then Weeks 14-16 the Dolphins, Saints and Falcons take on the reigning Super Bowl MVP. None of those defenses are scary against the pass.
OK, now that you're being swayed with reasons to take these talents, how do you get them and not sacrifice other positions? Well, this strategy is based on two principles: Drafting your RBs early and relying on the depth at WR. This is based on a 12-team league.
If you take one of these stud QBs, you need to assure yourself that you take one of the top RBs in the 1st round. If you're in the top 3 picks, that's easy. If you're in the back half, you need to have RBs like Clyde Edwards-Helaire, Josh Jacobs, Derrick Henry, Nick Chubb or Miles Sanders fall to you. Taking a WR here will put you in a dark hole at RB that even the MVP seasons of Jackson and Mahomes will have a tough time digging you out of it.
Then in the 2nd round you pounce with your pick. You choose, whichever one of the pair signal callers you want to build your team around. You'll here the screams and shouts, and plenty of "too early!" among your league mates. Don't worry, but the next picks are crucial.
In the 3rd round you'll start to see the WRs flying off the board. Stay disciplined, but flexible. One of the next 2 picks needs to be a RB who is at least close to being the lead caballo on your team. I'm fading Todd Gurley and Leonard Fournette, but James Conner, Chris Carson and Jonathan Taylor are going in this range and will be very good RB2 to pair with your 1st-rounder. 
If the WRs like D.J. Moore, Mike Evans, Juju Smith Schuster, Adam Thielen are too hard to pass up in the 3rd round, then go for it. But you have to make sure in the 4th round that RBs like Melvin Gordon or Mark Ingram or are to your liking. Cam Akers is rising into this range. 
As you can see, no TE was taken up to this point. This is where you sacrifice. But the high-upside, late-round depth at the position is where you can score. And since you won't be needing another QB until the final picks – if at all should you want to stream for the bye weeks – you can grab a good late TE who you can dream on. Or grab 2. Mike Gesicki, Jonnu Smith, Noah Fant, T.J. Hockenson and Blake Jarwin are getting a lot of love from experts this draft season, and none of them is higher than Round 9 according to current ADP.
By the 5th round, it's all about grabbing the best skill player available. This can be remarkably freeing, as there are still players like Marquise Brown, Stefon Diggs, T.Y. Hilton, Michael Gallup and Tyler Boyd showing the depth at WR by going in this range. 
A round later, Diontae Johnson, Brandin Cooks and DeVante Parker show that the WR depth is starting to dwindle. D'Andre Swift and Raheem Mostert are also coming off the board by this point. In the 7th, flex plays like A.J. Green and Julian Edelman can be chosen, as can TE Tyler Higbee.
From 8-10, it's time to take shots with high-upside players like Antonio Gibson, Zack Moss or any of a number of rookie WR who are going to start flying off the board.
The beauty of taking a QB early is you can take these shots in these rounds that paid off with players like D.J. Moore and Courtland Sutton last year. This is a good range to choose a TE, as laid out before. 
From round 11 on, it's taking the best player available. Grab a rookie WR or Damien Harris hoping on the chance he takes over lead caballo duties for the Patriots. I've been getting Joshua Kelley here, speculating on him sharing backfield duties with Ekeler.
The key is just to hammer depth, knowing that near the top, you drafted a QB you plan to start every week. Here's a sample of a team that can be assembled with this strategy:
Starters
QB Lamar Jackson
RB Ezekiel Elliott
RB Cam Akers
WR DeAndre Hopkins
WR D.J. Chark
TE Hayden Hurst
FLX Marquise Brown
Reserves
RB J.K. Dobbins
RB Zack Moss
RB Joshua Kelley
WR Diontae Johnson
WR Deebo Samuel
WR Mecole Hardman
TE Mike Gesicki
Draft a QB early? Si se puede.