There is so much hype around making Daniel Jones this year's Lamar Jackson, it's starting to look hard for him to live up to it. It's eerily similar to Baker Mayfield last year. The concern here is that it's too much too soon. His final numbers – 3,027 passing yards, 24 TD passes, 279 rushing yards and 2 TD — looked promising, but of his 13 games (12 starts), Jones had 3 blowup games with 4 or 5 TD passes. Week 16 he completed 28 of 42 passes for 352 yards and 5 TD to help teams win titles… if they started him. He had no other games with more than 2 TD.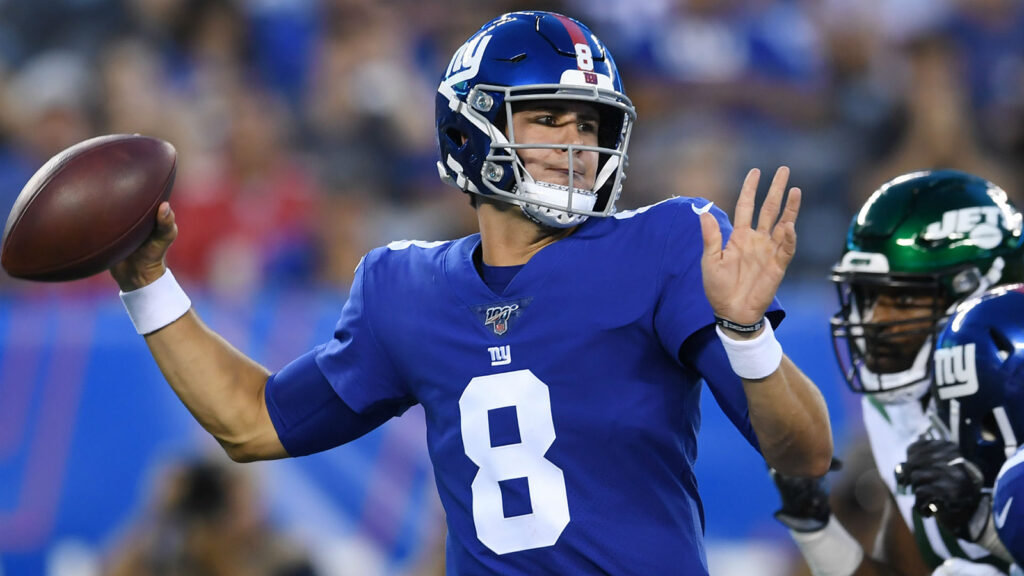 Jones has 3 very good WR to choose from, but they are nowhere near the trio the Cowboys employ. And Jones needs to work on his turnovers. He fumbled 18 times and had 12 interceptions. The O-line may not be much better this year than last, as it was rated #20 by Pro Football Focus before LT Nate Solder opted out for the 2020 season. Add to it that Jones was sacked 38 times, which was 10th in the league. His 6.6 yards per pass attempt were #29 in the league. So the foot is hovering over the brake pedal for those brimming with excitement for Jones.
Further pushing the foot down is the murderous early-season schedule (Steelers, Bears and 49ers). And tough a closing vs Ravens in Week 16. This looks like a recipe for a player who will have a difficult time living up to the hype. After fantasy players were extra enthusiastic and saw Jones going in the top 12 QB, he's drifted down to QB17. The smart play may be to platoon Jones with another QB, playing the matchups to get the optimal call week to week.
The primary safety valve for Jones will be RB Saquon Barkley. During 2019 fantasy draft season, Barkley was the darling of the many who had #1 picks. He was coming off a rookie season in which he rushed for 1,307 yards and caught 91 balls for an additional 721 yards. He totaled 15 TD. Then a high-ankle sprain in Week 3 upended those teams' plans.
Barkley hardly looked like the transcendent talent when he returned 4 weeks later, as he'd predicted. He even had a game against the Jets where on 13 rushes, he amassed 1 yard. Yet if in spite of his lack of production fantasy teams were able to make the playoffs, Barkley was money. In Week 15, he rushed for 112 yards and a pair of TD. The following week, championship week in fantasy, he totaled 279 yards from scrimmage and 2 TD. Those people who won may still have a better taste in their mouths than those who were outside looking into the playoffs with Barkley on their rosters.
Still, the question marks on the O-line, as well as the regime change to HC Joe Judge and OC Jason Garrett may give fantasy drafters pause. Don't worry. Barkley is so good, he'll rise above all the newness to have a great season that is worthy of top 3 consideration, and could contend with Christian McCaffrey for top honors if the work in the passing game elevates back to 2018 levels.
Who will emerge from the group of 3 talented WR as the alpha male? Sterling Shepard, Darius Slayton and Golden Tate all had big games in the 2nd half of the season (Jones missed Weeks 14 and 14). Shepard sat out Weeks 2, then 6-11. He returned and was productive from Week 12 on, getting at least 6 targets in each of those games. He was excellent in week 15, catching 9 of 11 targets for 111 yards, then following it up with 6 catches for 76 yards and 1 TD. The bet here is that Shepard gets the most targets in this group.
Slayton, a 2019 5th-rounder out of Auburn, appeared to develop a good rapport with Jones, catching 10 of 15 targets for 121 yards and 2 TD in Week 10 against the Jets. In Week 14, Slayton reeled in 5 of 8 targets for 154 yards and 2 TD. What did the Jets and Giants have in common, other than their home stadium? Both were horrible defensively, and Slayton feasted against bad teams. Slayton is very talented, and needs to step up against better defenses to outproduce his WR41 and Round 10 ADP. His final numbers were 48 receptions (84 targets) for 470 yards and 8 TD. He'll figure to catch 60-70 balls for about 800 yards and 6 TD this year.
Tate was suspended the first 4 games of the season, then came back to finish with 676 receiving yards on 49 receptions. He had 6 TD. He's 32, which has been that range where WRs start to fall off. Tate did get 11 and 8 targets in the final 2 games of the season, so Jones was looking for him. Again, this group will often frustrate fantasy players who are looking for anything more than flex production from these players.
TE Evan Engram has only been frustrating in his inability to stay healthy. In 8 games, he caught 44 of 68 targets for 467 yards and 3 TD. Double that, and you're talking about a top 3 TE. Add to it that he was a week-to-week consistent source of production when he was on the field, seeing at least 7 targets in 7 of 8 games. But he's coming off December Lisfranc surgery, and that usually has a 9-month recovery period. The season opener will be around the 9-month mark. He also missed 5 games in 2018, so that injury-prone label is floating around about him. At his ADP of TE6, going in the 6th round, fantasy drafters could get a steal if Engram plays 16 games. That's a big IF. If you do draft Engram, better to back him up with another TE, like Jonnu Smith, Blake Jarwin or Ian Thomas.
EARLY-LATE SCHEDULE
The Steelers-Bears-49ers meat grinder should have fantasy players drafting all Giants on alert. If the offenses are ahead of the defenses early on – as in 2011 when labor unrest eliminated any offseason programs – that will be good for the Giants. But if these teams are back to recent past levels, look out those who drafted Giants. That @Baltimore game in Week 16 is looming for those fantasy players who want to make Jones their starter.