John Elway gave Drew Lock the keys for the final 5 games of 2019. Is it premature? Going into his second year, Lock figures to still have growing pains, but there will be some highlight games in there. And of the first 5 games of the season, only Pittsburgh is a scary defense. A pair of those defenses – Jets and Miami in Weeks 4 and 5 – figure to be two of the worst this season, so we'll know if Lock is the real deal right away.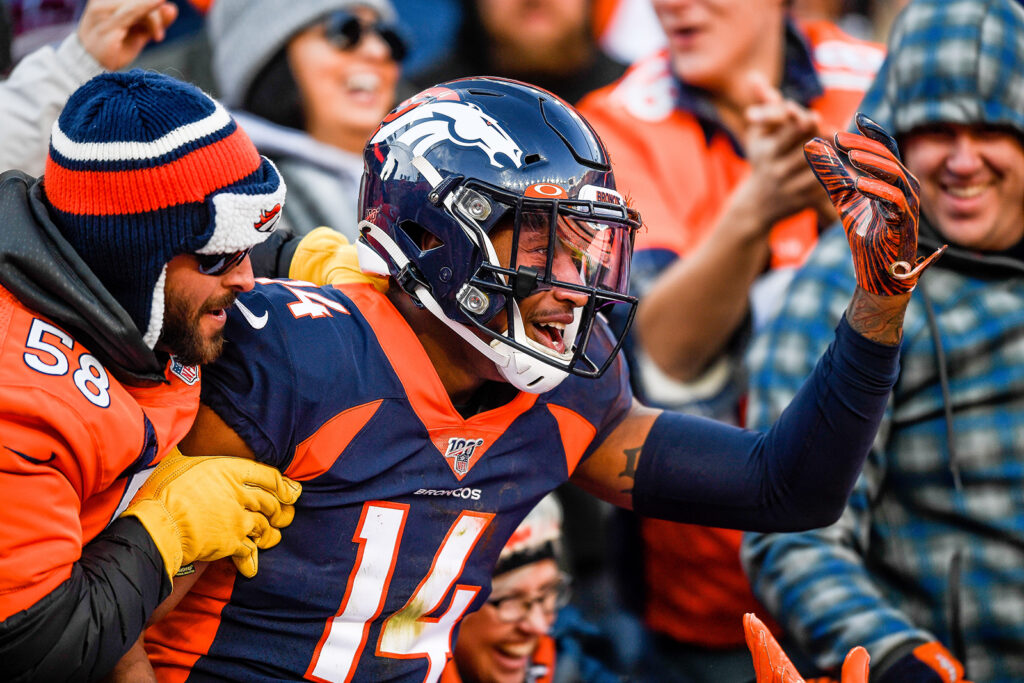 What we saw in the 5 games in 2019 is a mixed bag. There was the coming-out party in Week 14 at Houston, when the Texans were riding high after a 28-22 victory over the Patriots the previous week. All Lock did was throw for 309 yards in his second NFL game. However, instead of building upon it, Lock threw for 200+ yards in just one other game. And that was with completing the season with home games against the Lions and Raiders, both lower-tier defenses.
All the offseason actions say that Elway trusts Lock. There was no rookie QB drafted in April. Instead, the Broncos invested heavily in the WR position with Jerry Jeudy and KJ Hamler joining the team via the draft. Denver added Melvin Gordon to fortify the ground game after Phillip Lindsay rushed for more than 1,000 in each of his first two seasons.
Lock is the key. He threw for 44 and 28 TD, respectively, his final two years at Missouri. He came with a talent for throwing a great long pass. If he steps forward in his second year, even amidst the pandemic insanity going on around us, Denver will be fine. If he doesn't, Elway will have to hear of the ghosts of Paxton Lynch and Brock Osweiler.
How will the RB carries be split up? Phillip Lindsay and Royce Freeman shared 375 carries in 2019. There were 409 total carries for the team. Melvin Gordon is a top rush-receiving threat out of the backfield. Is this going to be his job as the lead Caballo? Follow the money, and it will be. Figure carries to be split 225-250 for Gordon and 150-175 for Lindsay. Each will have blowup games, and will be incredibly frustrating at times for fantasy players. But Gordon should be the lead guy at least at the beginning.
Gordon is still just 27, so he should have some mileage left on the tread. His best year was 2017, when he rushed 284 times for 1,105 yards, while catching 58 of 83 targets for 476 receiving yards and 12 total TD. Add to it that Gordon is a much better pass blocker, and that will keep him on the field more often. He has complained about the altitude in early camp, which hasn't been a problem for Denver native Lindsay. But something to keep in mind as fantasy draft season approaches.
Courtland Sutton is the unquestioned #1 WR, breaking out for 72 catches (124 targets) for 1,112 yards and 6 TD in his second year in the league. Improved connection by Lock with Sutton will be crucial to this offense getting better. Sutton never surpassed 79 receiving yards after Lock took over in Week 13. The new OC is Pat Shurmur, who as HC for the Giants the past two seasons oversaw an attack that was top 10 in pass attempts. If this continues, Sutton may even see an increase in the number of targets he receives. Write him down for 135+ targets and 80-90 receptions.
The draft signaled how the Broncos are targeting becoming an offense like Kansas City's. Jeudy went #15 overall in the draft – the 2nd WR off the board – and has the pedigree to become a stud WR. He's also been close to Calvin Ridley dating back to their South Florida roots and starring at Alabama. Jeudy has a great reputation as a route runner, which is why he was drafted so high. Some NFL players have even reached out to Jeudy while still at Alabama to ask about specific routes the phenom ran. If someone is going to rise to being Robin to Sutton's Batman, it figures to be Jeudy. He can get past 60 receptions and 900 yards over the season.
Hamler is a speed player who looks like he's running a step faster than the defense. Elway just came out and said that the lack of preseason games impacts rookies the most. He may as well have been talking about players like Hamler, who has been hobbled by an injured hamstring in training camp and is expected to miss the early part of the season.
Fant is getting a lot of attention as a TE going into Year 2. He's an athletic freak and 2019 1st-round pick out of Iowa (like George Kittle and T.J. Hockenson), so he'll get the opportunity. Fant's 2019 numbers (40 receptions, 66 targets, 562 yards and 3 TD) are very similar to Kittle's rookie year. The big difference, Kittle was still the main receiving threat in San Francisco after his rookie season. Fant has to contend for targets with Sutton, Jeudy and Gordon, among others. Whether it's this year or next for Fant to break out is TBD.
EARLY SCHEDULE
The season opener against Tennessee could be a good barometer for how far Lock has come. The Titans were #24 in passing yardage allowed, so this could be a good launching point for Lock. After Patrick Mahomes and Lamar Jackson had legendary breakouts the past two seasons, fantasy players are looking for the next breakout. If Lock has a good first game, that could be an indicator of things to come when he has Tampa Bay in Week 3, followed by the Jets and Dolphins. The top-notch rushing defenses of the Steelers and Buccaneers will look to slow Gordon and Lindsay in Weeks 2 and 3. Warning, the Broncos have the Bills and Chargers Weeks 15 and 16, the last 2 weeks of the fantasy playoffs. Those defenses could be among the best by the end of the season.