The last 3 articles have been the Year 2 series, so today we're going to cheat a little. We're expanding the field of TEs to include Year 3 players. The reason? While last year we had Mark Andrews (TE5) and Dallas Goedert (TE10) break into the top 10 at their position, a lot of times TEs wait until their 3rd year to really showcase who they are, if they're going to become viable players. Zach Ertz, Austin Hooper, Jared Cook and Hunter Henry were top 10 TEs last year who didn't really arrive until their 3rd year. So we're going to look at Year 2 TEs first, then go into the Year 3 players.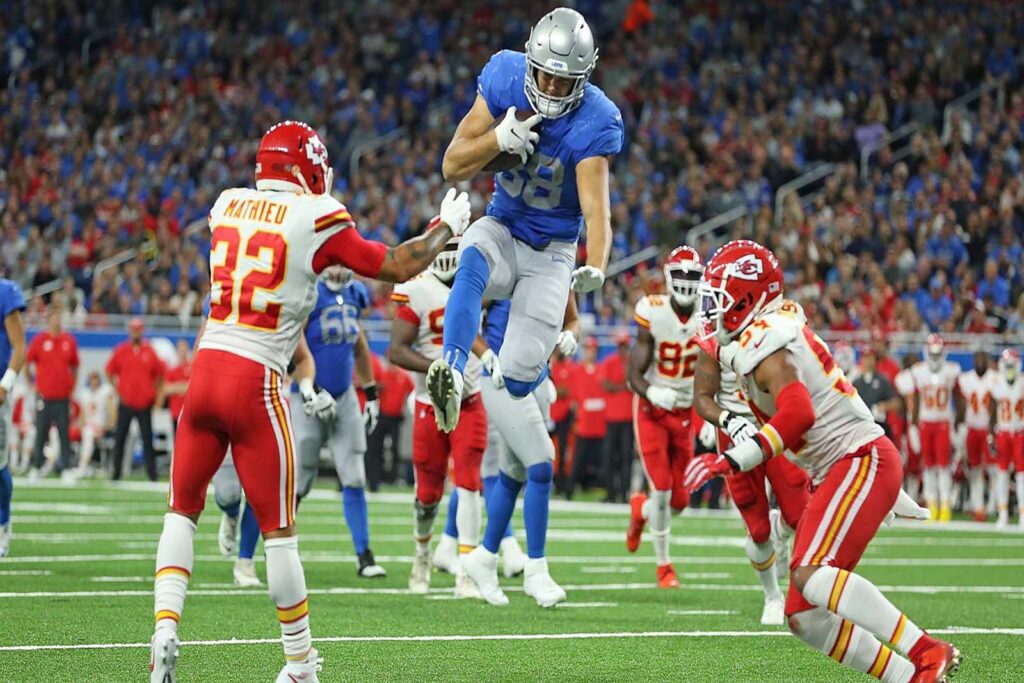 Y2 TIGHT ENDS
TJ Hockenson (ADP: TE15 / 11th round)
Fantasy players were salivating at the possibilities when Hockenson went for 6-131-1 in his debut game vs. AZ. He was the FAAB & waiver-wire darling after week 1. Not much after that,  we realized that it was more the fact that the Cardinal defense was basura against TEs. Hockenson also battled injuries and ineffectiveness. At 6-5, 247 lbs., he's a physical specimen, and Matthew Stafford will throw the ball a lot this year. He's behind Kenny G and Marvin Jones, as well as the RBs De'Andre Swift and Kerryon Johnson for targets.
Noah Fant (ADP: TE12 / 9th round)
He's getting comparisons with George Kittle because their rookie numbers were almost identical. At 6-4, 249 lbs., they're built almost the same. And Kittle exploded in his 2nd year for 88 catches, 1,377 yards & 5 TDs. Kittle did it with several QBs, but no competition for receptions. Fant has Drew Lock (hopefully) maturing at QB, but several mouths to feed like Courtland Sutton and Jerry Jeudy in the passing game for competition. 
Irv Smith (ADP: TE24 / 16th round)
Smith's 36 catches for 311 yards and 2 TDs are similar Kyle Rudolph's stat line (39-367-6 TD) last season. There appears to be lots of competition for balls with Adam Thielen, Justin Jefferson, Dalvin Cook and Rudolph all getting plenty of attention from Kirk Cousins. If Smith can turn Rudolph into a blocking TE, that's probably his greatest path to more targets. With O.J. Howard still not delivering after 3 years in Tampa Bay, have Alabama TEs had their reputation tarnished?
Jace Sternberger (ADP: TE26 / 18th round)
He caught 3 targets for 15 yards and 1 TD during the playoffs. And that was an improvement from getting just one single target the entire season! He's getting some attention with Jimmy Graham and Jake Kumerow going elsewhere. Marcedes Lewis is here, but it really doesn't look like too much competition for TE targets from the Packers. Sternberger is a late-round flyer or waiver-wire player to watch early in the season. 
Dawson Knox (ADP: Undrafted) 
He was 4th in receptions last year, just 1 behind Devin Singletary. Now Stefon Diggs is there, likely pushing Knox to 5th at berst. Does Josh Allen check down enough to make Knox viable? Probably not, which is why he's going undrafted according to ADP.
Y3 TIGHT ENDS
Hayden Hurst (ADP: TE13 / 9th round) 
The Falcons traded for Hurst, who was actually drafted higher than Mark Andrews. Hurst became expendable, and the Falcons gave up a 2nd-round pick to get Hurst, who got rave reviews for his speed from QB Matt Ryan. New teams can wake players up. No competition for TE receptions, but he's definitely behind Julio Jones and Calvin Ridley for targets, and maybe Todd Gurley, too.
Mike Gesicki (ADP: TE14 / 11th round) 
The 89 targets stir some interest, but it's the finish that causes excitement. In his final 9 games, Gesicki was targeted 64 times. That comes out to 114 targets in 16 games. Who started him championship week and saw him go for 6-82-2? All his TDs came in his last 5 games, when he was playing at an especially high level because of a great connection with Ryan Fitzpatrick. The Dolphins should still throw the ball a lot this season, and if Tua Tagovailoa takes over, the TE is usually the best friend of the young QB. Gesicki's a sleeper pick to have that finish carry over into 2020.
Ian Thomas (ADP: TE27 / 18th round) 
Full disclosure, he helped me win my 14-team league in 2018 with a 4-48-1 performance on championship week when he was an injury replacement. So he's in my personal HOF. He's been Greg Olsen's understudy for 2 seasons, but now appears to be the starter. Teddy Bridgewater could be his friend, but he's behind DJ Moore, CMC, Robby Anderson and maybe Curtis Samuel for targets. The Panther D will be bad, so that will mean plenty of balls in the air in shootouts.
Chris Herndon (ADP: TE23 / 16th round) 
Herndon was suspended, played 1 game, got hurt and went on IR. Seriously? At 6-4, 253 lbs., he's another specimen off the TE assembly line. There was hype for him coming off 39 catches, 56 targets, 502 yards and 4 TD as a rookie. The Jet WRs don't impress, and Le'Veon Bell did catch 66 balls last year, so if Herndon can stay out of trouble and the training room, there could be some balls coming his way. A TE to keep an eye on the waiver wire.