Sometimes you look at ADP lists and wonder, "why is that guy so low?" You file it away in the memory bank, knowing that this player might fall in drafts and be a value pick later. Our Arriba/Abajo series continues with the Underrated players. Los Muy Abajo. We came up with 3 players each at QB, RB and pass catcher— WR or TE —  that we think are aren't getting enough love compared to the ADP of some other players. Muy Abajo. To figure ADP we used 4for4.com, which has an updated composite of several different sites that are conducting drafts. Let's open up with the QBs (draft round is based on a 12-team league).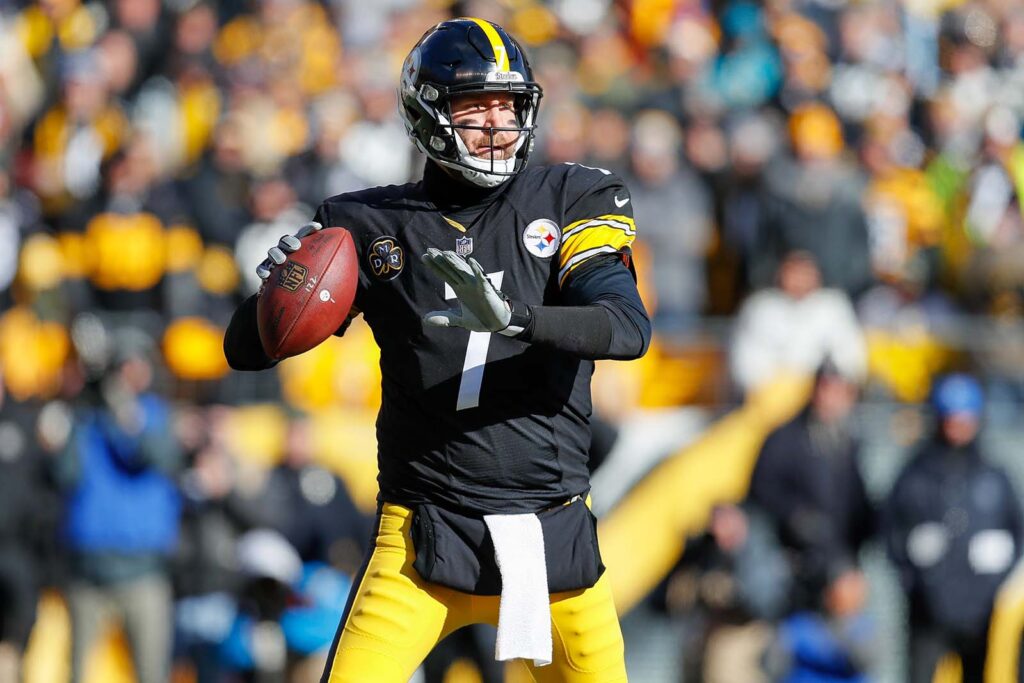 QUARTERBACK
Ben Roethlisberger
Apparently the hype video of him throwing passes to a few teammates didn't work. Big Ben is going after Mayfield and Goff, a pair of players who are getting mixed reviews in the fantasy community. How far he's fallen from being QB3 just 2 years ago, when he threw for 5,129 yards and 34 TDs.
That elbow injury that knocked him out for all but 2 games last season appears to be playing a big part in his ADP free fall. He still has JuJu Smith-Schuster and Diontae Johnson is rising up draft boards. James Conner is a good receiving back, and Eric Ebron is just a couple years removed from catching 13 TDs for the Colts, and he's still 27. The receiving cupboard appears to be full, and the Steelers added Chase Claypool, an uber-athletic freak who is cut from the Calvin Johnson mold.
A 38-year-old QB coming off elbow surgery does come with red flags. But at QB17 in the 10th round, this is an investment worth making.
Aaron Rodgers
I know we've gotten used to him being the first QB off the board for a lot of years, but ADP #12 at QB, that's pretty crazy. Even in a "down" year for him in 2019, he was still QB8. His final stats were more than pedestrian: 4,002 yards with a 26-4 TD/INT ratio. His 183 rushing yards is hardly anything to get excited about, but it shows he's not a statue back there.
The 4,000 yards is his floor, and Rodgers is still one of the most talented passers in the game. The ADP feels too low, and he still had 5 weeks where he threw for at least 300 yards and/or 3 TDs, so he's still capable to win a week by himself. He has a true WR1 in Davante Adams, who missed 4 games last year. Aaron Jones is a threat in the passing game as well. Rodgers also doesn't throw interceptions, and has a good offensive line. Jace Sternberger is getting a lot of attention in the offseason, though Rodgers hasn't used the TE much. Will one of the other WRs like Devin Funchess, Allen Lazard or Marques Valdes-Scantling emerge?
Matthew Stafford 
It started out so fun. He was on a pace for 5,000 passing yards and 38 TD. Then the back injury knocked him out for the season. It's the first time he's missed even a single game since 2010, so there's every reason to be optimistic to think the medical clearance he received in April is going to be good for the season.
The injury seems to have worried early drafters, as Stafford is going at QB13 in the 10th round. He still has a very good WR duo in Kenny Golladay and Marvin Jones. D'Andre Swift was a good receiving RB at Georgia, and Kerryon Johnson has caught his share of passes. Yes, QB is loaded, but Stafford being drafted as a backup just feels too low. At this draft price, at the very least he's a streaming QB you'll play against good matchups.
RUNNING BACK
Mark Ingram
There are 4 rookies going higher in ADP than Ingram. David Montgomery and Devin Singletary, too. Many WR2 are going before Ingram. 
Since 2015, Ingram has finished no lower than RB11 in every year but one. The fear here is that he loses carries to J.K. Dobbins. It looks like Gus Edwards is more at risk of losing carries to Dobbins than Ingram, who had 202 last year. His 1,018 rush yards, 26 receptions, 247 receiving yards and 15 total TDs were good enough for RB11. Yes, the TDs should regress some, but not enough for him to fall to RB28.
Ingram is 30, but he did not get heavy usage his first 3 seasons in the league. He was still running with power at the end of last season, and the Ravens still return one of the best offensive-lines in the game. Baltimore will rely heavily on the run, and predicting another 200 carries for Ingram is easy. He's a great value in the 6th round.
Phillip Lindsay
Melvin Gordon is going as RB17 & #34 overall. Even if this is a timeshare, is Lindsay going to be a great value if he comes 25 RBs and 6 rounds later. The reason for the drop is completely on the free agent contract that Gordon signed, which appears to have placed him at the top of the Broncos' RB depth chart.
Lindsay is coming off consecutive 1,000-yard seasons. While he is not a good bet to hit that mark, keep in mind that he did that on 224 rushing attempts. As a team the Broncos had 409 total rushes last year. Would you take 175 attempts at his 4.9 career yards per attempt? That comes out to 856 yards, which is good flex value in the 9th round. Lindsay is going in the range of Tevin Coleman, Alexander Mattison and Darrell Henderson. Those are largely handcuff plays. Lindsay is better than those players.
Also, Lindsay and Royce Freeman split 98 targets in 2019. There figure to be at least that many with Drew Lock this upcoming season. Maybe Lindsay won't hit 1,000 yards rushing, but he's not to be forgotten.
Chris Carson
Carson is going after Jonathan Taylor, Le'Veon Bell, James Conner, Melvin Gordon and Todd Gurley. That's RB21 and the 4th round. Carson is still the lead caballo on a run-heavy team, and he his way to 1,230 rushing yards. That was good enough for RB12 despite missing the last 2 games of the season in 2019. Any reason to think he can't repeat that?
The fractured hip that ended his year is the obvious concern. It didn't need surgery, which is a good sign. Rashaad Penny is going to miss a good chunk of the season after ACL surgery, so Carlos Hyde was signed for some relief. Carson even added 37 receptions for 266 yards. Early training camp reports will tell the story of how he's recovering from surgery, so stay tuned.
WIDE RECEIVER/TE
A.J. Green
He's going into his age-32 season, and his last healthy season was 2017. A healthy Green is an incredible value in the 7th round. But health is a big question. Joe Burrow is going to throw. There will be rookie struggles, but the defense won't be very good, so the Bengals are going to throw. And if they're throwing, a healthy Green is a game-changing talent.
Green's last healthy season was 2017, when he hauled in 75 catches (on 143 targets), for 1,078 yards and 8 TDs. This is the upside that he can give you in the 7th round. He's going behind Kareem Hunt, Tyler Higbee and Hunter Henry. A healthy Green outperforms any of them.
He's also playing for a contract, as the Bengals franchise-tagged him. He has plenty of reasons to want to stay on the field and make a good case for that next contract, whomever is going to sign him to it.
Marquise Brown
He was never healthy his entire rookie year, recovering from a Lisfranc injury that he was recuperating from most of last offseason. He appears to be recovered, and has added muscle to his frame. 
He was on the field for just over 50% of the Ravens' snaps last season, and that was completely to keep him healthy. If he can increase that percentage above 70%, imagin that his targets will zoom past the 71 that went his way last year (good for 46 receptions). Even with some hype coming his way, he's going in the 7th round. Add to it that he's looking at a Year 2 leap, and Brown will make many fantasy owners very happy when he gets 100+ targets next season. He has no real competition to be the top WR in Baltimore, and will battle with TE Mark Andrews for top target count. Will Jackson/Brown/Andrews become the Baltimore version of the Mahomes/Hill/Kelce trio in KC?
Darius Slayton
By the 2nd half of the season, Slayton and QB Daniel Jones were on the same page. Slayton had a pair of monster games in Weeks 10 & 14. First he torched the Jets for 10 catches (15 targets), 121 yards and 2 TD. Then he annihilated the Philly secondary for 5 catches, 154 yards and a pair of TD. Not bad for a uneven rookie year.
Slayton is a burner on a team of skill players who can fly. With Sterling Shepard, Golden Tate and TE Evan Engram, it will be hard to do anything more than give Slayton single coverage. He needs more consistency, which will come with maturity and better QB play from Jones. Going in the 10th round as the WR40, Slayton is a player who can be drafted for the bench and plays his way into every-week starting status.