Is there a position that emits more frustration than TE? Leagues with Kickers, you don't need to speak up.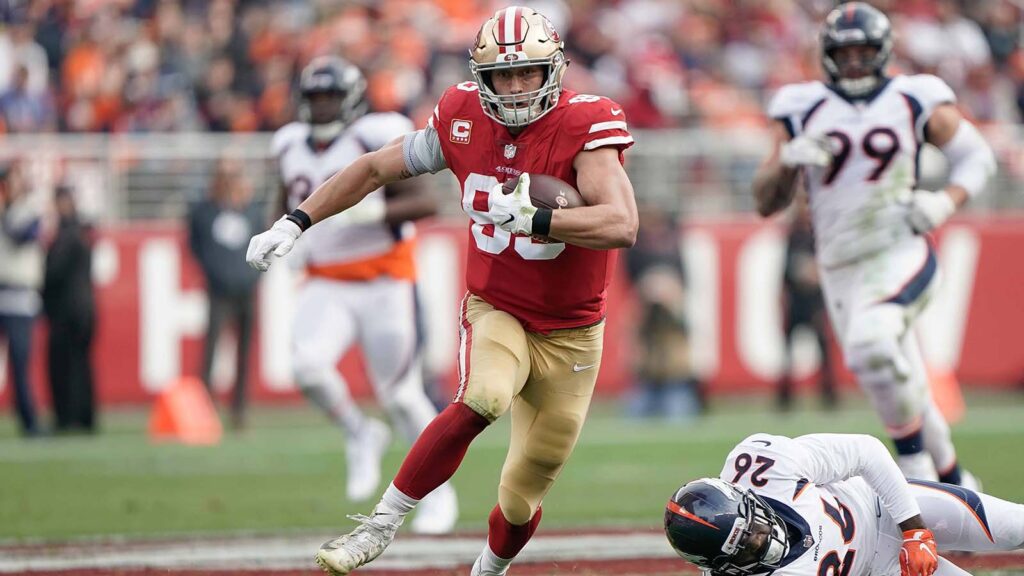 Yes, when you draft a Travis Kelce or a George Kittle, and watch them perform weekly it's great. Yet you know that it usually means taking a lesser player at RB or WR to get one of those players.
You can hope to draft a potential breakout player later in the draft, but that's a lottery ticket. Mark Andrews and Darren Waller were those players last year, with Kittle the find of 2018. There are plenty of young players outside our top 10 to choose from that are breakout targets. More on them later.
You can probably avoid the rookies, as the elite TEs usually don't arrive until their 2nd year at the earliest. Usually, if you don't get one of the top overall TEs, the alternative is to draft up other positions, pick up a player with upside late in the draft and be ready to stream the position if it doesn't work out.
The position does look in better shape than it did a year ago, when it just looked like only Kelce, Kittle and Zach Ertz were worth drafting early. So maybe help is on the way. But for the 2020 draft season, the top is very heavy in this position. As Ricky said in our podcast episode, "Get one of the top tight ends!" Good advice.
1. Travis Kelce
He's taken the mantle from Gronk as the perennial TE1, though he has some competition for that spot. Kelce's numbers rival those of many elite WRs – 97 catches on 136 targets, 1,229 yards and 6 TDs last season. He's someone to really think about in round 2 of any draft, maybe even the end of round 1. Part of his greatness is his showing up every week. He's missed 1 game since the start of the 2014 season. He's durable, has one of the elite passers in the game and very much in his prime, so he's worth an early pick.
2. George Kittle
He's the only other player in the conversation for top TE. The difference between him and Kelce may be that Kittle is the clear #1 receiving option in his offense. With 85 receptions, 1,053 yards and 5 TDs even with missing 2 games, Kittle has been elite for the second consecutive season. He's an all-around stud and fights for extra yards, with no better example than Week 14 against the Saints. On 4th-and-2, Kittle took a screen pass 44 yards, most of which came via stiff arms and punches on defenders before he was wrestled down. Probably the NFL play of the year. His over-the-top WWE demeanor is bonus fun for fantasy owners. 
3. Mark Andrews
Who saw this coming? Usually TEs are the good friends of young QBs. Andrews was the safety valve for Lamar Jackson and saw his numbers jump over his rookie year, as he finished with 64 receptions, 852 yards and 10 TDs. Even though the Ravens' offense was heavy on the run, Andrews made his living on underneath plays over the middle. Andrews was second to Kittle in red-zone completions with 11, and 9 of those turned into TDs. That's a good indicator for future production near the goal-line. 
4. Zach Ertz
After his 2018 explosion (116 receptions, 1,163 yards and 8 TDs), there was lots of talk of regression. Hard to see his 2019 numbers — 88 receptions, 916 yards and 6 TDs — as a disappointment. Even with that, he was second to Kelce among TEs with 135 targets. By the end of the season, Carson Wentz didn't have many options other than Ertz and Dallas Goedert. Even with more health among WRs, look for Ertz again to return top TE numbers. 
5. Darren Waller
Before the 2019 season, Raider HC Jon Gruden kept talking about how the TE is going to be heavily involved in the offense. We're conditioned to temper such things at "coach speak." Yet Waller was better than could be expected in his 4th year in the league, finishing with 90 catches, 1,145 yards (both second among TEs) and 3 TDs. He underwent thumb surgery right after the season, though it should be healed up in time for training camp. More worrisome is all the WRs the Raiders drafted. That could cut into his 117 targets from last year. 
6. Hunter Henry
Please, just once, play all 16 games. Let's see what those numbers look like. The feeling is that they'll look stellar, because in 2019, despite missing 4 games they were solid (55 receptions, 652 yards and 5 TDs). Henry returned from 2018 ACL surgery to breaking a kneecap early last eason. Still, he was a threat all over the field when healthy. The Chargers have traditionally relied heavily on the TE (see Antonio Gates), so expect Henry to see plenty of balls coming his way whether it's Tyrod Taylor or Justin Herbert at QB. Henry's playing on the franchise tag, so plenty of incentives for him to put up some big numbers over a full season.
7. Evan Engram
The best ability is availability. Engram has missed 13 games the past 2 seasons. Plenty of other ability is there, and even in his limited games he was still among TE leaders with 14 red-zone targets (tied for 6th overall). The Giants should be better under a full year of Daniel Jones. Engram just needs to stay healthy to improve upon his 44 catches, 447 yards and 3 TDs in 8 games last year.
8. Tyler Higbee
Something clicked in the Ram offense starting in Week 13, because Higbee went for 107, 116, 111, 104 and 84 yards, respectively, to close out the season. Multiply that by 16 games, and it's 1,670 yards. That's a hig bar, but Higbee should still be plenty involved as Ram HC Sean McVay started to incorporate the TE more toward the end of the season (final 2019 numbers: 69 receptions, 734 yards and 3 TDs.). Higbee was the big beneficiary of TE targets. Will that continue?
9. Austin Hooper
He'd be ranked much higher if he'd stayed in Atlanta, where he caught 75 balls for 787 yards and 6 TDs in 13 games last season. This ranking is less about his last 2 seasons with the Falcons and more about his free agent signing in Cleveland. So many mouths to feed, and now there are questions about Baker Mayfield learning another offense. Hooper was able to excel in an offense dominated by Julio Jones and Calvin Ridley, so there is a sliver of hope that he can do the same with the Browns. Hard to predict with a new regime, though HC Kevin Stefanski relied on the run last year and TE Kyle Rudolph did get 12 red-zone targets.
10. Jared Cook
At 33, he's old reliable in the Top 10. He did miss 2 games, and there is always the thought that age could be catching up. Still, remember the New Orleans offense is one of the best, and Drew Brees involves the TE plenty. Cook's 9 TDs could regress, but he'd still be a good late-round pick for teams waiting on the TE position.
Who Got Left Out?
Notice anyone missing from this list? Is Rob Gronkowski really done or did his body need a year off? Will he be revitalized playing in good weather in Tampa Bay? What about his losing the WWE 24/7 title? His 2018 season was forgettable, and his 2017 season (69 receptions, 1,084 yards and 8 TDs) was his last as a top-flight TE. Are people going to draft the name, or will Gronk live up to his name again? The bet here is that he'll finish in the back end of the Top 10, but won't approach his former elite numbers because Mike Evans and Chris Godwin will take the heavy load of receptions.
Looking for Young Guns
The top 3 TEs on this list all had breakouts in their second years, respectively. There are a couple TEs to watch going into their sophomore years. Noah Fant has drawn comparisons to Kittle for their shared Iowa Hawkeye lineage, near-identical build and similar rookie-year numbers (Fant finished with 40 catches for 562 yards). T.J. Hockenson, another Iowa product, set waiver wires on fire after his 6-catch, 131-yard and 1 TD debut game, then battled injury and never approached those numbers again. Mike Gesicki is going into his 3rd season, but his strong close to the season (5 TDs in last 6 games) along with his great athleticism may portend better things to come.