The AFC landscape had a seismic shift when TB12 took his talents to Tampa Bay. Will there be a new king in the AFC East? Is 25-year-old Patrick Mahomes ready to take the Chiefs on a similar run like the Patriots? Is Cleveland ready to FINALLY take a step forward after all those top draft picks (and coaching changes)?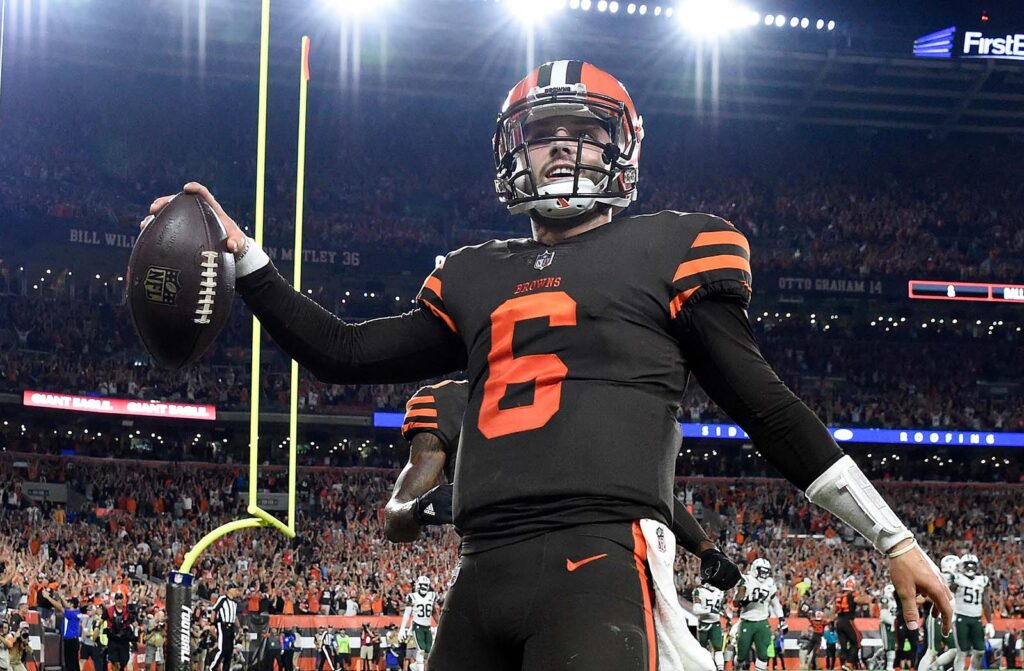 Like we did with the NFC, we shift our focus to the AFC. We picked 6 teams, 3 of which we saw as Overrated and the rest Underrated. Part of our Arriba/Abajo series. 
UNDERRATED
Buffalo Bills
It's so easy to look at Josh Allen and dream of him becoming Cam Newton 2.0. Tall, big-armed QB with agility, speed and power to rush for scores. Newton had 22 TDs in his first couple seasons in the NFL. Allen had 17. 
If this team is going to make the progression from playoff team to Super Bowl contender, Allen has to be the reason. His 58.8% completion rate was a 6% jump from 2018. Another similar jump will likely key a rise from his 3,089 passing yards and 20 TDs last year. And with his jump, the WR corps of new acquisition Stefon Diggs and John Brown could feature a pair of 1,000-yard WRs. 
Devin Singletary needs to make the second-year jump and hold off Zack Moss for the bell cow role. Singletary had a hold of the job by the end of the season, though his hamstring issues justify the Bills taking a good backup.
Los Angeles Chargers
How can a team that had a pair of 1,000-yard WRs and an RB who just missed that mark be considered underrated? The Chargers bring back WRs Keenan Allen and Mike Williams, and seem to have given the backfield completely to Austin Ekeler. Any reason to not be optimistic?
Even with HC Anthony Lynn expressing confidence in QB Tyrod Taylor — and they do have history going back to Buffalo days — it's hard to feel like this team is in better hands under center with Philip Rivers moving on. And if Taylor falters or just doesn't move the ball well, Justin Herbert could be rushed into the starting spot. Rookie QBs aren't always the recipe for success, even with the weapons the Chargers have. 
Keep in mind the additions on defense and the return of Derwin James. This should be a good defense after teams like the 49ers, Steelers and Ravens come off the board.
Houston Texans
We've heard the funeral marches for the Texans since DeAndre Hopkins got traded. But this team still has Deshaun Watson, who is one of the best talents at QB in the league. Brandin Cooks at an ADP of WR37 could be a screaming value late in the draft if he just plays 16 games concussion-free. A healthy Will Fuller is another necessity, because Watson is consistently better when Fuller is on the field. Imagine those two burners flying all over the field with Kenny Stills, Randall Cobb and Keke Coutee.
David Johnson battled some injuries last year, and hasn't approached his phenomenal 2016 season. But he is still one of the best pass-catching RBs in the game and seemingly has the backfield to himself. He won't be a first-round bust this year. Could be a mid-round value pick as a team's RB2 or flex player.
OVERRATED
Tennesee Titans
Is Ryan Tannehill really as good as his 117.5 QBR? He did it over 12 games, so it's not a small sample size. But his handing off the ball to Derrick Henry a ton during the playoffs is very fresh in fans' memories. 
Henry was a fantastic value taken after the first round last year, delivering 1,540 yards and 18 TDs. He'll be gone in the top half of the first round, so he'll have to replicate those numbers to be worthy of that pick.
Who got lucky putting in a waiver claim on A.J. Brown late last season? If he makes that second-year jump, he'll be worth that high draft capital that you'll have to spend with him going at WR14 ahead of some more well-established players.
Cleveland Browns
I believe that if primo Hector continues his tirade against the Cleveland Browns, Drew Carey will revoke his Rock and Roll Hall of Fame privileges. And someone will have to start tasting Hector's food.
Then again, Baker Mayfield was awful last year. It seemed like he was running out of the pocket right from the moment he took the snap. A 22-21, TD-INT ratio makes that 59.4% completion rate look that much worse. Mayfield is on his 4th offensive coordinator, and probably that same number of QB coaches. The expectation is for Mayfield to have to make progress this year toward fulfilling his potential. If he doesn't, weapons like Odell Beckham Jr. and Jarvis Landry will not live up to their potential.
Nick Chubb is one of the best pure runners in the NFL, but having Kareem Hunt taking away carries and passing-down work hurts Chubb's value. With big names all around, this team could have overinflated fantasy value.
Denver Broncos
Remember how people were crowning the Browns last year before training camp started? It's feeling a little like that in Denver. The Broncos have a lot of hype for all their young players, but that's what they are… young.
Only Courtland Sutton has established himself as a bona fide all-star with little competition for the ball. Other than that, the overreliance on rookies and young players is unnerving.
Drew Lock did go 4-1 in his 5 games, but his connection with Sutton was not what you'd like. Jerry Jeudy has so much hype coming off his being drafted so high, but he's a rookie WR. They are hit and miss in the first year. And as much hype as Noah Fant is getting, predicting that he'll be the next George Kittle may be too lofty of goals.
Add in that the backfield is a timeshare between Melvin Gordon and Phillip Lindsay. Well, this is a team you like for 2021 instead of this year.