This list is a combination of players who broke out for the first time mixed in with a few players who used to reside in the Top 10. All are capable of Top 10 finishes, and every one of them can fall out of the Top 20 overall.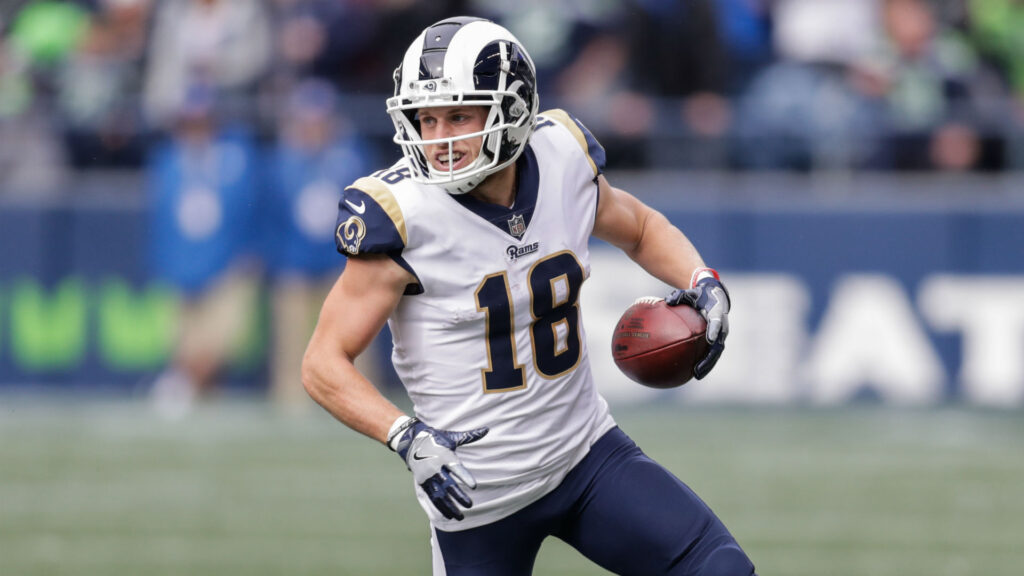 Year over year, there are WRs in the bottom half of the Top 20 who jump into the top half the following year. From 2018 to 2019, Keenan Allen, Julian Edelman and Kenny Golladay were the players who made that jump.
An exercise for down the line is to see how the next tier of WRs (22-30) end up performing — and in some cases outperforming the players on this list. There will be a handful of players outside the Top 20 who break out like Courtland Sutton and DJ Moore or come back from injury like Cooper Kupp and Allen Robinson, to put up great seasons. Like we said in our Top 10 WR rankings, this position is DEEP.
11. Adam Thielen
He turns 30 in August, and is coming off missing 6 games due to ankle and hamstring injuries — finishing with a disappointing 30 catches for 418 yards and 6 TDs.. Still, he's the #1 WR for the very-accurate Kirk Cousins, and Thielen did have 113 catches for 1,373 yards and 9 TDs in 2018. A lot has been made of how the Vikings threw the ball a lot less in 2019, but Thielen will still get 100+ balls coming his way this year. He just needs to stay on the field.
12. Cooper Kupp
So much for whether Kupp would be ready to go following ACL surgery halfway through the 2018 season. Kupp did not look like he lost a step, played all 16 games and caught TDs in the final 5 games of the Rams' season. His final numbers — 94 receptions, 1,161 yards and 10 TDs — placed him #4 according to NFL.com. The Rams remade their offense to include the TE more late in the season, but Kupp should again be a threat for 100 receptions. And remember, players are often even better the second full season coming off ACL surgery.
13. Odell Beckham Jr.
How many years did OBJ get drafted in the first round on name recognition alone? 2016 was the last time he truly returned first-round value (101 receptions, 1,367 yards and 10 TDs). Last year was the first time since that monster season that OBJ played 16 games, though his numbers seemed pedestrian compared to his talent/reputation — 74 receptions, 1,035 yards and 4 TDs. Second year with Baker Mayfield, could he reward believers? He's 27, and seemingly healthy after sports hernia surgery, but keep an eye on his recovery.
14. Stefon Diggs
How did Diggs catch 39 fewer balls for 109 more yards than in 2018? Weird year (final numbers: 63 catches, 1,130 yards and 6 TDs), and his squawking about his not getting the ball enough got him on the trading block and over to Buffalo, where he's the undisputed #1 WR. Changing teams isn't ideal for WRs, but Diggs is still a home run ball threat, and Josh Allen has a big (though not always the most accurate) arm. 

15. Keenan Allen
Remember when he was considered injury-prone? The past 3 seasons he's played all 16 games, and 2019 was one of his best — 104 catches, 1,199 yards and 6 TDs. The change in QB to Tyrod Taylor (and likely Justin Herbert during the season) could make an impact on his numbers. But this is still an elite WR who will get plenty of balls coming his way no matter who is under center.
16. Allen Robinson
No matter how much fire Mitchell Trubisky was under, the Bears QB still found Mr. Robinson's Neighborhood a ton last season — 98 catches, 1,147 yards and 7 TDs. 2015 was the last year he had this many yards (1,400 with Jacksonville). He's the clear Hombre in Chicago, and should see plenty of balls coming his way, no matter whether Trubisky or Nick Foles are throwing it to him. 
17. A.J. Brown
We should have known something was up when Brown turned 3 receptions into 100 yards in his Week 1 debut. He was having a relatively quiet rookie year when in Week 12 he exploded for 135 yards and 1 TD on 4 catches. He was a waiver-wire dandy through the end of the season. At 6-1, 226 lbs., Brown is built like a caballo RB, and the Titans give him the ball on jet sweeps. At 20.2 yards a catch, and his big finish to 2019 — 52 catches, 1,051 yards and 9 TDs — Brown is going to be a hot name come draft day.
18. Courtland Sutton
Sutton was that 2019 late-round flyer that turned into an every-week starter in Week 1 when he torched the Raiders for 7 catches and 120 yards. Busting out in his second year (72 catches, 1,112 yards and 6 TDs), Sutton is the big-body WR stud that teams just dream about. After catching 2 TDs in Drew Lock's Week 12 debut, Sutton's numbers were pedestrian with Lock. Even with adding top draft picks Jerry Jeudy and K.J. Hamler, Sutton is El Hombre for the Broncos.
19. D.K. Metcalf
Like Brown, Metcalf figured things out in the second half of his rookie season. After that, social media was filled with shots of the chiseled rookie without a shirt. Anything for clicks. Metcalf is another WR in the Megatron mold, and he looks to take the #1 role in Seattle from Tyler Lockett. His size/speed combo makes him a mismatch for most DBs. He'll get more attention from top corners next year, but with Russell Wilson pitching it to him, look for Metcalf to take a step forward after his 58 catches for 900 yards and 7 TDs.
20. (tie) D.J. Moore
Another second-year breakout (87 receptions, 1,175 yards and 4 TDs), Moore caught passes from 3 different QBs last season and put together a stellar season. He saw double-digit targets in 8 of 16 games, and finished the season strong with 100+ yards in 4 of 8 games. Teddy Bridgewater is more accurate than the passers Carolina had out there last season, so the catch percentage should go up. He'll be competing for balls with Robby Anderson and Curtis Samuel, and that guy known as CMC, but Moore will be the lead dog among WRs.
20. (tie) T.Y. Hilton
Still one of the best long-ball threats in football, Hilton battled injuries for the second straight year, missing 6 games. He's only a season removed from going for 1,270 yards in 2018 (14 games). Philip Rivers should solidify the QB position, which makes a healthy Hilton a threat outside. Michael Pittman Jr. would do well to pick up some pointers from Hilton, and if the rookie shines that will make for more single coverage for Hilton.