Many of these players will be ultra-scrutinized and discussed in the next months until draft day. They may be as important as any players. They're the studs. The bell cows. Los Caballos. The ones you draft and ride hard.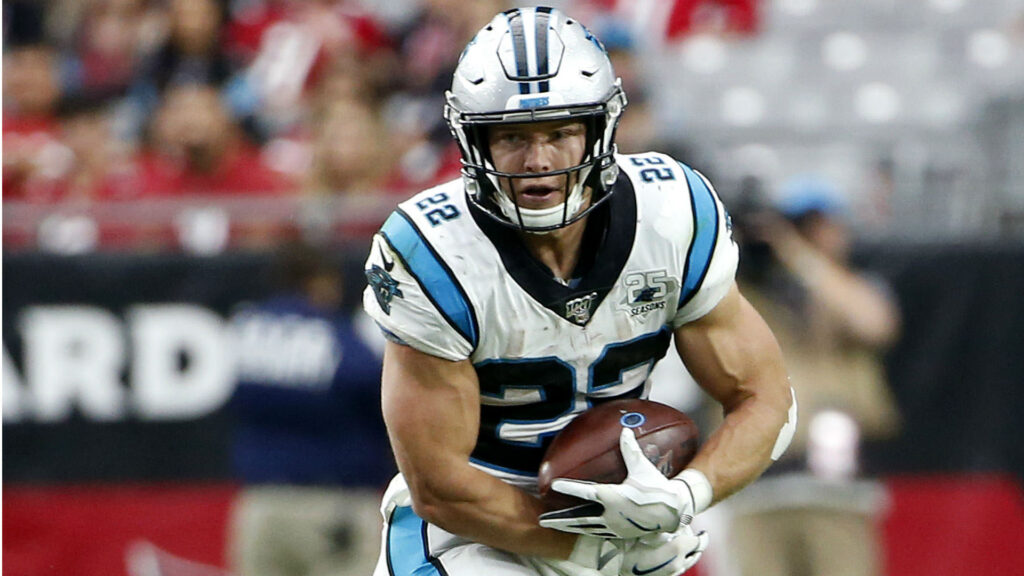 They're also the ones who leave a gaping hole when they're hurt. Remember how lost people felt when Saquon Barkley got hurt in week 3? The fantasy conversations mirror the 7 stages of death after an injury like that.
That's why getting one of the top RBs is so important. And if you have a top pick, you must nail it. How many people watched their seasons go down the tubes when they drafted Alvin Kamara instead of Christian McCaffrey at the top of the first round? Doubtful anyone makes that call again this year.
So here are the top 10 RBs according to our first preseason rankings. Like good cerveza, grab one (or two) and enjoy. Salud!
Christian McCaffrey
Otra vez, por favor? Seriously, could McCaffrey be any better than he was in 2019? OK, maybe he could not fumble like he did 1 time in 403 total touches (and the Panthers recovered). He's El Hombre. Clear Numero Uno in an offense that has a new coaching staff and QB. CMC had all eyes on him in 2019, and that season went well. As the third 1,000/1,000 RB in NFL history, it made sense to look at what the previous players to hit that hallowed mark did for an encore. Roger Craig fell way short, while Marshall Faulk came close the next year. CMC will be 24 when the season starts, so bet on him at least coming close to Faulk if not repeating last year.
Roger Craig (1985): 1,050 rushing / 1,016 receiving
(1986): 830/624
Marshall Faulk (1999): 1,381/1,048
(2000): 1,359/830 (26 TDs; NFL record)
Christian McCaffrey (2019): 1,387/1,005 (19 TDs)
(2020) ???
Saquon Barkley
The consensus #1 going into the 2019 draft season, Barkley got knocked out of Week 3 with a scary high-ankle sprain that looked season-ending at first. He missed 3 games and really wasn't the same until week 15, when he ran for 112 yards. He rewarded owners who either held onto or traded for him with an epic championship week 16, running for 189 yards and grabbing 4 passes for 90 yards and a pair of TDs. That's what he's capable of weekly, so don't expect him to last long in drafts. Somehow he ended up with 1,003 yards rushing and 438 yards receiving, so if he's fully healthy, that's a low floor for him.
Ezekiel Elliott
This is one Caballo who's been ridden hard, with 300+ rushing attempts 3 of his 4 seasons. He finished with 1,357 rushing yards, 420 receiving yards and 14 TDs, and somehow it seems he's got more in the tank. There will be no training camp holdout this year. He got paid, so there's no question who's getting the ball. He turns 25 this year, so ride him hard. Warning: His receptions went down from 77 to 54 last year. Will HC Mike McCarthy get him more receptions?
Dalvin Cook
For 14 games, he looked like the second-best RB in football. In 5 of the first 7 games, he went for 100+ yards. He caught 53 balls for 519 yards to go with 1,135 yards rushing and set up residence in the end zone (13 TDs). Injuries caught up to him, as he missed the final 2 games of the season before coming back for the playoffs. Luckily it was a shoulder and not a leg injury, and he came back strong in the playoffs. The injury bug is the only red flag for what should be another excellent season for Cook.
Derrick Henry
Call him CABALLO! People who believed the late-season run in 2018 was for real were rewarded last year. OK, so he only caught 24 passes, but who will argue when Henry led the world in rushing with 1,540 yards? He channeled Jim Brown in the playoffs with a pair of games with 30+ carries. Henry did miss week 16 with an injury, hurting many fantasy teams' championship chances. But who could complain when he was likely many owners' RB#2? He should get the ball another 300 times this season. Remember, he didn't record 200 carries in a season until 2018, so there should be plenty of tread on the llanta.
Alvin Kamara
For his never rushing for 1,000 yards in a season, Kamara gets a lot of love in the fantasy community. Scoring 13 and 18 TDs in his first 2 seasons will do that. Last year looked like a bust, and will worry some owners. His receptions stayed at exactly 81 for the third straight year, but his yards dropped from 709 to 533. His rushing yards also fell (883 to 797), and his TDs fell to a mortal 6. He said recently his legs were just 75% last year, and he didn't need surgery. Look for him to bounce back and still be picked in the first round.
Aaron Jones
When it comes to the football, just daselo! He was a RB#2 for several teams and rewarded them, especially in Week 16 with 154 yards and 2 TDs. Jones was finally featured, and the Packers gave him 236 carries for 1,084 yards and finished with 19 total TDs. He picked up 474 yards receiving. His blowup weeks were incredible, and he won't see 8 men in the box with Aaron Rodgers at QB. The Packers seem to want to run the ball, and Jones doesn't have much competition to lead the team in carries, though bruiser A.J. Dillon might steal some goal-line work.
Josh Jacobs
He was the rookie bet who paid off and is now taking his talents to Vegas, baby, Vegas! Not much competition in the Raider backfield, and the 242 rushing attempts will easily be replicated because he missed 3 games with a shoulder injury. It wasn't the legs, so there is less worry. He finished with 1,150 yards rushing, which could see a spike with health. GM Mike Mayock said Jacobs will be more involved in the passing game in 2020, as he caught 20 balls (for 266 yards) last year. More improvement, and Jacobs could have a top 3 year.
Nick Chubb
It's a little scary taking Chubb high. The 1,494 yards were #2 in the league, yes. And the 20+ carries in 8 of the first 11 games are tantalizing. The usage after Week 11 went down into the teens on a weekly basis, which coincided with Kareem Hunt becoming a greater part of the offense. The nightmare scenario is drafting Chubb high and watching Hunt vulture carries all season. Ay, mijo!
Austin Ekeler (tie)
Who's back still hurts from patting yourself for drafting Ekeler in the middle rounds and watching him finish with a top 5 fantasy season? Watching Ekeler catch 92 balls and nearing 1,000 yards receiving (993 to be exact) by season's end made him a PPR darling. He only had 132 rushing attempts — for 557 yards — so can he get up over 200 while still being a threat to catch the ball? There are plenty of carries left over now that Melvin Gordon (162 attempts in 2019) moved to Denver. 
Leonard Fournette (tie)
The 15 games played was almost as good as the 76 receptions (for 522 yards). Fournette had missed 3 and 8 games his first 2 seasons. The Jags did not pick up his 5th-year option, so he's got 2020 to convince some team to sign him next year. The incentive is there to stay on the field and have a big season. The 1,152 yards rushing were 7th in the NFL. It'd be nice to see him get more than 3 total TDs.