This is the region where there are depth plays that could turn into weekly starters. It's also where players are coming off injuries or mas o menos seasons. They could blow up and jump into the top 10, or they could be relegated to your backup and maybe even cut for that inevitable RB injury. But you need to know these QBs, because they could win you a week. Picking up at a well-known No. 11.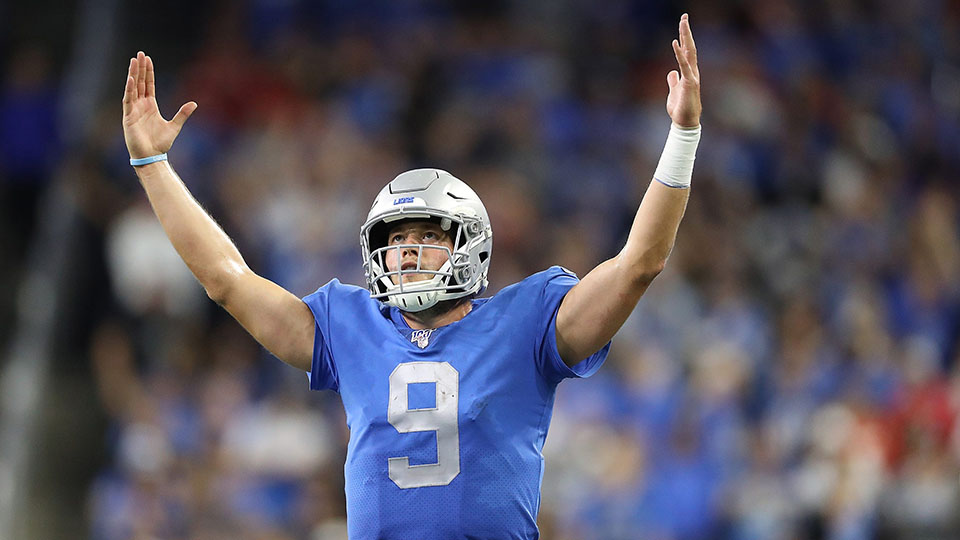 This is also where the players who come out of nowhere reside. Think Patrick Mahomes in 2018 and Lamar Jackson last year. They might not have even been in the top 20 at this point in those offseasons. That could also be said for Jared Goff and Carson Wentz in 2017. What do these all have in common? Second-year QBs. Keep an eye on these, and they could be a draft-day flyer that pays off.
11. Tom Brady
It's still weird to think Brady is in Tampa Bay, and he hasn't walked into any of our living rooms. His 2019 numbers – 4,057 yards passing and 24 TD — are still respectable. How much has he lost off his fastball? We'll see, as this is the best group of WR that he's thrown to since he had Randy Moss on the outside in 2007. Peyton Manning going to Denver in 2012 is an interesting comp. Brady won't have a problem finding someone open with Mike Evans, Chris Godwin and Rob Gronkowski filling up the middle. Will the running game be there to help him?
12. (tie) Matthew Stafford
Who all waited on QB in 2019, drafted Stafford after the middle rounds and felt like you got a bargain? Through 8 games, it was genius. Unfortunately, they play 16 games in the NFL. A back injury cost him half a season that was shaping up to be around 5,000 yards and pushing 40 TD. His numbers and injury make him a value play in the draft. Others will seem like more sure things. The previous 8 seasons before last year, Stafford was an iron man, never missing a game.
12. (tie) Carson Wentz
"If" is the most overused word in fantasy football. In fact, Hector has banned it from any fantasy conversation in our Familia. Much like Brady, Wentz threw for 4,000+ yards without having many weapons (4,039 yards and 27 TD). Most of his WR corps was hurt, and his TEs Zach Ertz and Dallas Goedert were the only reliable pass catchers for him. At least Wentz played 16 games. He'd missed 8 regular-season games combined the previous 2 seasons. If Wentz and his WR could only stay healthy…
14. Ben Roethlisberger
Yes, he's 38 and coming back from an elbow injury in Game 2 that wiped out his season (351 yards and 0 TD). Also, remember that in 2018 he threw for 5,129 yards and 34 TD (16 INT). Do we get that Big Ben in 2018? All the news has been positive. Mike Tomlin on May 9 said that Big Ben has been throwing and that the rehab is going well. They didn't upgrade the backup QB, so there must be confidence Big Ben can get back to where he was. If he's back, Juju Smith-Schuster's stock goes way up.
15. Baker Mayfield
We were so excited about him last year. The Browns were even on some Super Bowl watch lists. Some people said he could finish as QB1 in fantasy. Those weapons. The energy. The commercials. The swag made him "Dangerous" in a good way. Then it all fell apart when it was clear the Browns' offensive line was a turnstile. Still, 3,827 yards and 22 TDs is something to work with. The 21 INTs shows there's plenty to work on. New coach, new system, hopefully better offensive line. Still plenty of people rooting for the Browns to get better.
16. Jared Goff
How do the attempts go up (561 in 2018 to 626 in 2019), the completions go up (364-394), but the yards go down (4,688-4,638) and the TDs (32-22)? Weird Super Bowl hangover year. But look at the last 5 games, when he averaged 328.6 yards behind a line that was doing a better job of protecting him. Is that a sign of momentum going into 2020? Could be a sleeper if the Rams offense evolves without Todd Gurley and Brandin Cooks.
17. Ryan Tannehill
Don't look at the playoffs, when the Titans turned the clock back to the '60s and used Derrick Henry like a battering ram. For a few weeks there, after he took over the job from Marcus Mariota, Tannehill was as good as any QB in the NFL. Week 14 vs. the Raiders was spectacular with 391 yards and 3 TD. He did sign a $118M contract, so this job is his. What does he do for an encore?
18. Daniel Jones
If you started him Week 16 and watched him throw for 352 yards and 5 TDs, you were probably crying in a shower of beer or champagne. But if you started him in that championship week, que estabas pensando? What were you thinking? There were blowup games:
@ Jets 308 yards & 4 TDs
@ Lions 322 yards & 4 TDs
Still, lots of inconsistency and turnovers (12 fumbles & 12 INTs). Second-year jump? Very possible, and he has underrated WRs and Saquon Barkley.
19. Kirk Cousins
His passing yards went down by nearly 700 (4,298-3,603) and his TDs went down slightly (30-26). Vikings ran the ball more last year, as his pass attempts went from 606 to 444. Cousins is still an accurate passer (69.1%), and has a great No. 1 target in Adam Thielen. Still would like to see the pass attempts go up a bit.
20. Teddy Bridgewater
When Drew Brees went down, Bridgewater started 5 times and got 5 wins. Big highlight was his 314 passing yards and 4 TD vs the Buccaneers. HC Matt Rhule chose Bridgewater to be his guy, and with Christian McCaffrey in the backfield and underrated WRs outside, Bridgewater is a sleeper and definite starter in 2-QB leagues. Defense may be bad, so plenty of shootout potential.
PLAYERS TO WATCH OUTSIDE THE TOP 20
Every year there are players who surprise and become waiver-wire adds who help win championships. If you don't draft these backups, keep an eye on them to possibly make a claim on them early in the season.
Philip Rivers
Are people writing him off too soon? The Charger O-line was an injured mess in 2019, and Rivers is hardly mobile at age 38. Still threw for 4,615 yards, though 20 INTs hurts. Going to a solid organization with one of the better O-lines in the game, not to mention his former OC in Frank Reich, Rivers is positioned for a bounceback season. Like Brady, it'll be take getting used to seeing Rivers in a new uniform.
Derek Carr
Third year with HC Jon Gruden, who is very demanding of his QBs. Carr's 2019 numbers were similar to Brady's — 4,054 yards and 21 TDs. Could be a make or break season for him in Las Vegas. Marcus Mariota is the backup, and both Gruden and GM Mikc Mayock salivated over the Hawaiian going into the 2015 draft. Will Carr be able to fire it up with all those speedy weapons the Raiders drafted?
Drew Lock
The second-year QB hype train is going to go crazy for Kyler Murray. Less so for Daniel Jones. Drew Lock needs to be in that conversation, especially after the Broncos drafted Jerry Jeudy and KJ Hamler to team with Courtland Sutton. Denver invested heavily in the offensive side of the ball, and Lock may be the beneficiary.