We're here to differentiate who the must-start QBs are from the streamers with the first rankings of the 2020 offseason by los primos. We ranked the QBs 1-32, and below is the composite rankings of the top 10.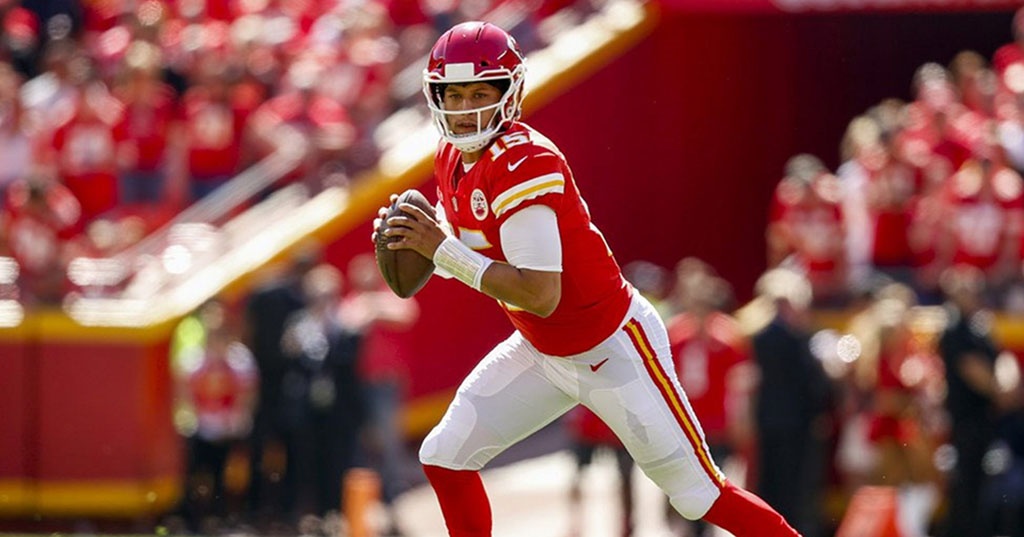 Patrick Mahomes
Out of nowhere to NFL MVP in 2018 — and an offsides play away from being in 2 straight Super Bowls. Follows it up with a season of regression and a scary injury, superhuman recovery and MVP of Super Bowl LIV. Missed 2 games and still finished with 4,031 yards and 26 TD (5 INT). Well below the legendary 5,097 yards and 50 TD in 2018 that stands as one of the greatest fantasy seasons ever, but the talent is so immense that it wouldn't be a surprise to see him get close to those numbers again. And again.
Lamar Jackson
He looks like he's playing Madden. Jackson threw for only 3,127 yards, but still finished with an NFL-leading 36 TD. Could the passing yards go up and the TDs go down? Can we expect another 1,206 yards rushing? With 7 rushing TDs, it's like he's 2 players in a single body. He said he won't run as much in 2020, but those proclamations are known to be thrown out in the first week.
Dak Prescott
Always keep an eye on players going for a long-term contract. Prescott was No. 2 in passing yards, 4,902 and 30 TDs placed him 3rd. Adding CeeDee Lamb to replace Randall Cobb looks like an upgrade, at least on paper. Still has a great line, Amari Cooper and Michael Gallup at WR and Zeke Elliott in the backfield, so all the pieces are there for a salary drive.
Kyler Murray
The numbers — 3,722 yards and 20 TD — don't scream top 10 QB, but Murray is primed to make that second-year jump. Getting Deandre Hopkins is TREMENDO. After week 12, he threw for 300+ yards just once. He'll be threatening that mark weekly in 2020. And his legs, who would like a repeat of his 544 yards rushing and 4 TD?
Russell Wilson
In his last 5 seasons, Wilson has thrown at least 31 TDs 4 times. He had 4,110 yards last season, which is right around where he's been annually since 2015. Yes, the Seahawks like to run the ball, but Wilson remains one of the elite QBs in the league. Last year, consistency was an issue. Week 8 he threw for 182 yards and 2 TD, then followed that up a week later vs Tampa with 378 yards and 5 TD. He has a solid WR tandem and running game, so Wilson is a solid bet to be in the top 5 again.
Deshaun Watson
His passing numbers (3,852 yards and 26 TD) were very similar to Aaron Rodgers. See below. Those numbers could be his floor, though losing Deandre Hopkins is going to hurt his value. Like Rodgers, Watson is talented enough to make even mediocre receivers look good. If Brandin Cooks is healthy, that will start to fill the Nuk void. This year will be a good test.
Josh Allen
He took a jump in his second year — 3,089 yards and 20 TD — yet he gives off the feeling that there's more in the tank. Like Hopkins could be for Murray, so could Stefon Diggs be for Allen. His legs make him a weapon in the Cam Newton mold (17 TD the last 2 seasons). With the Bills chasing the Patriots and Brady all these years, is Allen ready to be the best QB in the AFC East?
Drew Brees
Yes, he missed 5 full games and most of the game when Aaron Donald broke his thumb in Week 2. But look at what Brees did during the fantasy playoff weeks:
Week 14 vs 49ers: 349 yards and 5 TD
Week 15 vs Colts: 307 yards and 4 TD
Week 16 @ Titans: 279 yards and 3 TD
If you started Brees all 3 weeks, good chance that you've got some bragging rights right now. Yes, he's 41, but he's got weapons, a good O line and full command of the offense. He doesn't throw the long ball much, but doesn't have to the way Michael Thomas catches everything. Cool Brees is usually good for 4,000+ yards and about 30 TD. And for some reason he's going later in drafts, so there's value in him. Sean Payton may have him go out throwing if it's Brees' last season.
Aaron Rodgers
Fantasy players look at his 2019 stats — 4,002 yards and 26 TD — and seem disappointed. Those are right around the same numbers as Watson and Wilson, who fantasy players seem more hyped about. The Jordan Love-sized chip on his shoulder will be firmly in place, and this will be his second year in Matt Lafleur's system. He's still as skilled as few people on the planet, Davante Adams is in his prime and his young WR corp got a year older. Could Rodgers actually be a bargain this year?
Matt Ryan
Mateo Hielo has had a funny odd-even thing happening with him the past few years.
2016: 4,944 yards and 38 TD
2017: 4,095 yards and 20 TD
2018: 4,924 yards and 35 TD
2019: 4,466 yards and 26 TD
The Falcons O-line was a problem in 2019. If they addressed it well, Ryan, 35, still has prime years left. With Julio Jones and Calvin Ridley to throw to, and Todd Gurley on a one-year contract, Ryan has all the weapons he needs to get back among the top 5 QBs. It is an even year.